Een virus hoeft geen familie van Influenza te zijn om met minstens evenveel gemak je spijsvertering op vidange totale te zetten. Dat weet ik sinds kort uit ondervinding. Het naamloze virus hield me een dikke week in kata gatame op de zetel genageld en bezorgde me tijdelijk een aversie voor vast voedsel. Tegen mijn leeshonger was het niet opgewassen, dus ik kon rekenen op mijn boekenkast voor eerste hulp bij het voor pampus liggen.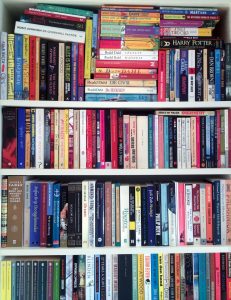 Deze boeken zijn uitstekend leesvoer voor zij die een milde griep dienen uit te zitten:
Sherlock Holmes Compleet – Arthur Conan Doyle
Arthur Conan Doyle was huisarts, dus eigenlijk zit je met een dokter op je schoot. Psychologisch zal het wel helpen. Hij schreef de verhalen over Sherlock bij elkaar toen hij in het begin van zijn carrière in zijn spreekkamer zat te wachten op patiënten. Deze brok jeugdnostalgie -ik kreeg het van mijn vader toen ik negen was- is ideaal entertainment voor enkele dagen gedwongen verblijf op de zetel. Verhaal lezen, dutje doen, verhaal lezen, even uitblazen… Bovendien lijdt Sherlock tussen zijn exploten aan vlagen van intense lusteloosheid, waarbij hij totaal ondergestimuleerd dagenlang… op zijn zetel hangt. En als Sherlock het mag, dan mag jij het ook. Met 54 verhalen en vier romans kan deze editie de meest hardnekkige griep de baas.
1Q84 – Haruki Murakami
Drie hele dikke dromerige boeken die perfect aansluiten bij koortsige dagen. 1Q84 is de alternatieve realiteit waarin Tengo en Aomame in verzeilen, gemakkelijk te herkennen aan de twee manen die aan de horizon staan. Het is een liefdesverhaal verweven met een thriller verweven met maatschappijkritiek verweven met sciencefiction. Sciencefiction, jawel, ook al blijven de Murakami aficionado's dit halsstarrig magisch realisme noemen, want Murakami, dat is toch Hogere Literatuur zeker. Kijk. Een parallelle wereld met twee manen is perfect uit te leggen met de theorie van het multiverse. Dat is science. Door een wormgat van de ene naar de andere wereld kruipen is fiction. Voorlopig toch.
The Diamond Brothers – Anthony Horowitz
Met de Diamond Brothers schreef Anthony Horowitz een sublieme reeks detectiveboeken bij elkaar, vol met de heerlijke gangsters die zijn handelsmerk zijn. Tim Diamond is niet alleen de detective in de hoofdrol, hij is ook een gigantisch ei. De zaken worden eigenlijk opgelost door zijn kleine broer Nick, die ondertussen er ook voor zorgt dat Tim gekleed en gevoed wordt en zich niet levensgevaarlijk verwondt bij het hanteren van een schoenlepel. De Diamond Brothers reeks zit propvol referenties naar Agathie Christie, Alfred Hitchcock en vele anderen en is bacillendodend grappig. Begin bij de Falcon's Maltezer en wanneer je The Greek Who Stole Christmas hebt bereikt ben je weer helemaal beter.
Chart Throb – Ben Elton
Ben Elton ken je als de man achter de uiterst geniale reeksen zoals The Young Ones en het geheel uit wittiness opgetrokken Blackadder. Hij schreef ook een respectabele stapel boeken bij elkaar, waaronder het zeer aan te bevelen The First Casualty, een detectiveverhaal dat zich zowaar in de loopgraven van de Eerste Wereldoorlog afspeelt. The First Casualty is misschien wat te veel kommer en kwel voor het doorsnee griepslachtoffer, dus zijn boeken met absurde, uiterst grappige maatschappijkritiek zijn hier meer aangewezen. Begin met Chart Throb, waarin Elton op onnavolgbare wijze laat zien hoe reality TV een strak afgemonteerd stukje illusie is, en wel door de maker van een talentenjacht à la The Voice te laten aantonen dat hij het publiek kan laten stemmen voor de winnaar die hij bij aanvang koos. Ook al is dat de Prince of Wales. Chart Throb is een hoog energetische cocktail van ergernis en hilariteit die je zo weer op de been helpt. Getipt in dezelfde categorie: Blind Faith en Grid Lock.
Les P'tits Diables – Dutto
Deze stripreeks over een kleine broer en een grote zus die elkaar -en hun ouders- elke minuut van de dag het leven zuur maken mag alleen gelezen worden na toestemming van de dokter. De lachbuien kunnen immers uitputtend zijn voor de herstellende patiënt. De dokter is een geregelde gast bij Tim (aka Microbe) en Nina (aka l'Alien), om Tims builen te verzorgen (Nina en haar baseball bat), om Tims geheugenverlies te behandelen (Nina en haar baseball bat, The Sequel), om Tim's onderkoeling te verzorgen (Nina sluit Tim buiten bij -10), om Tims slokdarm te herstellen (Nina maakt wasmiddelsmoothie) enzovoort enzoverder. Een griepje verzinkt in het niets bij wat Microbe en l'Alien elkaar aandoen.