Het is iets dat je snel vergeet als het eenmaal achter de rug is. En nee, ik heb het hier niet over bevallen, wel over verbouwen. Na weken stof eten, kamperen in mijn eigen huis en bedenken wat ik nog kan koken zonder keuken (noedels bijvoorbeeld, met de waterkoker in de badkamer) of waar ik nog eens kan douchen, ben ik al een paar weken keihard aan het genieten van mijn verbouwd appartement. Toch is er één ding dat ik mis, en nee het zijn niet die duwknoppen uit de douches in de sporthal. Als op thuiswerkdagen de slijpschijven en drilboren te veel lawaai maakten en ik soms al niezend van het stof wakker werd, dan trok ik richting Leuven om een paar uurtjes te werken en lezen in één van de vele hippe koffiebars.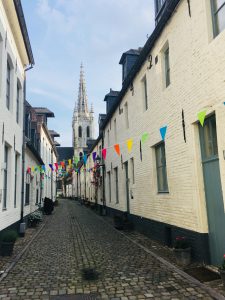 Tijd dus voor een nieuw lijstje met 'leesplekjes in Leuven'.
Noordoever
In dit vegetarisch buffetrestaurant betaal je niet per gerecht maar per gewicht. 's Avonds is Noordoever een populaire hotspot aan de Vaart maar overdag is het hier heerlijk rustig om te werken. Het is ook de plek waar ik verslaafd raakte aan Bionade met gember en waar een vieruurtje altijd 'limoentaart' heet. Goed om weten is dat er in Noordoever een mini-huisje staat dat je gratis kan reserveren voor een vergadering of workshop. Zo netwerkte ik hier al eens met een groepje gelijkgestemde freelancers en zou ik het helemaal zien zitten om in dat huisje een boekenclub te hosten.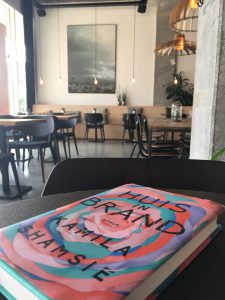 Bar Berlin
Hip, hipper, hipst. In deze koffiebar schreef ik al heel wat artikels, slurpend aan een Latte Machiatto. Die ik overigens vooral bestelde omdat je er iedere keer zo'n lekker stukje brownie bij krijgt. En voor sommigen is het hier misschien wat druk, maar van zo'n grote tafel met allemaal tikkende freelancers, ik raak daarvan in een schrijfroes.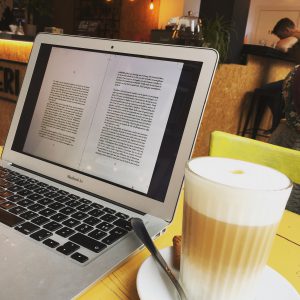 De optimist
Geef toe, van een café-restaurant met zo'n naam kan je toch alleen maar vrolijk worden. En, ik ben helemaal fan van hun foodsharing-gerechtjes die regelmatig veranderen en die je kan bestellen voor 1, 2 of 3 personen. Doe daar nog één van hun huisgemaakte limonades bij en ik ben meteen een paar uurtjes zoet in deze industriële setting.
Mocht je trouwens al even niet in Leuven  zijn geweest, wandel dan eens van De optimist richting Vaart en passeer in de Mechelse bij taxidermist Animaux Spéciaux (ja, ik heb daar onlangs echt opgezette kwallen gekocht), koop een cadeautje voor mij bij interieurwinkel PLEK, stop voor een koffie bij Koffie en Staal (ik overweeg om bij hen deze boekenkast op maat te laten maken), scoor gourmet aperitiefhapjess in De Smidse en strijk dan met een boek neer in het Sluispark. Quite a perfect afternoon, lijkt me! En for the record, niet gesponsord of zo!
PS. We hebben het al een paar keer bejubeld maar Barboek blijft natuurlijk leesplekje nummer 1 in Leuven. Zo stapte ik er vorige week nog binnen voor deze nieuwe Ishiguro.
PPS. Nog meer leesplekjes in Leuven.
PPPS. In Leuven wordt er veel gelezen en dat viert Leuven Leest op 24 juni in Hal 5.
PPPPS. Voor de nieuwsgierigen, mijn nieuwe badkamer lijkt geweldig fel op mijn Pinterest album. Hoe noem je zoiets? #pinterestgoalsaccomplished?