We ontmoeten Tony Ross (81) in de lobby van het Antwerpse Crowne Plaza hotel, net voor hij zijn opwachting maakt op de Boekenbeurs. Daar staat een lange rij fans op hem te wachten, met een De grootste ettertjes van de wereld 3 of een ander werk uit zijn impressionante oeuvre in de hand. Tony was al wereldwijd beroemd door zijn Kleine Prinses boeken en door zijn illustraties in Horrid Henry (Stoute Hendrik, bij ons), maar als illustrator van David Walliams bereikte hij cultstatus. Ik nam uiteraard mijn De grootste ettertjes van de wereld 3 mee, maar kan het niet laten om ook mijn geliefde Emil and the Great Escape, door Astrid Lindgren en met tekeningen van Tony, onder zijn neus te duwen. Geen betere aanleiding om het eens over de beste kinderboeken ooit te hebben. Om te beginnen.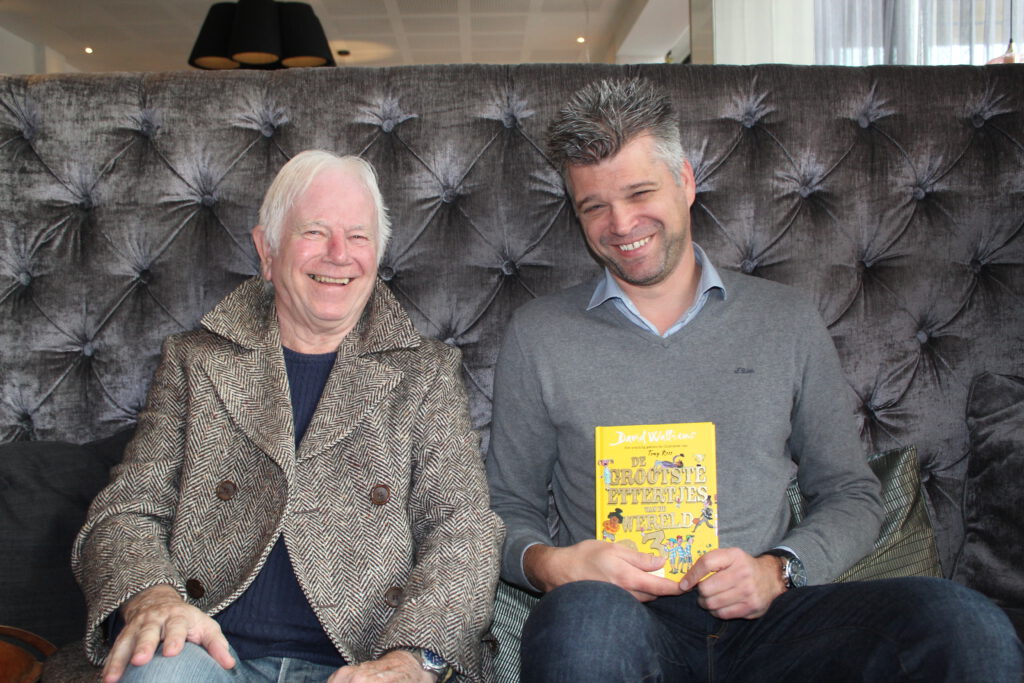 Welke kinderboeken hebben je als jongen beïnvloed?
Pipi Langkous is één van mijn favorieten, die ik tot mijn groot plezier ook mocht illustreren. De boeken van Winnie de Poeh vind ik de beste ooit. Ik genoot ook van de Just William verhalen, over een stoute jongen. Een beetje zoals Stoute Hendrik. Just William is de Amerikaanse versie van Peck's Bad Boy, maar William is bijlange niet zo gemeen.
Er is Emil, Stoute Hendrik en er zijn De grootste ettertjes van de wereld. Zijn stoute kinderen een dankbaarder onderwerp om over te schrijven, of om te illustreren?
(lacht) Stoute kinderen bevallen me veel meer dan brave kinderen. Ze zijn geweldig interessant. Niemand wil lezen over brave kinderen.
Heb je al eens een personage op een bestaand persoon gebaseerd?
Ja, sommige personages zijn gebaseerd op echte mensen. Ik verander uiteraard de details, zodat ze in het verhaal passen. De verhalen die ik bundelde in A word in your ear zijn overigens allemaal gebaseerd op bestaande mensen en op echte gebeurtenissen.
Wat was dan de inspiratie voor Een duizendpoot op schoenen?
Wanneer mijn dochter nog klein was, was het altijd een hele worsteling om haar sokken aan te trekken. Dus als twee sokken aan twee voeten aantrekken al bijna onmogelijk was, vroeg ik me af wat het zou zijn om honderd schoenen aan te trekken. Wanneer je klaar bent met het laatste paar, is het waarschijnlijk al weer tijd om alles weer uit te trekken.
Je Kleine Prinses en Stoute Hendrik boeken zijn ook een groot succes als animatieseries. Je hebt een erg herkenbare tekenstijl, hoe slaag je erin die naar animatie te vertalen?
Je krijgt de beste resultaten als je de animatietekenaars gewoon hun werk laat doen. Neem Horrid Henry's wilde haardos, bijvoorbeeld. Dat is geen probleem voor een illustratie op papier, maar voor animatie levert het huizenhoge problemen op. Het is te complex, dus moeten ze er een simpeler versie van maken. Animatie is een kunst op zich, dus ik bemoei me niet.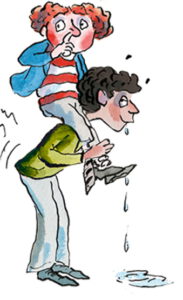 Je productie is duizelingwekkend. Naast je eigen hondertal boeken, heb je letterlijk duizenden boeken geïllustreerd. Heb je een spartaans werkregime?
Ja, ik heb een erg strikte werkroutine. Ik ben eigenlijk altijd aan het werk.
Wanneer ik niet aan het schrijven of aan het tekenen ben, heb ik het gevoel dat ik aan schrijven of tekenen zou moeten zijn.
Welke technieken gebruik je bij het illustreren?
Wel, ik heb geprobeerd om een computer te gebruiken, echt, maar ik teken gewoon veel sneller met de hand. (lacht)
Hoe verloopt de samenwerking met David Walliams?
Heel pragmatisch, eigenlijk. We werken los van elkaar aan een boek, gecoördineerd door Harper Collins, onze uitgever. We werken beiden helemaal onafhankelijk, dus is er is geen nood aan op elkaar afstemmen als het over het verhaal of over de illustraties gaat. Ik moet uiteraard getrouw blijven aan de karakters zoals ze voorkomen in de tekst, maar ik kan ze helemaal tekenen zoals ik ze interpreteer. Met een kleine uitzondering misschien voor Raj, die eigenlijk eerst werd getekend door Quentin Blake in Davids eerste boeken, dus ik moest ervoor zorgen dat Raj in de volgende boeken er net zo uitzag.
Je mag niet vergeten dat ik voor mijn illustraties de tekst moet volgen. De tekst definieert de tekeningen, het moet bij elkaar passen. De toon van de tekst is ook uitermate belangrijk. In een echt goed boeken slagen de illustrator en de schrijver erin om dezelfde toon te vinden. In de meeste beroemde boeken gebeurt dit. Winnie de Poeh is een goed voorbeeld. A.A. Milne, de schrijver, en zijn illustrator E.H. Shepard waren echt twee handen op één buik. Ze hadden veel respect voor elkaar.
Kan je al delen wat er nog op stapel staat?
Een vriend van me heeft een jonge dochter. Ze is echt een vreemd wezentje. Ze draagt een rond brilletje en loopt rond in rubberlaarzen. Soms draagt ze elfenvleugels erbij. Ze heeft de rare gewoonte om mensen aan te staren en naar ze te grommen. Dus ik zou graag een boek schrijven over een klein meisje dat mensen aanstaart. En naar ze gromt.
Ik ben niet zeker of ik nog snel een prentenboek zal maken. Prentenboeken worden meestal nogal stevig gestuurd door de redacteurs. Dat vind ik niet zo leuk, uiteraard, ik wil het boek helemaal maken zoals ik het wil.
Er komt natuurlijk binnenkort ook een nieuwe David Walliams aan, naar goede gewoonte vol totale chaos. Ik ben nu druk bezig met de illustraties. David schrijft doorgaans nogal dikke boeken, met vlot driehonderd illustraties, dus het is een hele hoop werk.
(Illustraties: Tony Ross)
PS: we maakten al eens een special over de boeken van David Walliams en Tony Ross, inclusief ettertjes.