Vanavond zit Hans Bonte, burgemeester van Vilvoorde, in een gelijktijdig debat in Brussel en Amsterdam, georganiseerd door deBuren. Hier geeft hij alvast zijn boekentips.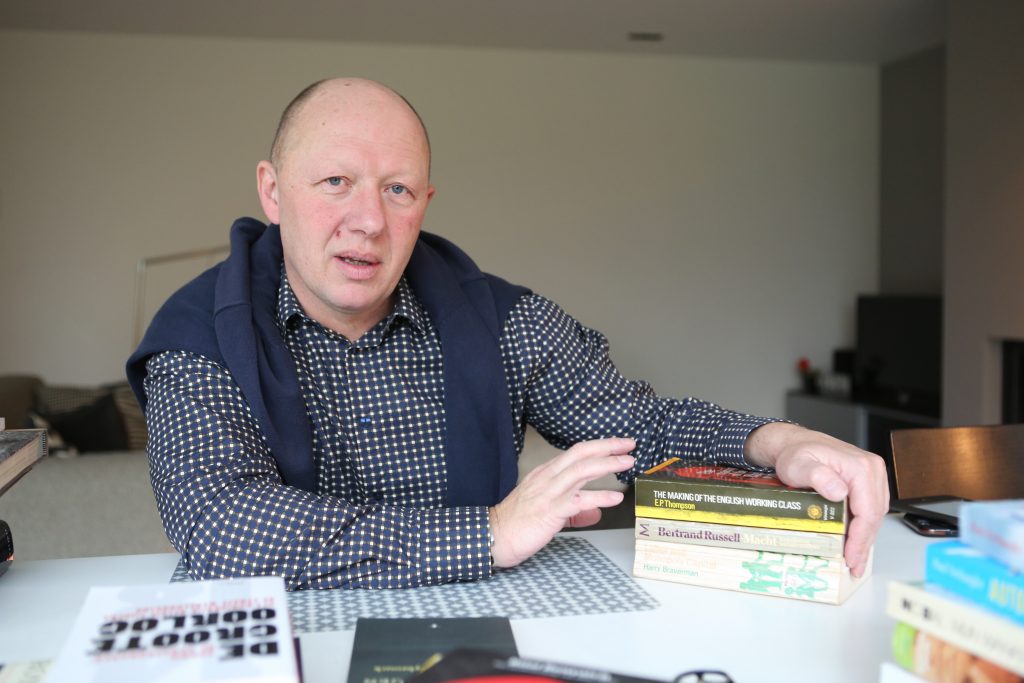 Van humoristische romans tot biografieën van ronkende namen. Van wetenschappelijke naslagwerken tot strips als De Blauwbloezen. Hans Bonte leest alles: "En alles door elkaar. Mijn ogen zijn altijd bezig." Bij hem thuis in een landelijk stukje Vilvoorde snuisteren we samen in zijn bibliotheek (zoals eerder met Jan Leyers). Wat leest een burgemeester?
Voor Hans Bonte staan boeken voor gezelligheid: "Mijn grootvader stierf toen ik zeven jaar was. Ik kende hem niet goed, maar zijn bibliotheek zie ik nog zo voor me. Het was een kleine kamer, een oase van rust in een huis waar het altijd druk was. Ik deed niets liever dan me terugtrekken in die knusse cocon. Grootvader had zijn boeken gekaft met bruin papier, genummerd en voorzien van een etiket in schoonschrift. Hij bouwde zijn collectie op aan het begin van de 20ste eeuw, in een tijd dat boeken lezen en kopen nog niet voor iedereen was. Zijn dochters – mijn tantes – koesterden die bibliotheek dan ook en stoften de boeken elke week netjes af."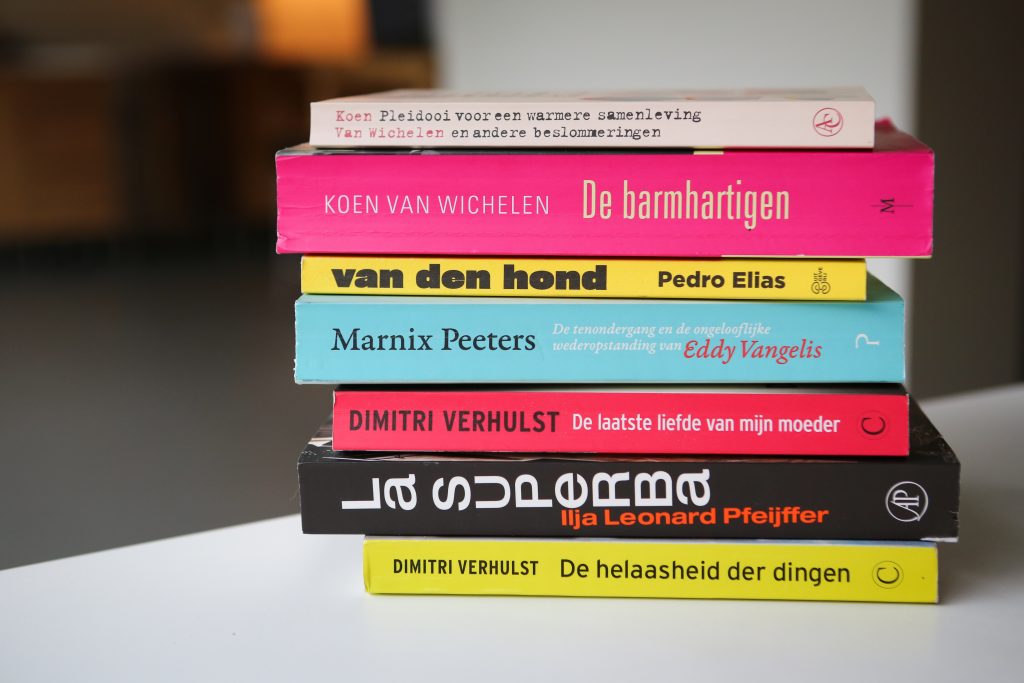 Vandaag heeft Hans Bonte een eigen bibliotheek: twee enorme boekenrekken in zijn bureau en dozen vol boeken op zolder. Relicten uit grootvaders collectie heeft Bonte niet: "Ik zou niet durven (lacht).
Ik ben een boekenliefhebber en kan geen boeken wegdoen of naar tweedehandswinkels brengen. Maar ik ben slordig.
Er zit geen lijn in mijn bibliotheek. Soms leen ik enthousiast een boek uit om het vervolgens nooit meer terug te zien (hopelijk leest Kurt niet mee, nvdr). Ik vrees dat mijn exemplaar van Cécile van Ish Ait Hamou (Manteau) dat lot onderging. Dat is zo'n aangrijpende, actuele roman. De vluchtelingenproblematiek zit er mooi in verwerkt en ik vind dat Ish – een Vilvoordenaar – goed laat voelen hoe mondiaal zijn leefwereld is." Bonte speurt nog even rond in zijn bureau, maar geen Cécile. In die tijd verzamelt hij wel twee hoge stapels boeken om over te vertellen. Wanneer we ons met dat leesvoer in de woonkamer zetten, treffen we zoon Lowie. Weinig later is het mysterie opgelost. Cécile ligt bij zijn vriendin.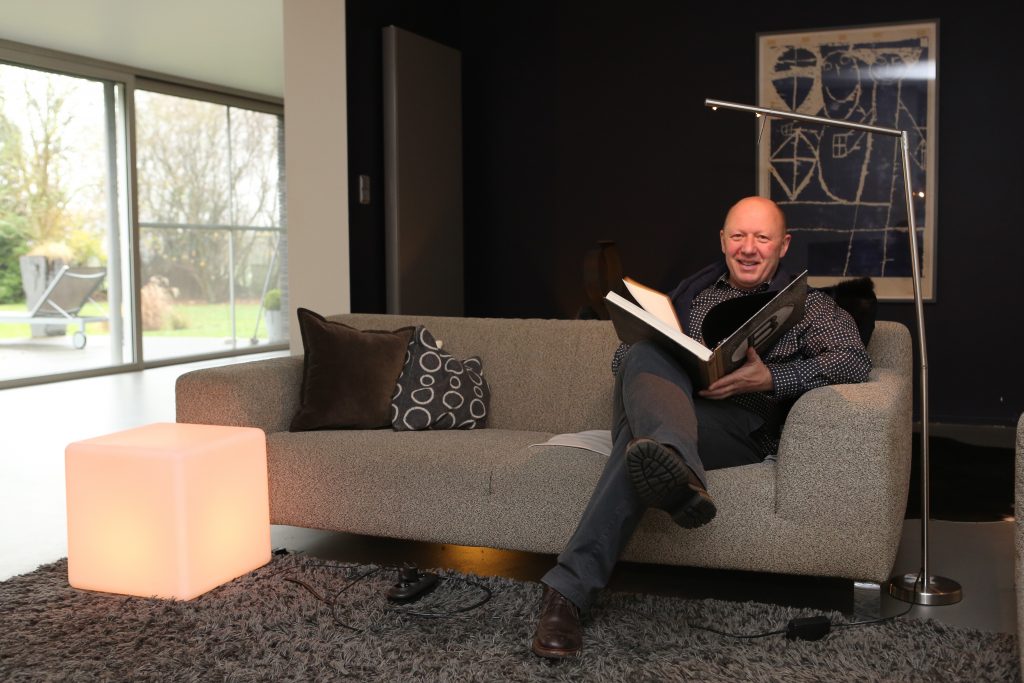 STRIPS
Aan de eettafel zoeken we een rode draad tussen de titels die Bonte selecteerde: "Ik lees alles door elkaar, mijn ogen zijn altijd bezig. Momenteel lees ik deze turf, The Oxford Handbook of Organized Crime van Letizia Paoli, een professor aan de KU Leuven. Ze gaf mij het boek cadeau toen ik een gastles over integratieproblematiek gaf aan haar studenten en ik heb er al zeer knappe analyses van de maffia in gevonden. Maar tegelijkertijd herlees ik De Blauwbloezen (uitgeverij Dupuis) – de hele reeks van dertig strips.
Ik ben altijd een stripliefhebber geweest en ontdek nu in De Blauwbloezen een vorm van humor die me op mijn achttiende ontging.
Strips, dat is voor mij pure ontspanning en een leuke manier om mijn dag af te sluiten. Voor mijn job lees ik ontzettend veel: mails, nota's, college- en beleidsdocumenten, politieverslagen… Dat kan soms zwaar wegen en dan is een strip 's avonds perfect." Hans Bonte stond in het jeugdhuis van zijn geboortedorp Ingelmunster mee aan de wieg van een heuse stripotheek: "Daarvoor bezochten we stripbeurzen in Brussel en in het buitenland. Strips zitten in mijn bloed – van De Rode Ridder en Jommeke tot Kamagurka en de tekenaars van Charlie Hebdo."
VOER VOOR POLITOLOGEN
"Tijdens mijn opleiding tot socioloog en politicoloog las ik enkele standaardwerken die mijn blik hebben gevormd," gaat Bonte verder. "The making of the English working class (Vintage) van E.P. Thompson bijvoorbeeld. Daarin wordt meesterlijk de overgang beschreven van een traditionele, agrarische samenleving naar een industriële maatschappij. Het is een boek van 1963, maar blijft actueel. Je zou kunnen zeggen dat we vandaag de overgang meemaken van de industriële samenleving naar een informatiemaatschappij. We geven weer een nieuwe invulling aan begrippen als tijd, arbeid en gezinsleven. Een ander meesterwerk dat ik koester is Macht: een nieuwe sociale analyse (Meulenhoff) van Bertrand Russell. Elke politicus zou dat moeten lezen. Tenslotte blijft 'politiek is macht' de beste en kortste definitie die je van politiek kunt geven."
"Alles draait om de macht om dingen te veranderen – en Russell analyseert dat op een filosofische, wetenschappelijke manier." Voor iemand die vandaag als burgemeester met z'n twee voeten in de praktijk staat, lijkt Hans Bonte nog steeds gefascineerd door boeken met een theoretische inslag. Bonte: "Ik heb tijdens mijn studentenjaren een aantal fundamentele inzichten geabsorbeerd, die ik wel ter discussie blijf stellen. Ik merk in mijn leven een voortdurende slingerbeweging tussen de academische en meer praktische weg. Het is geen geheim dat ik als burgemeester van Vilvoorde veel bezig ben met radicalisme en terreur. Natuurlijk leer ik veel uit mijn directe contacten met geradicaliseerde jongeren en hun families. Maar tegelijk heb ik de reflex om te gaan zoeken wat schrijvers die slimmer zijn dan ik over die onderwerpen vertellen. Bilal Benyaich schreef Islam en radicalisme: bij Marokkanen in Brussel (Van Halewyck) – een mooi en toegankelijk werk dat bij mij veel vragen opriep. Ik heb ook veel gehad aan twee boeken die mijn dochter Fien me heeft aangeraden. Zij is net afgestudeerd als psychologe en in de ban van Paul Verhaeghe. Zijn twee recentste boeken Identiteit en Autoriteit (De Bezige Bij) geven mij interessante achtergrond bij mijn dagelijkse praktijk. Tenslotte worstelen ontwortelde jongeren vaak met hun identiteit en zoeken ze naar autoriteit. Ik heb de boeken van Verhaeghe aan enkele van mijn medewerkers geschonken omdat ik vind dat ze verhelderen en goede praktijkvoorbeelden geven."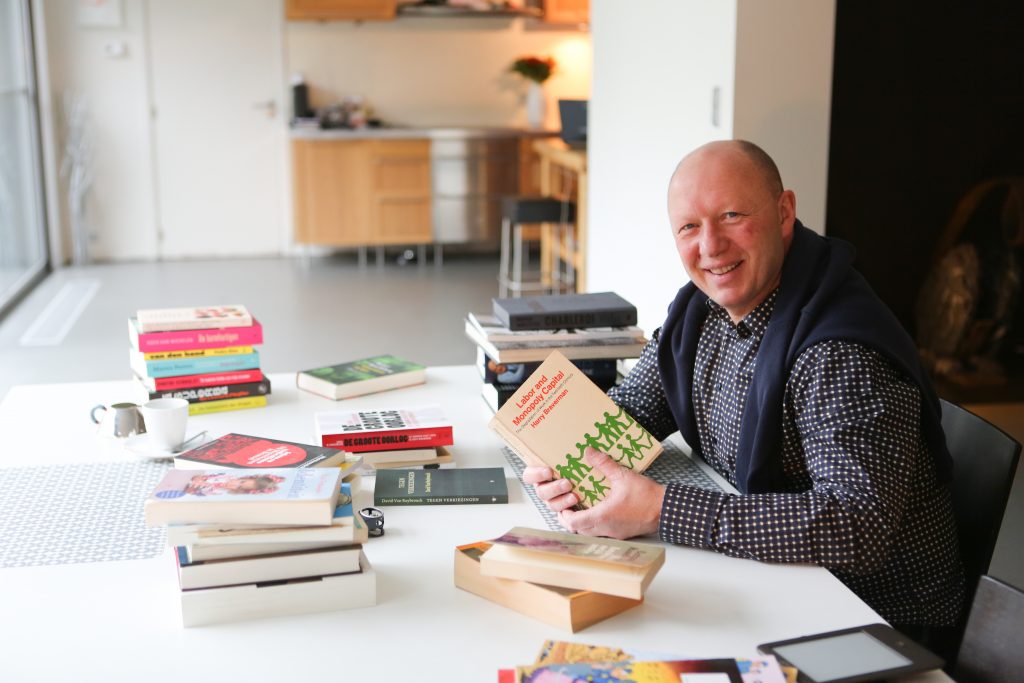 BOON VOOR BOON
Maken romans een kans bij Hans Bonte? "Als mijn vrouw ze aanbeveelt, wel.  Zij is een echte boekenwurm en kent mijn smaak door en door. Het frustreert me vaak dat ik te weinig tijd heb om al haar tips te lezen. Ik lees ook drie keer zo traag als Damienne.
Ik blader graag terug in een roman. Soms ik lees iets dat me aan het denken zet en dan gaat mijn fantasie met me op de loop.
Of ik verlies me in een analyse van het taalgebruik. Ik kan echt genieten van stijlfiguren, mooie beelden of een raak gekozen adjectief. Recent heb ik met plezier romans gelezen van Marnix Peeters, Koen Van Wichelen en Dimitri Verhulst. Ik wil voelen dat auteurs oprecht zijn en dat ze je meenemen in een verhaal dat hen nauw aan het hart ligt. Humor is een pluspunt – ook als die choqueert – en een roman mag vlot lezen. Al blijft authenticiteit voor mij het belangrijkste criterium. Ik heb een enorme boon voor Louis Paul Boon, bij wie de emoties loepzuiver zijn. In de tijd dat ik nog in Erembodegem woonde, waar Boon vandaan kwam en waar de Kapellekensbaan ligt, heb ik bijna alles van hem verslonden. Ooit ben ik letterlijk op mijn fiets gesprongen om te gaan kijken of dat huisje van Marieke uit De Kapellekensbaan er nog staat. Boon was in mijn ogen een fenomeen en een trendsetter. Een durver ook. Ik ben gehecht aan deze mooie uitgave van zijn Fenomenale Feminateek (Meulenhoff/Manteau) – een collectie blote vrouwenprentjes in een kistje met een slotje."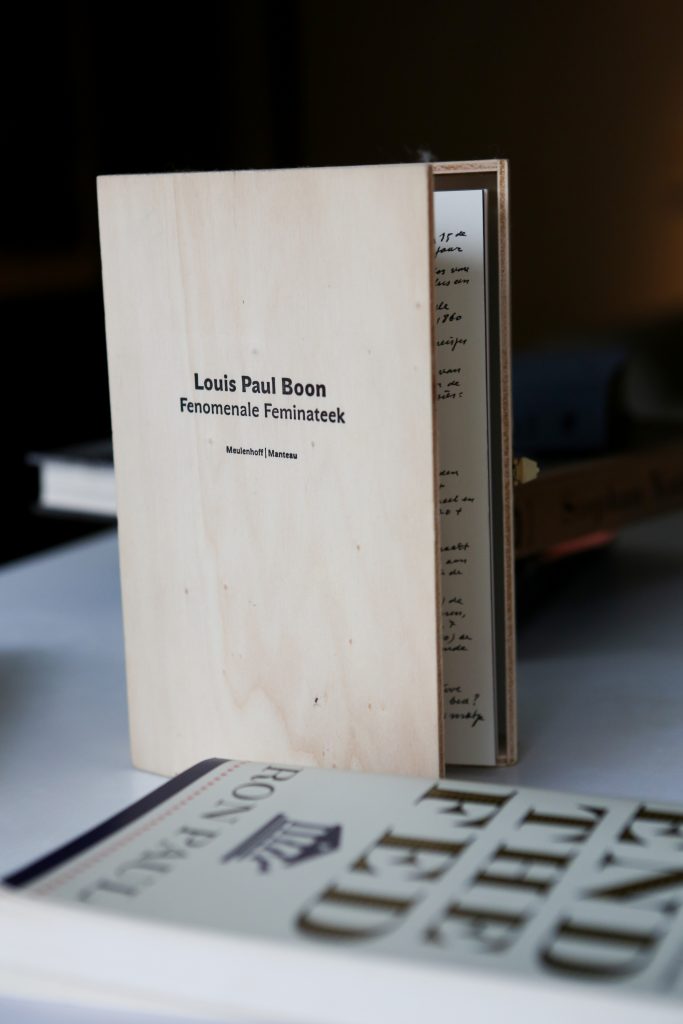 Iets in de manier waarop Hans Bonte het houten kistje presenteert, doet vermoeden dat hij een liefhebber is van bibliofiele uitgaven. Bonte: "Dat klopt. Ik kan verrukt zijn over de geur van papier, of door het gewicht van een boek in mijn hand. Sinds drie maanden heb ik een e-reader en daar heb ik gemengde gevoelens bij. Enerzijds hebben papieren boeken ontegensprekelijk mijn voorkeur. Anderzijds blijkt mijn Tolino wel handig. Tijdens een vliegreis heb ik nu een hele stapel boeken bij mij, zonder zorgen over hun gewicht of volume. Het is ook verleidelijk om op elk moment, waar ook ter wereld nieuwe boeken te kunnen kopen aan interessante prijzen."
KIND VAN DE WESTHOEK
Het mooiste boek dat Bonte tot nu toe op zijn e-reader las, was De erven Oppermann (Wereldbibliotheek) van Lion Feuchtwanger. Bonte: "Dat is een psychologisch goed uitgediept verhaal over een Joodse zakenman die zijn erfenis tussen zijn kinderen probeert te verdelen voordat de Nazi's komen. Ik houd van boeken met de Eerste of Tweede Wereldoorlog als decor. Als West-Vlaming ben ik een kind van de oorlogsstreek. Mijn grootmoeder woonde een tijdje bij ons in en vertelde vaak over haar ervaringen aan de IJzer – over de honger die het gezin leed, of over de keren dat ze op het slagveld naar restjes koper moest zoeken tussen de dode soldaten.
De Groote Oorlog (Houtekiet) van Sophie De Schaepdrijver vind ik een belangrijk en boeiend boek dat in elke Vlaamse school zou moeten staan.
Ik lees het liefst persoonlijke oorlogsgetuigenissen. Een tijdje geleden tikte ik op een tweedehandsmarkt in Vilvoorde Mijn wankele wereld (uitgeverij) op de kop van Nic Bal. Bal is een Vilvoordenaar, een pionier van de VRT en iemand die als kind doelbewust in het verzet ging tijdens de Tweede Wereldoorlog. Ik herken de plaatsen waar hij rondliep en het soort van socialisme waarvoor hij vocht. Er ontbreken enkele pagina's in het boek – doodjammer. Ik ben van plan in onze openbare bibliotheek de volledige versie te ontlenen." Een tweede genre, naast oorlogslectuur, dat Bonte graag leest is de biografie: "Een collega van mij – de burgemeester van Londen, Boris Johnson –  schreef met De Churchill factor (Spectrum) een intrigerend portret. Churchill was één van de grootste politici van de 20ste eeuw, maar ook een enorme persoonlijkheid. Welbespraakt, eigenzinnig, een doorzetter… Churchill deed z'n goesting en is zelfs regelmatig mislukt. Toch kreeg en krijgt hij vooral bewondering. Ik heb ook een exemplaar van de Memoires (Van Halewyck) van mijn voorganger, Jean-Luc Dehaene. Van hemzelf gekregen, met een cadeautje erbij – een haantje – maar zonder persoonlijke opdracht vooraan in het boek. Dat typeert hem. Toen ik schepen was en Dehaene burgemeester, heb ik hem zien zwoegen op zijn manuscript. Hij was opgelucht toen het boek klaar was. Natuurlijk is het prettig dat hij lovend schrijft over onze samenwerking."
LIEVER SCHRIJVEN DAN LEZEN
Stefan Vanfleteren schreef wel een opdracht in Bontes kopie van Belgicum (Lannoo), het resultaat van vijftien jaar dwalen door ons land met een camera. Bonte: "Ik ben een grote fan van Vanfleteren, vooral van zijn portretten in zwart-wit. Hij kan ellende en teloorgang zo respectvol weergeven. Je vraagt je af waar iemand zoveel talent haalt. Ik ken Stefan, hij woont hier in de buurt.  Het valt me altijd op dat zijn werk nooit stopt. Hij bekijkt de wereld compleet anders dan jij en ik. Altijd heeft hij die scannende blik: 'Welke schoonheid is hier te vinden?'. Ik herken zulke beroepsmisvorming wel. Ik ben ook altijd bezig, onbewust. Als ik door Vilvoorde loop, maak ik de hele tijd mentale notities. Moet die straat niet heraangelegd worden? Heeft die school geen uitbouw nodig?"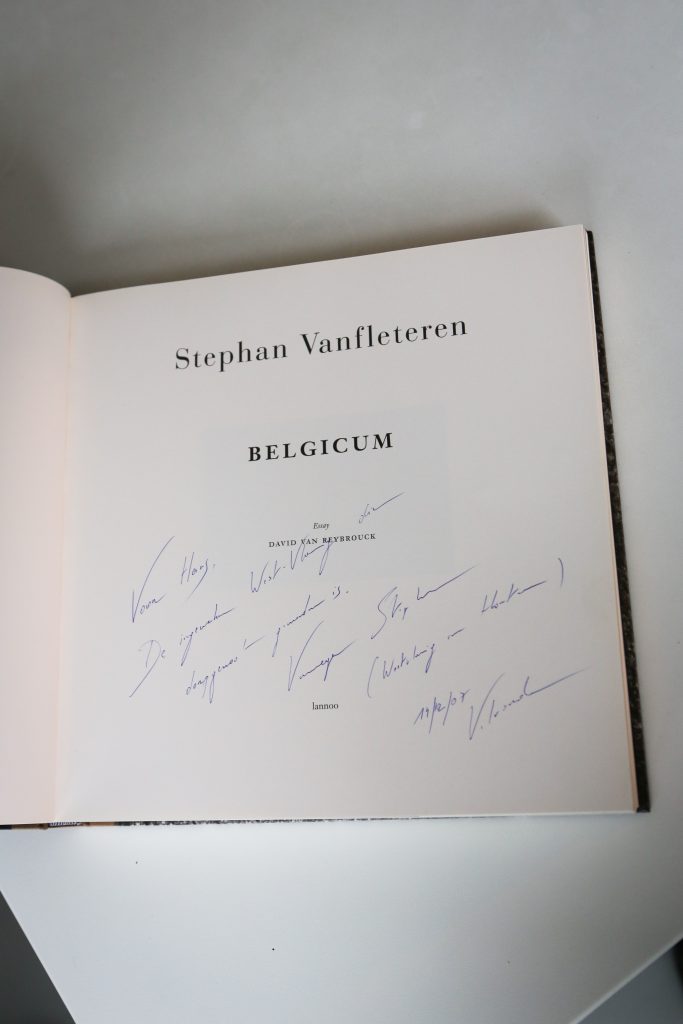 Samenvallen met je beroep houdt uiteraard een gevaar in. Dreigt er een zwart gat voor Hans Bonte, na zijn politieke loopbaan? Bonte (lachend): "Welnee. Dan wil ik lesgeven en heb ik eindelijk tijd om te lezen. En nog veel liever zou ik zelf schrijven. Ik heb daar al wat ervaring mee. In 1995 publiceerde ik Het VLD-alternatief: gewikt en gewogen (Hadewijch) en in 2006 verscheen Op zoek naar waardering (Vilvoordse Werkwinkel), een verzameling interviews met Vilvoordenaars die dankzij speciale tewerkstellingsinitiatieven een nieuwe kans kregen in het leven. Ik herinner me levendig het plezier dat ik aan het schrijven van die boekjes heb beleefd.
Ik geniet van de fysieke aspecten van het schrijven – 's nachts aan de keukentafel zoeken naar de juiste woorden,
proberen om iets complex op een eenvoudige manier uit te leggen, zelfs het stramme rechtstaan om me nog een koffie uit te schenken… Toen ik op de studiedienst van de partij werkte, heb ik een schrijfopleiding gevolgd bij iemand met een achtergrond in marketing. Daar heb ik veel aan gehad. Mijn liefde voor taal kreeg daar definitief vorm. Ik droom ervan om een jeugdboek te schrijven zo tijdloos als Koning van Katoren (Lemniscaat) van Jan Terlouw. Ik vertel graag verhalen en heb mijn dochter Fien ooit beloofd om daar iets mee te doen. Het zou goed voelen om een gietvorm te vinden voor mijn ervaringen als jeugdwerker, voorzitter van een OCMW en burgemeester. Gaandeweg heb ik een aantal inzichten vergaard die ik graag literair zou verpakken, zodat ze aantrekkelijk zijn voor jongeren."
PS: Dit artikel verscheen eerder in Boeken Magazine.
PPS: Fotografie Barbara De Munnynck