Boeken onder de boom (+ giveaway)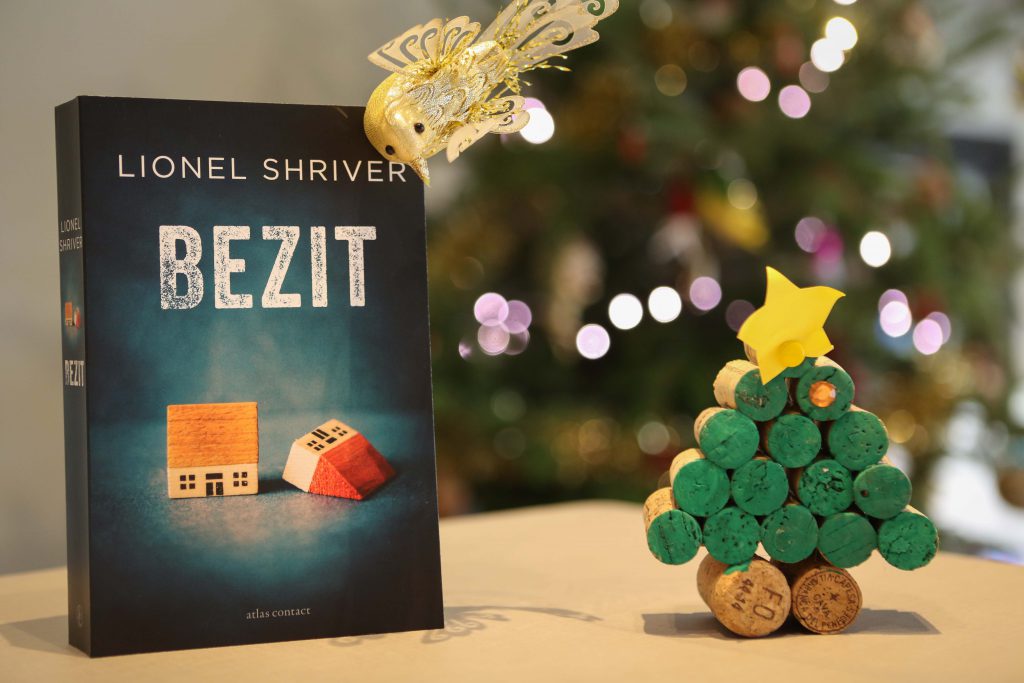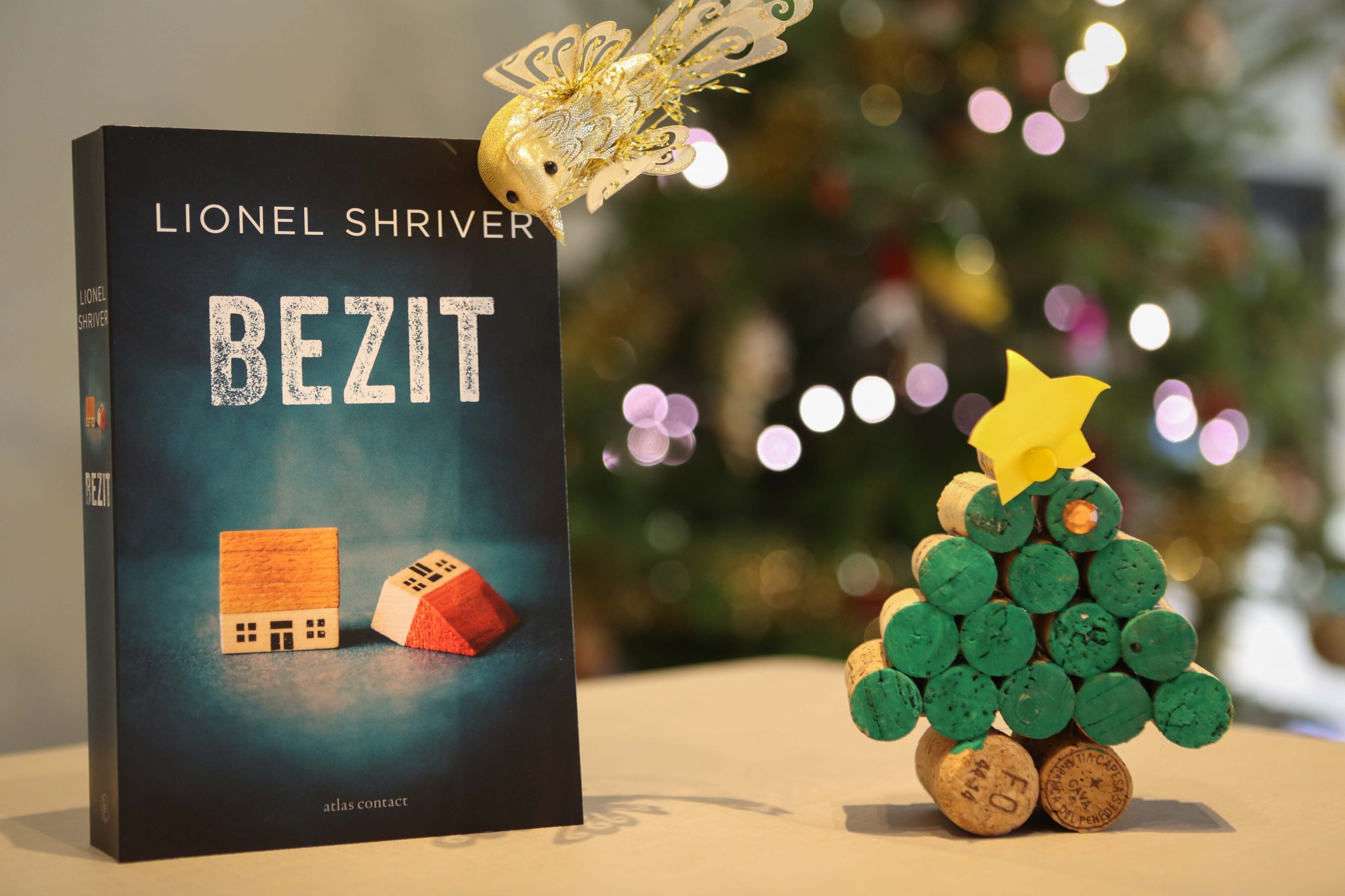 Cadeautje kopen voor een boekenfreak? Met deze 5 titels scoor je gegarandeerd. Bovendien wint één van onze lezers een Davidsdoosje ter waarde van 40 euro.

Boek? Lionel Shriver, Bezit, uitgeverij Atlas Contact, 25,99 euro, 436 p
Waarom? Toen ik hoorde dat de schrijfster van highschool killing drama We Need to Talk About Kevin naar de Boekenbeurs zou komen, wist ik meteen dat ik zou gaan luisteren. Shriver vertelde in Antwerpen over haar nieuwe bundel, Bezit, waarin ze onderzoekt hoe en waarom mensen hun eigendomsrecht laten gelden. In tien korte verhalen en twee novellen volgt ze bv. een moeder die haar volwassen kinderen de deur uit wil, om eindelijk haar huis weer voor haarzelf te hebben; en een vrouw die haar beste vriend dreigt te verliezen omdat zijn nieuwe verloofde hem niet met een andere vrouw wil delen.
Cadeautip voor? Drukbezette literatuurliefhebbers. Sowieso een prima boek om tijdens de feestdagen ter sprake te brengen. Bijvoorbeeld wanneer je gesprekspartner na drie glazen opschepperig wordt en dingen gaat verkondigen als "Nee, echt – je eerste Porsche is de duurste!" Kun je de kapitalist meteen couperen: "Ik las laatst zo'n interessant verhaal over bezitsdrang…"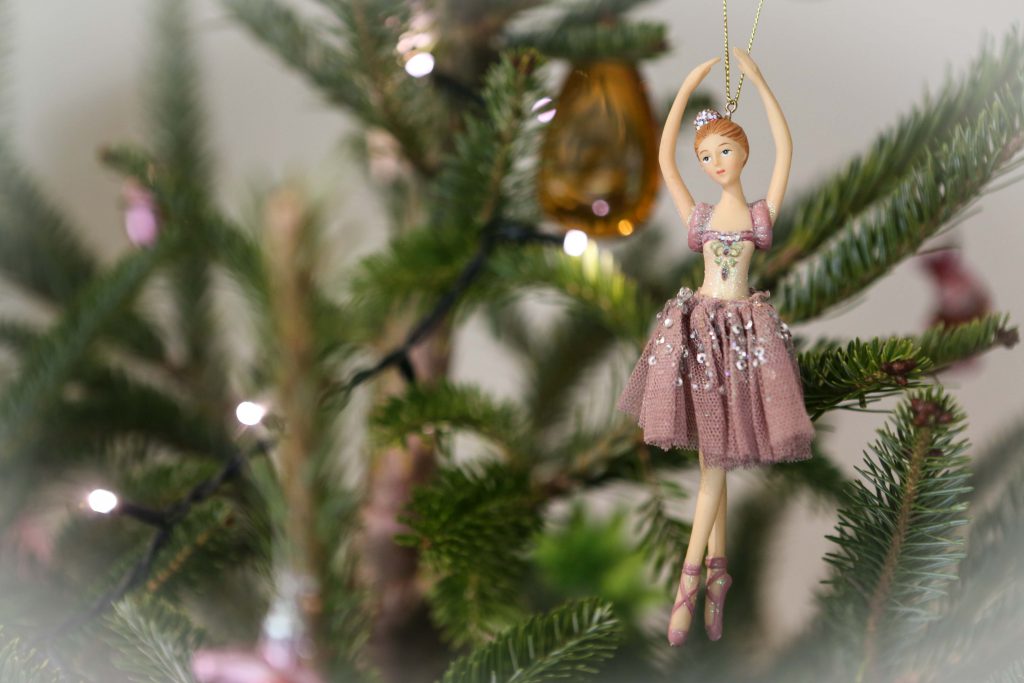 Boek? Herman van Veen, Voor het eerst – Verhalen over ouder worden, Thomas Rap, 206p
Waarom?  Zelfs na het schrijven van zijn autobiografie, Herinnerde Dagen, is Herman van Veen niet uitverteld. De 73-jarige woordkunstenaar verbindt heden en verleden, oude theaterteksten en nieuwe bespiegelingen in de bundel 'Voor het eerst'.
Cadeautip voor? Dromers met maturiteit, die willen meedeinen op de golven van Hermans geheugen, waarin o.a. sprookjes, kwajongensstreken, mislukte huwelijken en kicks zitten opgeslagen.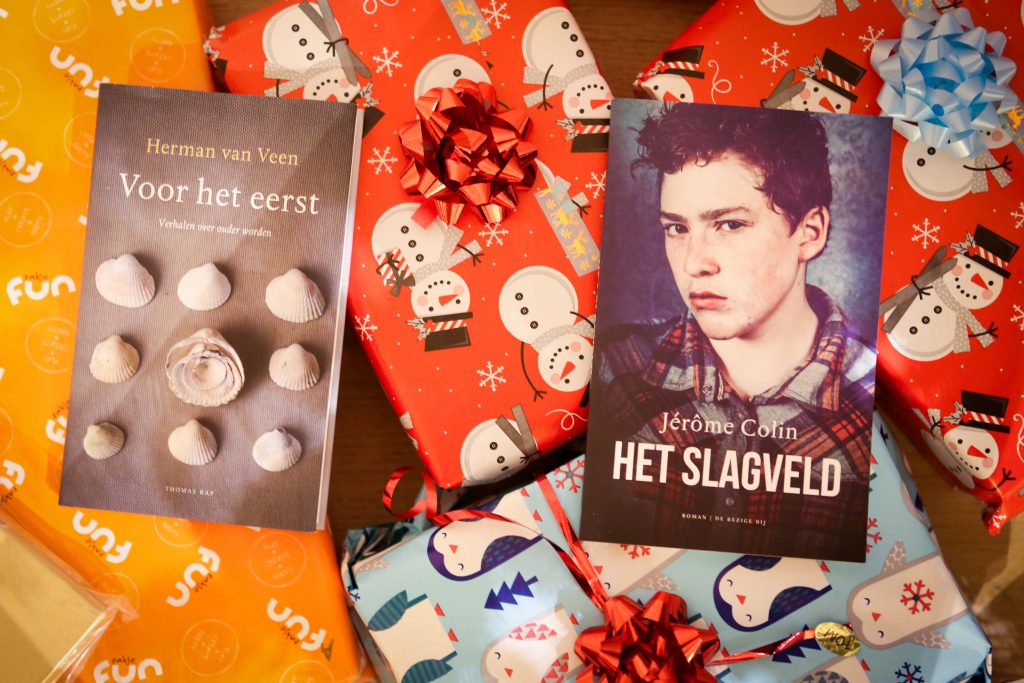 Boek? Jérôme Colin, Het Slagveld, De Bezige Bij, 172 p
Waarom? Deze moderne familieroman was in Wallonië dé bestseller van 2018. RTBF-journalist Colin schetst een pakkend beeld van een Brussels gezin met puberzoon. De vijftienjarige Paul is brutaal, leeft vastgekleefd aan z'n telefoon en laat z'n schoolresultaten slabakken. Hoeveel vrijheid kan je zo'n jongen gunnen als ouder, in tijden van wereldterreur?
Cadeautip voor? Lezers zonder oogkleppen, die niet bang zijn van de Brusselse realiteit
Tijd voor onze giveaway!
Wil je de culturo's in je familie en vriendenkring dit jaar iets ànders geven dan een boek? Ga dan voor het Davidsdoosje, een soort Bongobon voor cultuurliefhebbers. In het doosje zit een Davidsfonds Cultuurkaart, waarmee je korting krijgt op talrijke evenementen, reizen en boeken. Je ontvangt ook een gratis cultuurmagazine en maakt kans op een kaartje (2p) voor een dagevenement of cursus van Davidsfonds Academie. Zo wil ik in 2019 wel de cursus over filmklassiekers of over 50 jaar Vlaamse kleinkunst volgen… Tel daar nog heel wat waardebonnen van cultuurpartners bij (zoals Symfonieorkest Vlaanderen, Het Nieuwstedelijk, Museum Hof van Busleyden…) en je beseft dat het Davidsdoosje z'n 40 euro meer dan waard is. Je bestelt het hier OF je wint het, door je 'cultuurtip-van-het-jaar' met ons te delen voor zondagmiddag 16 december om 15u.
Welk boek, welke film, welke tentoonstelling of voorstelling (…) blies je dit jaar van je sokken? Vertel het ons in de reacties hieronder of op Facebook en win een Davidsdoosje.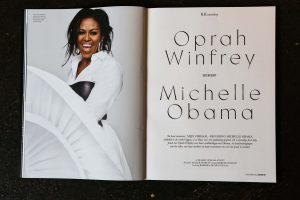 Boek? Michelle Obama, Becoming – Mijn Verhaal, Hollands Diep, 480p
Waarom? Ik had altijd al sympathie voor de voormalige first lady. Toen vertaalde ik voor ELLE het openhartige interview dat Michelle Obama gaf over haar memoires aan Oprah Winfrey. Daarna wist ik het zeker: Dit. Boek. Wil. Ik. Lezen. Je moet toch gewoon houden van een vrouw die dingen zegt als: "Gezinsetentjes. Dat was een van de dingen die ik invoerde in het Witte Huis. Die strikte code van 'op dit uur eten we'. En
ja, je bent de president, maar je kunt maken dat je uit die Oval Office komt om bij ons te zitten en met je kinderen te praten."
Lees het hele interview in het decembernummer van ELLE.
Cadeautip voor? Ik had bijna getypt 'alle meisjes en vrouwen in je omgeving die een inspirerend rolmodel kunnen gebruiken'. Maar het moet maar eens gedaan zijn met dat idee dat levensverhalen van vrouwen alleen (of vooral) voor andere vrouwen interessant zijn. Geef dit boek dus cadeau aan jongens van 17, mannen van 40 en iedereen met een duidelijke portie testosteron.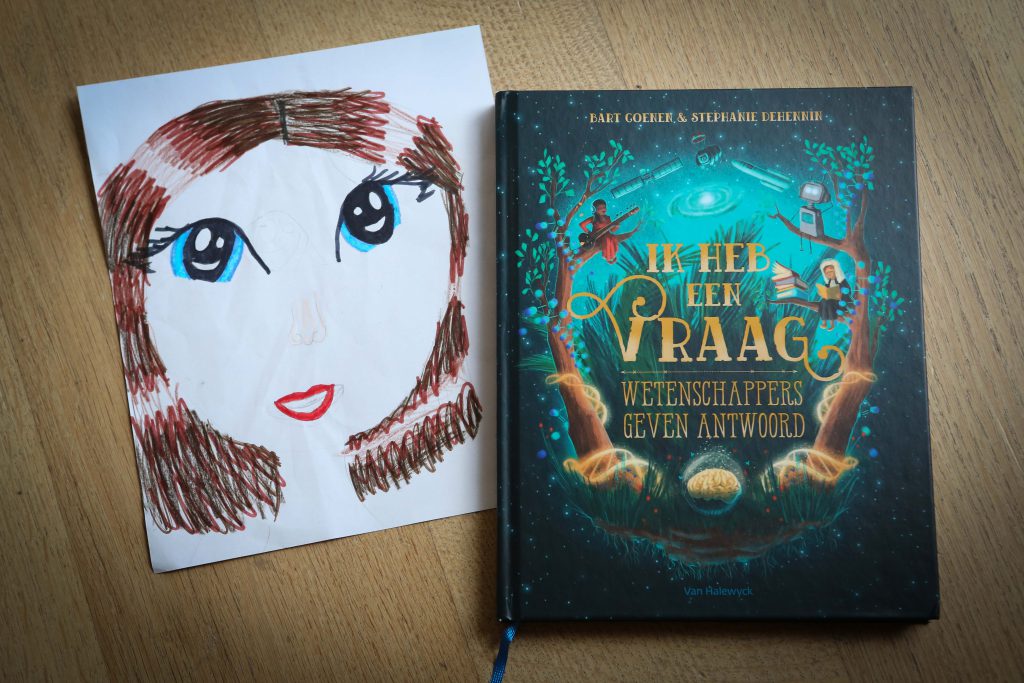 Boek? Bart Goenen & Stephanie Dehennin, Ik heb een vraag, Van Halewyck, 160p
Waarom? Kinderen stellen de meest onmogelijke vragen. Bij voorkeur tijdens het autorijden of het koken. Sterft een gifslang als hij op z'n tong bijt? Maakte de oerknal veel geluid? Hebben de piramides van de Maya's iets te maken met die van de Egyptenaren? Ik was het beu om mezelf te horen zeggen: "Dat zullen we straks eens aan Google vragen". Enter het fantastische 'Ik heb een vraag', waarin wetenschappers de leukste kindervragen beantwoorden die ze de afgelopen jaren kregen via de wetenschapssite ikhebeenvraag.be. De tekeningen van Stephanie Dehennin (die ook dit pareltje illustreerde) maken het helemaal af.
Cadeautip voor? Nieuwsgierige kinders – of wat dacht je?