Never judge a book by its cover.
Daar ben ik het absoluut niet mee eens… of althans, daar slaag ik niet in. Ik wil ze geen eten geven, de boeken die ik laat liggen voor de cover. Zo had ik Rivieren jaren geleden bijna niet gelezen wegens de lelijke flap. Ik heb een zwak voor mooie boeken. Niet vreemd dus dat ik in boekhandels vaak in de graphic novels sta te bladeren. Daarom deze selectie…

Totem van Nicolas Wouters en Mikael Ross
Als het broertje van Louis ernstig ziek is, sturen zijn ouders hem tegen zijn zin op scoutskamp. Dat de leiding niet echt van de pedagogische principes is, helpt niet om deze kwetsbare jongen op zijn gemak te stellen. Dan krijgt Louis zijn totemnaam. Beschermd door zijn alter ego, de vos, waant de jongen zich onoverwinnelijk en vertrekt hij op een eenzame tocht doorheen het bos. Maar is het zijn fantasie of zijn het de drugs en alcohol die rondgaan in de groep, die van dit kamp een echte trip maken!?
Een donker en heftig verhaal dat de lezer onderdompelt in de getroubleerde geest van de twaalfjarige Louis. De donkere tekeningen van de Duitse Mikael Ross zitten vol emotie en laten je bevreemd achterlaat.
Mooiste zin? "Toen ik bij de scouting ging, kon ik me niet voorstellen dat het lastig zou zijn dat ik een meisje was. Voor de jongens is het een spel. Ik heb ze bezig gezien. Ze doen niet anders. Maar wij… wij zetten onszelf op het spel. En dan brandt het. Het vreet aan ons. Niets blijft ons bespaard."
Achtergrondinfo? Interview met Nicolas en Mikael
Sfeerbeeld?
---
De zomer van haar leven van Thomas von Steinaecker en Barbara Yelin
Gerda zit in een bejaardentehuis waar ze zich meer dood dan levend voelt. Om te ontsnappen aan de ellende van betuttelende verplegers en de bezoekjes van onverschillige familieleden blikt ze terug op haar verleden: het sterrenkijken met haar vader, haar nachtelijke wiskundeonderzoek en de ontdekking van de liefde. Heeft ze een mooi leven gehad? Was het zinvol? En heeft ze de juiste keuze gemaakt toen ze moest kiezen tussen haar man en een carrière in Cambridge? Dat zijn de vragen die Gerda zich stelt aan het einde van haar leven.
De fragiele potlood- en aquareltekeningen van Barbara Yelin en het fragmentarisch opgebouwde verhaal geven deze Duitse graphic novel een heel poëtisch karakter. Een groots thema gevat in aandoenlijke situaties!
Mooiste zin? "In sciencefictionfilms vliegen astronauten soms met de snelheid van het licht naar het verleden om daar hun fouten ongedaan te maken. Maar wat, als men daar slechts kan toekijken."
Achtergrondinfo? Rosie Goldsmith in gesprek met Barbara Yelin
Sfeerbeeld?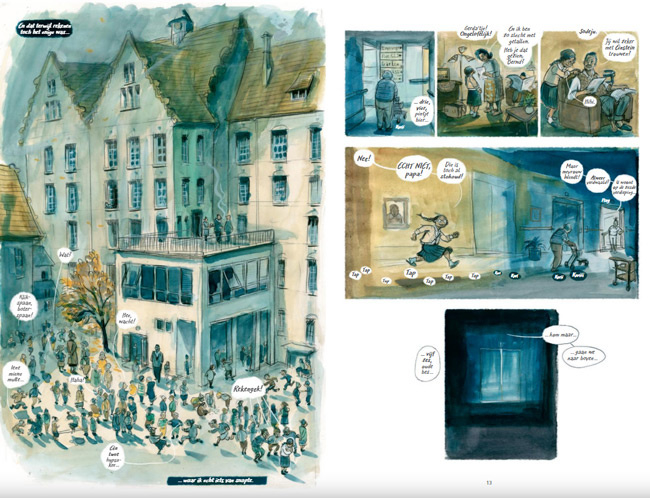 ________________________________________________________________________________________
Lancelot van Inge Misschaert en Xavier Truant
De 'gekke' oude Lancelot krijgt te horen dat hij niet lang meer zal leven. Terwijl zijn familie aast op zijn erfenis, zorgt zijn nichtje voor een waardig einde. En terwijl Lancelot in zijn hoofd alle gedachten op een rijtje heeft, komen de woorden in werkelijkheid er maar doddelend uit.
Een tegelijkertijd grappige en intrieste herwerking van de legende van Arthurs rechterhand, geschreven in een sappige taal met uitgepuurde beelden. Over wat had kunnen zijn…
Mooiste zin? "De zee rukt en trekt aan mij, aan mijn kleren, ze mept en beukt tegen mijn voeten die het maar al te graag begeven en dan ga ik onder. Ik heb niet verloren, maar gewonnen."
Achtergrondinfo? Xavier Truant over zijn clear line
Sfeerbeeld?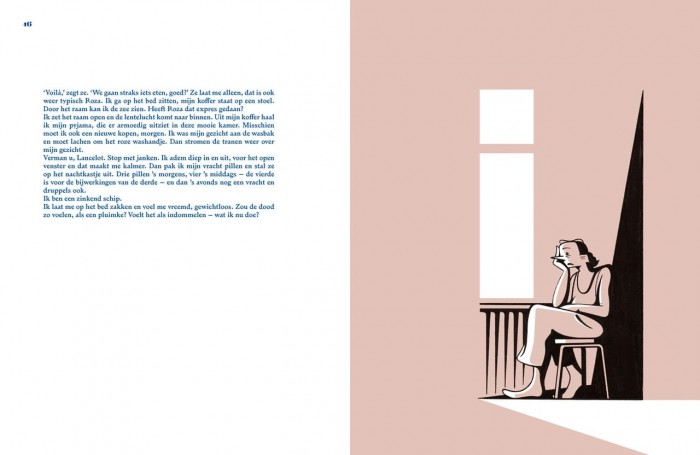 PS. Meer graphic novels