Miniserie: de zeven boeken van Joke Emmers
Zeven weken lang… de zeven boeken van. Voor Elle België mag ik elke maand een boekenminnend persoon aan de tand voelen over zijn of haar zeven favoriete boeken. Omdat de gesprekken zo leuk zijn, en de boekentips zo verrassend en fijn, deel ik ze zeven weken lang met jullie.
Deze week verteld Joke Emmers, actrice, alles over haar zeven favoriete boeken.
Joke Emmers barst van het scherm en schittert op de planken met haar tomeloze energie en bruisende persoonlijkheid. De actrice speelde in series zoals Call Boys, charmeerde de kijkers van De slimste mens en siert de planken in binnen- en buitenland. Elle wilde weten welke boeken voer zijn voor haar hersenkronkels.
De boeken die haar inspireren in haar werk, vindt ze op snuistertochten in kringwinkels. "Dan neem ik meteen een hele stapel boeken mee voor 20 euro, heerlijk. Het enige nadeel is dat mijn 'To read' lijst steeds hoger wordt."
Ze heeft een zwak voor fotoboeken. "Na een tentoonstelling moet ik me in de shop inhouden. Die boeken zijn "pokkenduur", en eigenlijk kan ik dat niet betalen, maar toch, soms zwicht ik."
Hier komen ze dus, Jokes zeven favoriete boeken:
Brieven aan een jonge dichter, Rainer Maria Rilke
Dit dunne boekje was een tip van één van mijn mentoren. Hij zei dat ik het elk jaar opnieuw moest lezen. Rilke beschrijft in verschillende brieven hoe het leven en de liefde in elkaar zitten, hoe kritiek werkt, hoe een kunstenaar kan bloeien… Ik gebruik in elke voorstelling wel een citaat van hem. Het is tevens de perfecte literatuur voor op het toilet, ik kan het persoonlijk aanraden.
La superba, Ilja Leonard Pfeijffer
Ik las het in een week uit, terwijl ik gemiddeld twee maanden over een boek doe. Pfeijffer kan mooi en respectvol schrijven. Ik ga het einde niet verklappen, maar het is waanzinnig. Een schrijver verhuist van Nederland naar Genua, als een soort van luxe-immigrant. Hij vindt als buitenlander moeilijk aansluiting bij de stad, tot hij verliefd wordt op het mooiste meisje van Genua.
Alles van Jonathan Safran Foer
Het begon bij Extreem luid en ongelofelijk dichtbij. Ik was meteen verkocht. Ik vind hem fenomenaal. Momenteel ben ik bezig in Hier ben ik, dat begint met een zin van één pagina lang. Als ik er één moet kiezen, dan blijft Extreem luid en ongelofelijk dichtbij de favoriet. Dat was mijn eerste, waardoor ik Foer leerde kennen. Het boek is een slag in je gezicht. Ik moest na de laatste pagina even bekomen.
Stadspanters, Astrid Haerens
Mijn kennissen van het conservatorium beginnen boeken te schrijven: Vincent Van Meenen schreef het prachtige Licht en geluid, Carmien Michiels maakt furore met haar poëziebundel We komen van ver en Rebekka de Wit kwam met We komen nog één wonder tekort. Leuke vrienden heb ik, hé.
Astrids boek is geweldig omdat ze goed observeert. Ze schrijft over Brussel, en ze weet de details goed te vatten. Haar stijl is poëtisch en vertellend tegelijk. Ik vind haar te onbekend voor het schrijftalent waarover ze beschikt.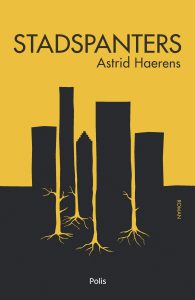 Mijn avonturen door V. Swchwrm, Toon Tellegen
Een kinderboek, dat ook voor volwassenen leuk is. Ik heb er ooit een stuk uit gespeeld voor toneellessen. Een jongen beleeft de dolste avonturen. Hij krijgt bijvoorbeeld een brief van de koningin: hij mag 1 seconde iets roepen, en wat hij roept, zal uitkomen. Hij brult snel 'Nooit meer oorlog', maar vraagt zich dan af of hij 'nooit meer oor' heeft geroepen en wat de gevolgen daarvan kunnen zijn. Toon Tellegen is ge-ni-aal.
Phaedra, vertaling, Hugo Claus
In mijn eerste jaar conservatorium speelden we Phaedra. Het was het eerste toneelstuk waarvan ik moest huilen. Hugo Claus kiest mooie woorden om dingen neer te zetten. Phaedra is getrouwd met Theseus, die een zoon heeft, Hippolites, met andere vrouw. Theseus trekt ten strijde en Phaedra wordt verliefd op Hippolites, die echter niet ingaat op haar avances. Bij Theseus' thuiskomst beschuldigt Phaedra Hippolites van verkrachting, en Theseus laat zijn zoon vermoorden. Achteraf bekent Phaedra haar leugens en pleegt zelfmoord. Ooit wil ik Phaedra spelen. Kan je vragen dat geïnteresseerde regisseurs me hiervoor steeds mogen bellen?
Street Photographer, Vivian Maier
Maier is een Amerikaanse, die haar hele leven als nanny werkte en in een klein kamertje woonde. Na haar dood vond men tienduizend rolletjes onontwikkelde foto's. Een man kocht ze toevallig op veiling, liet ze ontwikkelen en ontdekte de prachtigste foto's over het leven op straat in de jaren '60. Ze zijn een enorme inspiratie voor personages en toneelstukken.