Beste boekenburen – België, Nederland
De Nederlandstalige literaire wereld is klein – dat hebben we de jongste maanden wel gemerkt. Zo klein dat we ons in Vlaanderen en Nederland maar beter 'beste boekenburen' voelen… Een korte terugblik op 3 ontmoetingen in dat kader: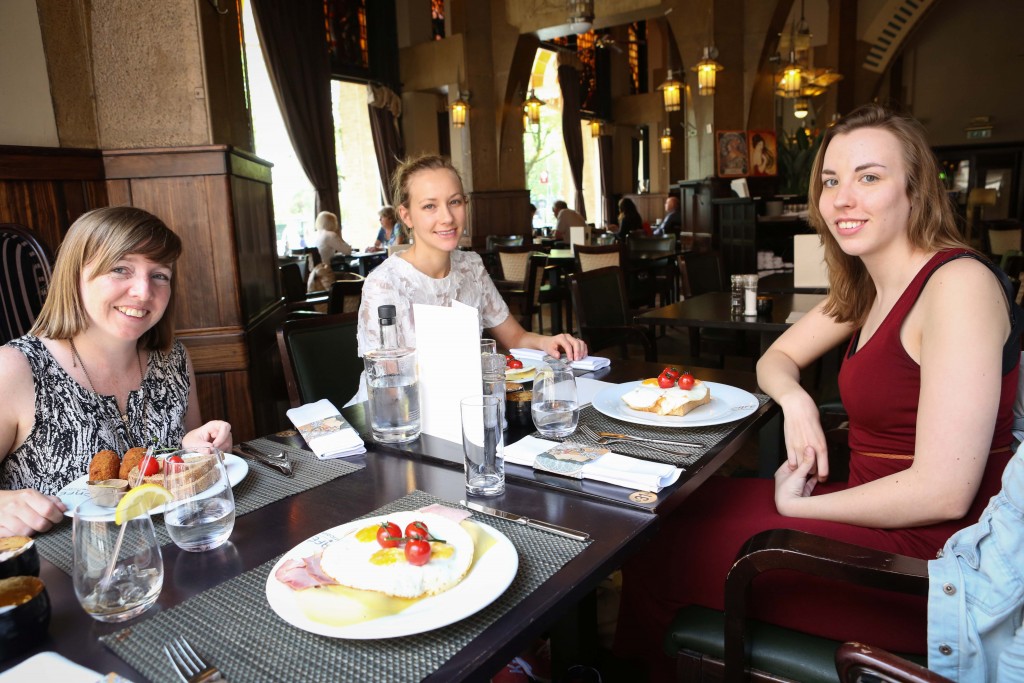 (1) 11 mei, This Is How We Read trekt naar Amsterdam voor de Libris en bezoekt en passant  vier lokale literaire hotspots voor de website van ELLE. Voor onze lunch in Café Americain vragen we (netwerk, netwerk…) het gezelschap van Nederlands boekenmeisje Michelle Playford. Michelle is een jonge literatuurwetenschapster die na enkele stages bij uitgeverijen zin kreeg om zelf meer te schrijven. In het najaar van 2014 vervoegde ze het kernteam van Lood, een online literair tijdschrift dat enkele maanden voor deze boekenblog van start ging. Lood heeft meer losse medewerkers (hun colofon vermeldt zo'n tien namen…) en een strakker regime van officiële redactievergaderingen dan This Is How We Read, maar voor de rest
blijken de ambities en interesses van Vlaamse en Nederlandse boekenmeisjes vrij gelijkaardig.
We willen allemaal het plezier in lezen en schrijven promoten; online ruimte creëren voor stemmen met inhoud en het internet & sociale media inzetten om literatuur nog lang alive & kicking te houden. Lood heeft sinds kort een redacteur in Antwerpen, Mara Matthyssens en lonkt dus al naar de Vlaamse literaire wereld. Misschien moeten wij de banden met Nederland ook nog wat strakker aanhalen, de komende maanden? We werken eraan… Jullie kunnen alvast 'ns kijken naar deze leuke stukken die recent verschenen op Lood:
Maartje Wortel (IJstijd, De Bezige Bij) over haar schrijfgewoontes en toekomstplannen
Het plotse succes van het korte verhaal verklaard
Verslag van een leesclub op Das Mag Festival 2015: "Je mag het ook een kutboek vinden, hé"
De klik tussen Gustaaf Peek en Deense bestseller auteur JC Grondahl
(2) 11 mei, gala-uitreiking van de Libris Literatuurprijs. In de persruimte van het Amstel Hotel lopen we Vlaamse fotografe Sanne De Wilde tegen het lijf. Deze Antwerpse woont in Amsterdam en werkt er o.a. voor De Volkskrant. Maar Sanne houdt ook nog van België, zo getuigen haar foto's van Gent (een 'citybook' in opdracht van Vlaams-Nederlands Huis deBuren), die je deze zomer kunt bewonderen in STAM in Gent tijdens het fotofestival 80 Days of Summer, samen met De Wildes beelden van albino's op de Samoa eilanden. Trouwens, wie houdt van literatuur en cultuur uit Vlaanderen, Nederland of Europa komt vroeg of laat altijd op de website van deBuren uit. Heel leuk is de reeks Museumtoer, waarvoor een Nederlandse schrijfster (Niña Weijers) en een Vlaamse (Heleen Debruyne) verslag uitbrengen van resp. Belgische en Nederlandse musea. Schrijft Niña Weijers, vanuit Mons:
"Van Gogh was geen natuurtalent. Zijn 'Café au charbonnage' uit 1878 lijkt wel een kindertekening, zo knullig, zo onbeholpen niet-kloppend."
(3) deBuren trekt deze zomer voor de vierde keer met een groep jonge schrijvers, journalisten en kunstenaars naar Parijs. Tijdens die 'residentie' zullen ze nadenken over de toekomst van grootsteden in Europa. Sanne De Wilde (over wie ik het zojuist had) reist mee, net zoals – it's a small, small world – Tiffany Mestdagh, met wie ik op de babyborrel van BoekenMagazine aan de praat raakte. Het is de bedoeling dat de deelnemers aan de residentie achteraf over hun ervaringen reflecteren en publiceren. Sluit dus vooral niet uit dat je deze zomer nog een Frans briesje voelt waaien op This Is How We Read, dankzij een gastredacteur. Beste buren, ja, van Amsterdam en Brussel tot Parijs.