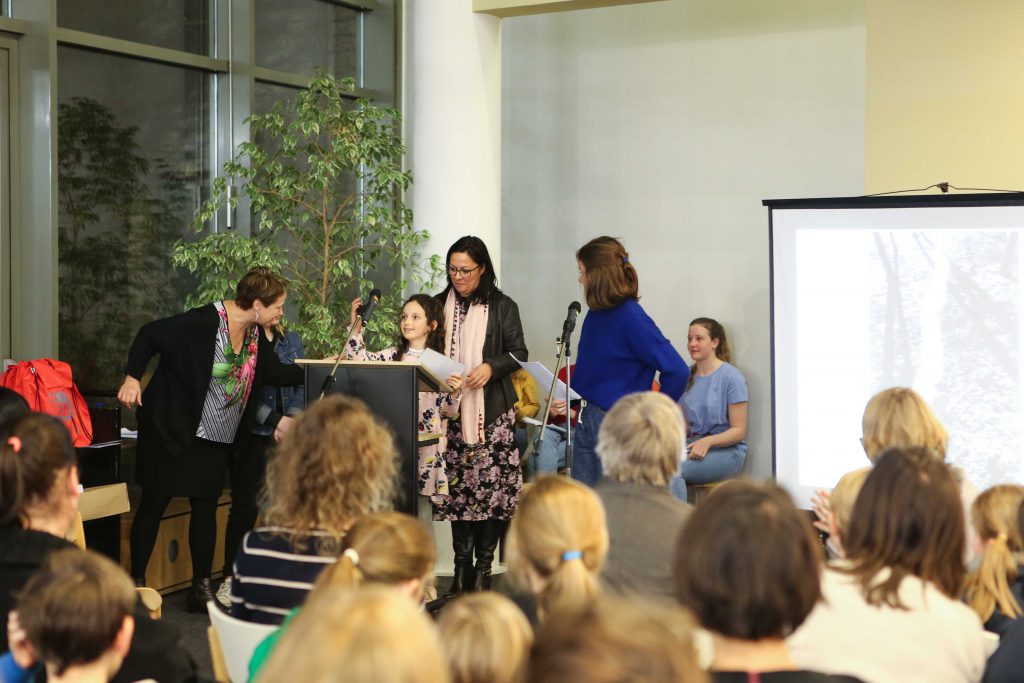 Op dinsdag 29 januari zat ons gezin in de bibliotheek van Brasschaat. Daar werden de prijzen uitgereikt van de jeugdpoëziewedstrijd 'Kom dichter in beeld', een samenwerking van de bib met de plaatselijke Academie Noord. Jongeren tussen 7 en 18 jaar werden uitgedaagd om een gedicht te schrijven bij een kunstwerk gemaakt aan de academie. Een sfeervolle foto van Karin Gielen, van een rij aan de rand verschroeide witte papieren in een bos, inspireerde Astrid tot een behoorlijk filosofisch gedicht. Ze werd één van de laureaten in de leeftijdscategorie 7 tot 10 jaar. De jury – met o.a. Peter Holvoet-Hanssen – hield van de twist op het einde. Astrid blij, de mama fier. Nog (net) geen negen, en al twee literaire prijzen (dit was de eerste).
Sinds Johanna in de 3e kleuterklas 'De Klokkenluider van de Notre Dame' heeft gezien, is er geen houden meer aan. Johanna is in de ban van Parijs. Van het zware klokkengelui in openingslied 'The Bells of Notre Dame'. Van het kaarslicht op Esmeralda's gezicht in 'God Help The Outcasts'. Ik geniet mee van Johanna's fascinatie – Disneys 'De Klokkenluider' kwam uit in 1996, een feit dat ik als zestienjarige met plezier negeerde (misschien iets voor in die brief aan mezelf...). Ik ontdek de film dus nu met haar. En omdat Joris en ik nooit veel push nodig hebben om een weekendje Parijs te plannen, trokken we midden februari met onze oudste twee dochters naar 'de mooiste stad ter wereld'. Onze eerste halte was… de Notre Dame. In de nasleep van de leuke filmavond rond Colette, kocht ik voor vertrek een exemplaar van 'Claudine à Paris' om op de Thalys te lezen. Helaas, helaas, de eerste 40 bladzijden wisten me niet mee te slepen. Gewoon een lichtjes gedateerd meisjesdagboek. Zou het dan toch waar zijn dat ik met de jaren minder snel onder de indruk geraak van een boek?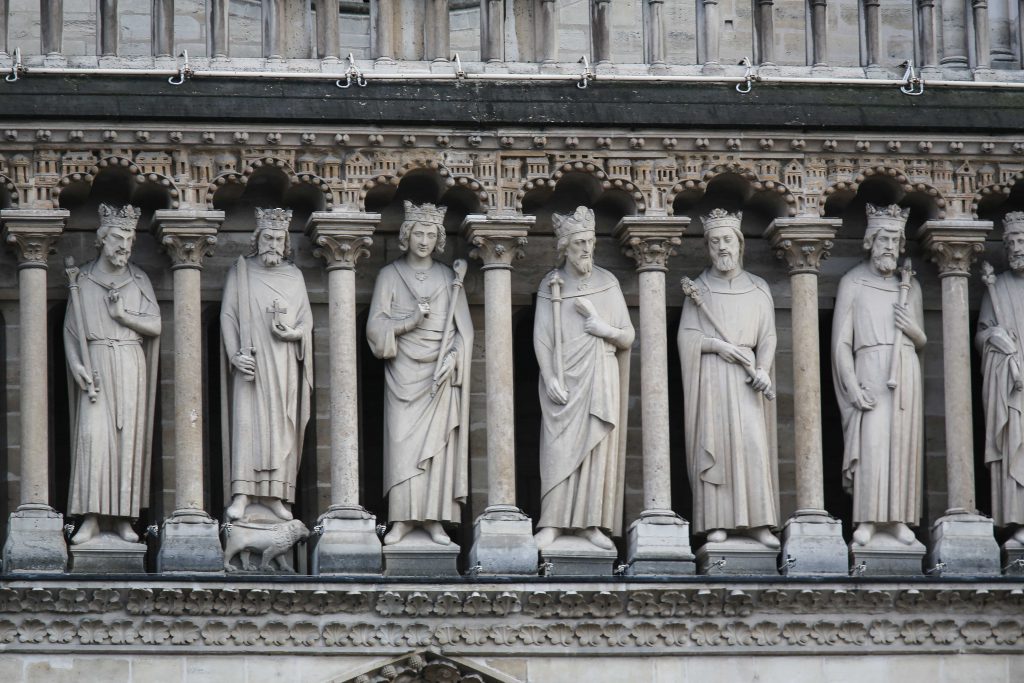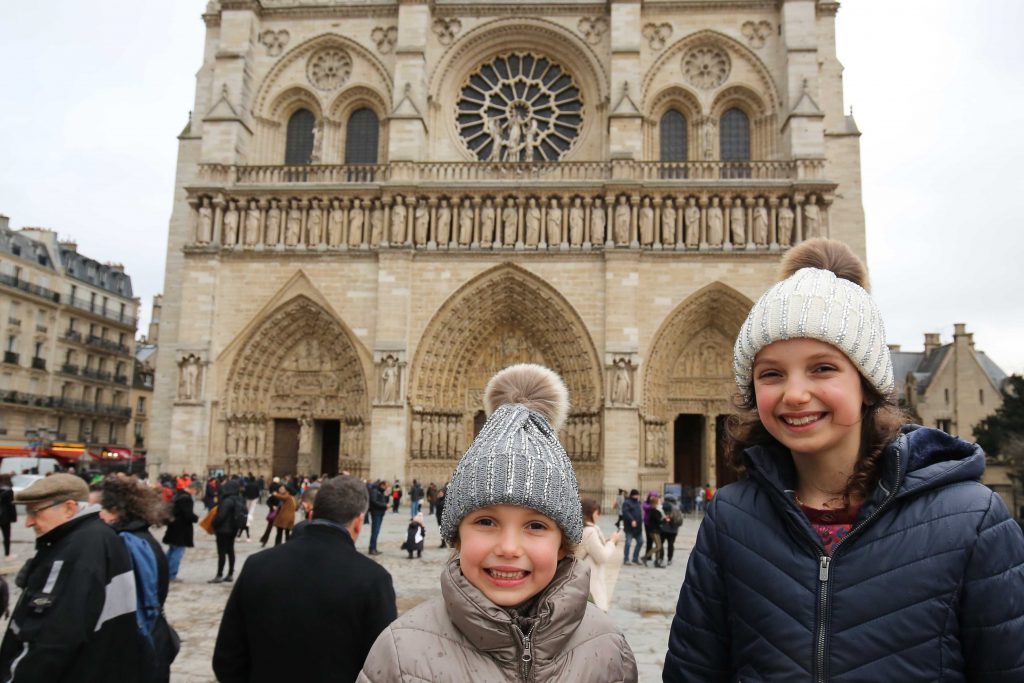 Gelukkig had ik 'Claudine à Paris' de avond voor ons vertrek, thuis al even getest. Ik kon dus nog snel een ander boek uit onze kast vissen als reislectuur. Het werd een collectie korte verhalen van W. Somerset Maugham (1874 – 1957), een Britse schrijver van wie ik om één of andere reden heb onthouden dat zijn bijnaam 'the first of all second-rate writers' was. Een nogal hard oordeel, want ik heb goede herinneringen aan zijn roman 'Of Human Bondage'. Ook de korte verhalen – die zich in koloniale gebieden en in vooroorlogse jaren afspelen – waren prettige lectuur op de trein. Incestueuze relaties bij tropische temperaturen, passionele moorden rond riante huizen – zo'n thematiek verveelt niet snel. Bij thuiskomst heb ik de bundel wel terug in de kast gezet. Van de 4 verhalen die ik las, waren er 3 opgebouwd volgens het principe 'twee eenzaten ontmoeten elkaar, waarop de ene de andere een straf verhaal vertelt…'. Meer 'tell' dan 'show' dus. Bedoelen ze dat misschien met die 'second-rate'?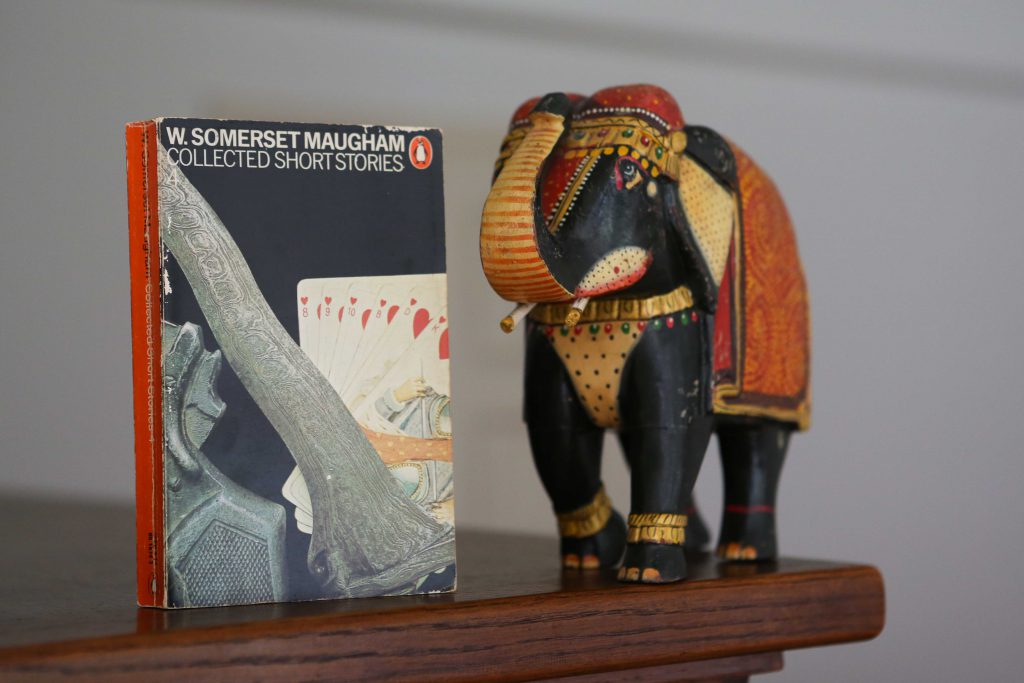 Eind 2018 hebben Katrien en ik een fijne deal getekend. Te gepasten tijde (jaja, zo schrijf je dat – heb ik nagekeken) lezen jullie er meer over. Maar ik kan al verklappen dat het iets is voor het voorjaar. En te maken heeft met één van onze best gelezen posts ooit. Met de schrijver dan, niet met de stad. Als #soexcited ooit toepasselijk was, dan nu!