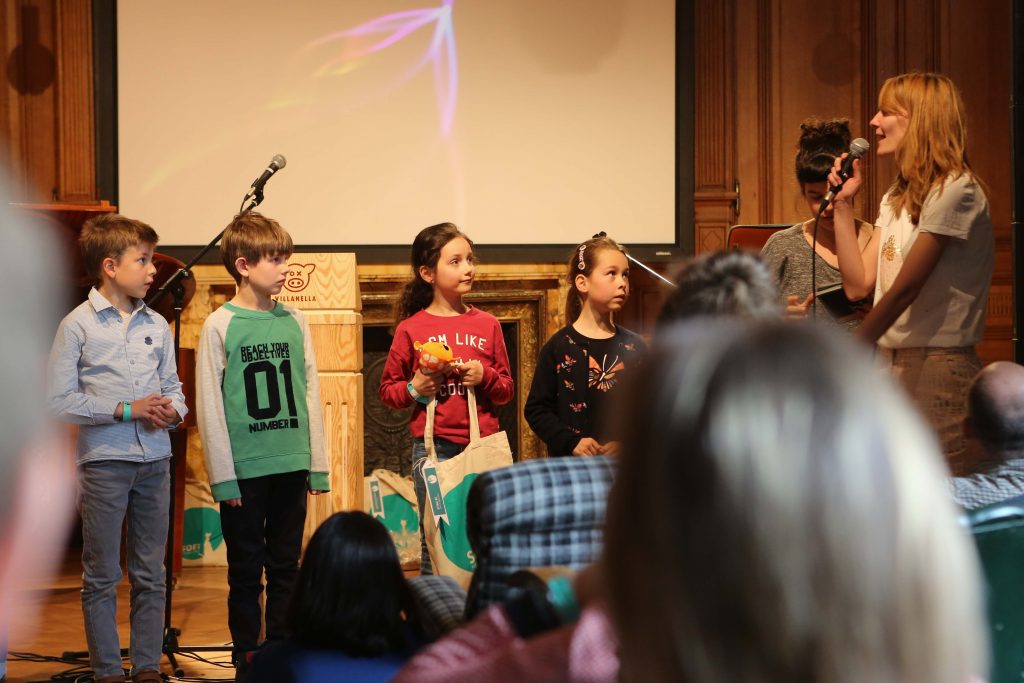 Eind april won Astrid haar eerste literaire prijs. Geniet mee van mijn proud parenting moment. En van Astrids mooie gedicht, natuurlijk.
Er hing gezonde spanning in de lucht, die 22e april. In DE Studio in Antwerpen vond de prijsuitreiking plaats van de jaarlijkse SOET gedichtenwedstrijd. We wisten op voorhand dat Astrid bij de genomineerden hoorde in de jongste leeftijdscategorie, die van 6 tot 8 jaar. Maar of ze daadwerkelijk een prijs of een eervolle vermelding zou krijgen? Dat viel af te wachten. Ons gezin stapte dus verwachtingsvol in de auto, met ons potentieel prijsbeestje midden op de achterbank. "We zijn sowieso trots op jou!", verzekerde ik Astrid tijdens de rit. Oprecht. En tegen Joris fluisterde ik op z'n Marjorie Housman in de film Dirty Dancing (op het moment dat Baby de Time of Her Life heeft): "I think she's got this from me…"
Stipt om 14u – we waren bijna te laat… – nam coördinator Flore van Jeugd & Poëzie het woord. Ze vertelde dat jonge dichters tussen 6 en 30 jaar dit jaar niet minder dan 691 gedichten inzonden voor de SOET wedstrijd. En in Astrids leeftijdscategorie waren er negen genomineerden… Voor drie prijzen en één eervolle vermelding…
Mijn kansberekenend vermogen (gaat ze winnen? gaat ze winnen? gaat ze winnen?) liet me even in de steek, maar daar kwam het verlossende woord al.
Nadat ene Soetkin de eervolle vermelding in ontvangst had genomen, begon Flore over een paard met onstilbare honger. Als dat geen verwijzing naar Astrids gedicht was? Ik zag aan Astrids ogen dat ze besefte dat ze de derde prijs had gewonnen, nog voor haar naam werd genoemd. Hoe toepasselijk kan een T-shirt opschrift zijn?
De jury bekroonde Astrids gedicht Het supergulzige paard
Er was eens een gulzig paard.
Goudblokken waren voor hem niets waard.
Hij wou alleen maar eten.
Dat hij op ging vreten.
Hij vond het eten heel lekker.

En was altijd wakker voor zijn wekker.
Waarom? Dat moet je nu al weten.
Om vroeg te beginnen eten!
Astrid had drie gedichten ingezonden, het maximum toegelaten aantal. Als trotse moeder kan ik het niet laten om nog één strofe uit een ander gedicht – Mijn smerig klein zusje – te citeren…
Ik heb een lief klein zusje
Ze is echt een schat
Soms kan ze ook heel vies zijn
En dan moet ze in bad
Geweldig toch?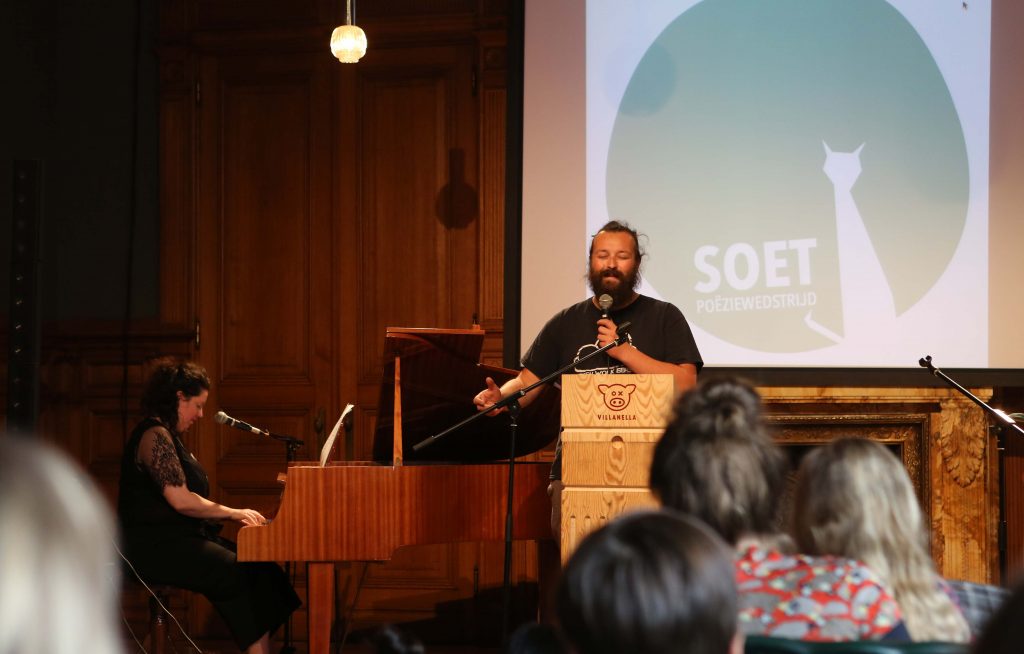 In haar prijzenpakket vond Astrid een zak snoep, een notaboekje, een mooi geïllustreerde uitgave van de winnende gedichten van SOET 2017 en twee nummers (plus de belofte van een abonnement) van het tijdschrift Dichter – een blad met een baseline die Astrid fascineert: 'Voor kinderen van 6 tot 106'. Maar de mooiste prijs was waarschijnlijk de dag zelf. Er waren muzikanten die de winnende teksten live zongen. Na de prijsuitreiking was er een literaire workshop voor al wie had deelgenomen aan de wedstrijd. Er was cake en chips. En allemaal andere kinderen die van letters en boeken houden. Als dit geen stimulerende, inspirerende middag was voor jonge dichters, dan weet ik het ook niet…
PS: Aan de officiële fotografe van de dag… Sorry not sorry om je groepsportret te 'stelen'. Als je onze blog volgt, weet je dat je dat niet persoonlijk moet nemen.
PPS: Wij schuimen de jongste tijd wel poëziewedstrijden af, hé.
PPPS: In het officiële filmpje van de dag zie je Astrid (in een flits) aan het werk in haar workshop – rond seconde 34. Oh God, zijn we weer beland bij seconden tellen in filmpjes – cfr. hoogtepunt 6?