E-boeken uit de bib mee naar het zuiden
Digitaal of op papier? Misschien wel één van de meest Frequently Asked Questions aan een boekenmeisje. Tot voor kort was mijn digitale leeservaring beperkt tot het lezen van drukproeven in pdf op mijn iPad. Met een 'echte' e-reader had ik – wegens niet erg compatibel met die voor een recensent zo belangrijke pdf's – geen ervaring. En 'oudere' boeken die las ik net als de meerderheid van de Vlamingen (e-boeken maken slechts vier percent van de boekenverkoop uit) gewoon op papier.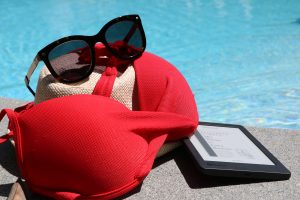 Toen ik echter hoorde dat vijf Vlaamse bibliotheken dit jaar een proefproject opstarten rond het uitlenen van (Engelstalige) e-boeken besloot ik om het een kans te geven. Mijn eigen Kobo Aura experiment was geboren.
Ik maak me lid van bibliotheek ARhus van Roeselare of all places om te kunnen deelnemen, maar ook Oostende, Gent (De Krook), Brussel (Muntpunt) en Mechelen testen mee. Na het installeren van de cloudLibrary app op mijn laptop, loop ik even vast op het inloggen. Als het me een paar uur later wel lukt, snuister ik door het aanbod. Meteen springen enkele titels die ik recent graag heb gelezen in het oog, zoals Grief is the thing with feathers van Max Porter en The natural way of things van Charlotte Wood. Hoewel ik zelf graag in het Engels lees, hopen de bibliotheken dat Nederlandstalige uitgevers mee in het project zullen stappen en heeft Veen Bosch & Keuning alvast toegezegd.
De spelregels zijn duidelijk: maximum drie boeken, voor maximum drie weken en geen boek dat al is uitgeleend. Dat laatste klinkt een tikkeltje raar, want waarom zou je een e-boek niet kunnen uitlenen aan een oneindig aantal gebruikers? Die beperking blijkt er echter gekomen te zijn op vraag van de boekensector. Want waarom zou iemand anders ooit nog een e-boek kopen?
Omdat ik vorige week met de collega's een weekje ga werken vanuit de Ardèche, ontleen ik meteen drie boeken uit voor mijn Kobo e-reader: My name is Lucy Barton van Elizabeth Strout (stond al lang op mijn leeslijst), Short cuts van Raymond Carver (want is hij niet de koning van het kortverhaal) en All that man is van David Szalay (over dé man van de 21ste eeuw, door het over negen mannen te hebben).
Aan het zwembad sla – of liever gezegd klik – ik My name is Lucy Barton open. Ik heb de afgelopen dagen stiekem al wat geoefend met de Kobo en het leesritme zit er al in. Markeren gaat steeds beter, maar nota's nemen loopt duidelijk nog stroever dan op de iPad. Lezen in de avondzon vormt dan weer geen enkel probleem. De tekst is vlot leesbaar en de e-reader heeft geen last van de hitte. En het is dat het aperitief lonkt na zonsondergang, of My name is Lucy Barton was al uit geweest. Als ik 's avonds verder lees in bed, past de e-reader zich perfect aan, geen pijnlijke ogen van zoveel schermtijd én geen gevaarlijk blauw licht.
De komende dagen verovert de Kobo een vast plaatsje in mijn handtas, hij is superlicht en toegegeven Lucy Barton is steengoed!
Let's have some Raymond Carver tonight! 
PS. Enneuh… eindelijk geen bibliotheekboetes meer na mijn vakantie! Na drie weken verdwijnen de uitgeleende boeken onverbiddelijk van mijn e-reader.
PS2. Nog meer bibliotheekexperimenten.