Buitengewone bibliotheken
Twee weken geleden mijmerde ik op de blog al over de toekomst van bibliotheken. Een antwoord – of het is te zeggen – vele inspirerende antwoorden heb ik ondertussen gevonden in het fotoboek Buitengewone bibliotheken van Alex Johnson, een Brits journalist, blogger en zoon van bibliothecarissen. In dit boek (en op zijn blog) verzamelt hij onconventionele bibliotheken.
Ik laat jullie even meedromen.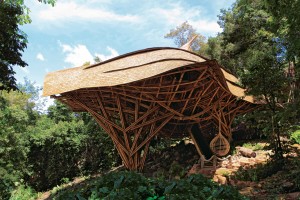 Wat je ziet is geen ruimteschip maar een lees- en ontspanningscomplex uit bamboe voor kinderen in het Thaise Soneva Kiri Resort in Koh Kod. Bibliotheken in hotels zijn trending, maar dit resort brengt dit idee naar een vierde dimensie.
In ontwikkelingslanden worden dieren regelmatig ingeschakeld om boeken tot bij de bevolking in afgelegen gebieden te brengen. Op deze foto zie je de grondlegger van een mobiele kinderbibliotheek in Mongolië. Jambyn Dashdondog schreef zelf meer dan 70 kinderboeken en reist hiermee naar de nomaden in de Gobiwoestijn.
Deze Little Free Library kan je vinden bij St. Patrick's Old Cathedral School in New York. Je kan er boeken ontlenen of schuilen voor de regen. Little Free Libraries hebben als motto 'take a book, return a book'.
Billy-boekenkasten… je vindt ze overal. Zelfs op het strand in Sydney waar Ikea voor haar dertigste verjaardag een reuzeboekenkast installeerde.
In deze hangende bibliotheekkastjes konden bezoekers van de Design Biennale in St. Etienne een boek achterlaten en uitkiezen.
Zeg nu zelf, als je al deze innovatieve sharing ideeën ziet … ons idee om zwerfboeken achter te laten, is zo gek nog niet.
Meer inspiratie vind je in Buitengewone bibliotheken, Alex Johnson, Luster, 240 p.