Dit artikel verscheen eerder op woensdag 13 mei 2015 op elle.be 
Glamour en literatuur, gaat dat samen? Natuurlijk, roept ELLE boekenjournaliste Eveline en ze stort zich in het gewoel van de Libris Literatuurprijs.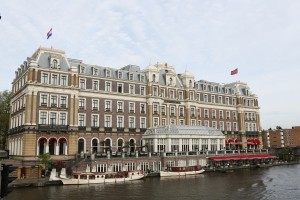 11 mei, Amstel Hotel (5*), Amsterdam. 18u40 en een portier met hoge hoed opent onze taxideur. Libris Literatuurprijs, hoogmis van de literaire glamour, here we come. Zes schrijvers maken kans op 50 000 euro en mogen een avond somptueus dineren tussen de kroonluchters en kandelaars. Wat halen ze daarvoor uit de kast?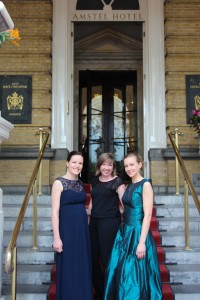 Het wordt een exclusieve avond voor een select gezelschap van 140 genodigden. Zelfs de pers werd gevraagd op te dagen in gala. Check! V.l.n.r. ELLE freelancer Barbara De Munnynck, journaliste Katrien Elen en ELLE boekensmurf Eveline Janssens aka het trio achter boekenblog www.thisishowweread.be.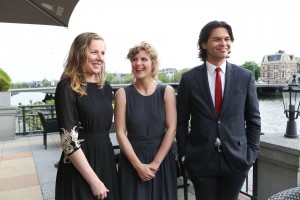 We zijn een beetje vroeg en dus net op tijd voor deze 'early bird bonus': drie genomineerden met hooggespannen zenuwen op een dunbevolkt terras met zicht op de Amstel. V.l.n.r. Esther Gerritsen, Niña Weijers en Gustaaf Peek.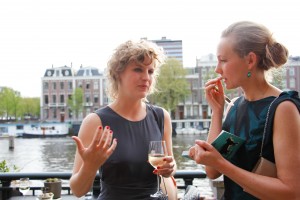 Notitieblok in de aanslag voor de ELLE boekenpagina. Niña Weijers is hip, jong, sympathiek en goed gekleed. Haar jurk is van 3.1 Philipp Lim, een label dat sinds 2005 gaat voor 'cool, easy, chic looks with a sense of madness'.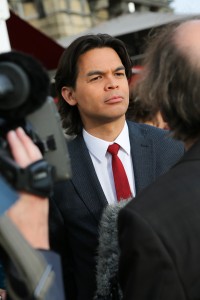 Net terug uit Thailand, strak in het pak (van Zara) en gegeerd door de pers: Gustaaf Peek. ELLE 's stoute vraag: genoot mama Peek van de seksscènes in 'Godin, Held'? Peeks brave antwoord: ze heeft ze niet gelezen. Size does matter voor Peek. Hij belooft dat z'n nieuwe roman een groots werk wordt, in alle betekenissen van het woord.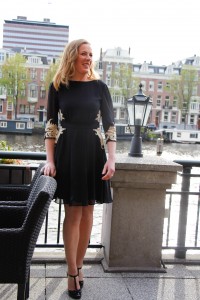 Grootste kanshebber om vanavond als derde vrouw ooit de Libris Literatuurprijs in de wacht te slepen: Esther Gerritsen in een jurk van Ted Baker. Haar volgende project is het Boekenweekgeschenk 2016: 'Waar ik dringend eens aan moet beginnen.'
Het is literair koppen lopen op het terras van het Amstel Hotel. De zon gaat onder, de alcohol stijgt de aanwezigen naar het hoofd maar de vlinderdasjes hangen nog recht. Gezellig 'borrelen' is het, hier op de Libris uitreiking.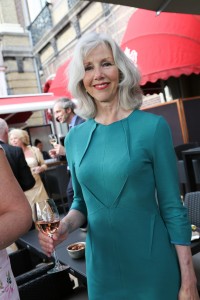 Op stijl staat geen leeftijd. Schrijfster Marieke van der Pol (van het verfilmde Bruidsvlucht) gaat voor haar garderobe langs bij Amsterdamse Mattie Couperus en liet haar jurk op maat maken. Een toonbeeld van elegantie.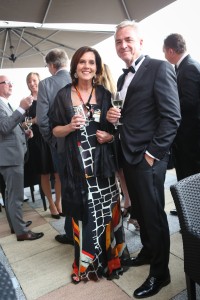 19u50. Intussen is het ons duidelijk. Glamour in Letterenland is eerder distinguished dan cutting edge. Mooi koppel: de hoofdsponsor geflankeerd door z'n echtgenote, in het Italiaanse Save the Queen.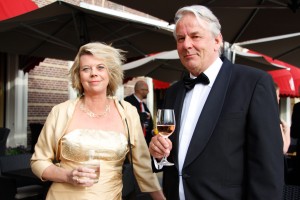 Een presentatrice moet schitteren, moest Margot Dijkgraaf gedacht hebben. Of is dit een statement: 'De Libris is de Golden Globes van de boekenwereld.'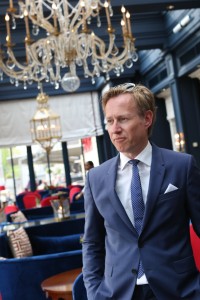 Peter Terrin, de enige Vlaming onder de genomineerden, trouwde vorig jaar in dit blauwe pak van Paul Smith. Zijn vrouw koos het en Terrin hoopt dat z'n 'Lucky Suit' hem vanavond geluk zal brengen.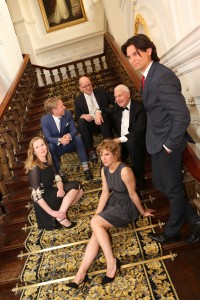 Vijf minuten na het officiële fotomoment op de statige trap in de inkomhal van het Amstel: zes bloednerveuze genomineerden proberen het luchtig en gezellig te houden. Let op de gebloemde das van Kees 't Hart of op ontspannen éminence grise Adriaan Van Dis, wiens smoking zit als een tweede huid.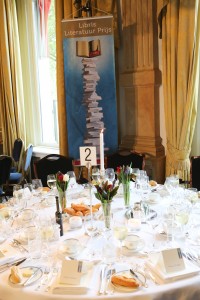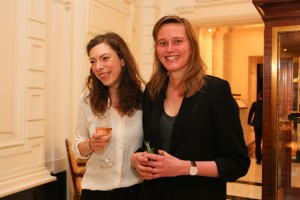 Terwijl de genodigden aan het galadiner hun zenuwen achter gesloten deuren in toom proberen te houden, wordt het gezellig in de lobby. Jonge schrijfsters Hanna Bervoets (Efter) en Maartje Wortel (Ijstijd) haalden zelf de longlist van de Libris en supporteren nu sportief voor Niña Weijers – de enige van hun 'clubje' op de shortlist. En een beetje supporter vliegt tijdig in de cocktails…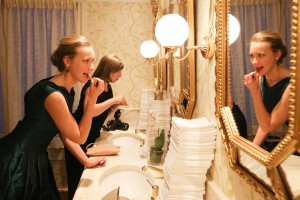 22u Even schmink bijwerken, net voor de officiële bekendmaking van de winnaar.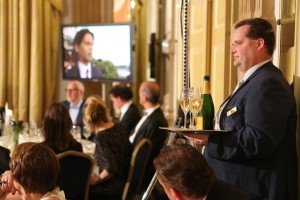 De camera's van Nieuwsuur draaien voor de live-uitzending op tv. De champagne voor de winnaar staat koud. De deuren van de Spiegelzaal gaan open.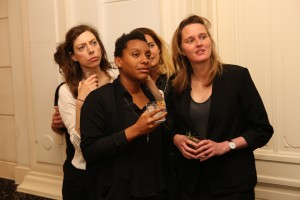 Hanna Bervoets (in Cos en 'iets heel erg oud'), Maartje Wortels partner en Wortel zelf (ook in Cos) vinden het nu wel heel spannend worden…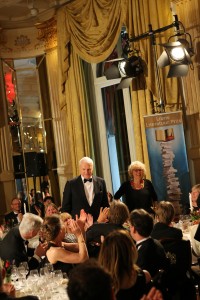 En de winnaar is: Adriaan Van Dis voor 'Ik kom terug' – een boek over z'n moeder.
Zoals het een winnaar past, pakt Adriaan Van Dis het maar meteen allemaal: de persaandacht, de overwinnaarsspeech, de erepenning en de cheque van 50 000 euro…
Een emo-moment voor mevrouw Van Dis, die de hoofdprijs niet had zien aankomen: 'Ik ben regisseur en merkte dat de lichten net voor de bekendmaking niet op Adriaan stonden gericht…' La Van Dis draagt J. Crew, een favoriet merk van Michelle Obama. Yes, he can.
Opvallend: ook de genomineerden die naast de prijzenpot grepen, blijven lachen.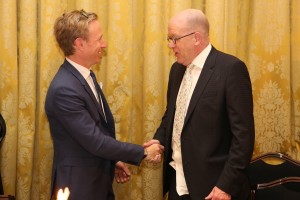 Peter Terrin laat het niet aan zijn of Kees 't Hart komen. Terrin heeft thuis al een AKO prijs op de schouw en als enige Vlaamse auteur schreef hij met 'Monte Carlo' volgens de jury dan toch het beste boek van Vlaanderen.
PS: Libris backstage en een blik op de genomineerden