De Standaard- en Weekend Knack-journaliste Katrien Steyaert werd benaderd door Lut Raymaekers met het idee voor Welkom aan boord. Of ze zin had om een boek te schrijven dat het verhaal van 'de steward(ess)' in België zou brengen? Van de beginjaren waarin 'de vliegtuigen soms uit de lucht vielen', over de gouden jaren vol luxehotels en lange escales tot nu, dagen waarin low cost maatschappijen de boventoon voeren. Waarom kiezen mensen voor dit vak en hoe is de job geëvolueerd?
Haar titel, hostess, zei alles: zij was de gastvrouw aan boord. Haar vriendelijke aanwezigheid, samen met het feit dat ze ostentatief een verbanddoos bij zich droeg, was ook voor gezinnen en kinderen een hele geruststelling.
Katrien had geen enkele moeite om zowel gepensioneerde als actieve stewardessen te vinden die hun verhaal wilden doen. 'De luchtvaartwereld is een hecht netwerk. Als ik één iemand geïnterviewd had, gaf die me meteen drie nummers door van andere geïnteresseerden.'
Je rolde samen met het boek in de luchtvaartwereld?
Het was fijn om langer aan één project te werken en me vast te bijten in één onderwerp. Ik had er voorheen nog nooit bij stilgestaan, maar dit is een wereld vol verhalen, zowel positief als negatief. Na alle interviews heb ik bij wijze van spreken stof voor tien boeken.
Het geschiedkundig aspect sprak me aan. In de beginjaren, de jaren veertig en vijftig, moest je als vrouw veel haar op je tanden hebben om stewardess te worden. Het duurde acht dagen om tot in China te geraken, in Afrika waren landingsbanen niet meer dan zandstroken en vliegtuigen crashten nog vaak. De oudere dames die ik heb ontmoet, die hebben het gedurfd. De moeders van deze stewardessen waren er niet gerust in. Nieuwsgierigheid en zin voor avontuur waren hun belangrijkste drijfveren.
Ik probeerde de passagiers en mijn collega's te kalmeren. Plots voelde ik dat we toch opstegen, maar het ging niet goed. We hingen wel in de lucht, maar we zweefden boven de woestijn zonder enige stuwkracht. De passagiers voelden dat ook en geraakten in paniek. Ik geloofde zelf dat we gingen crashen.
Maar ook in onze moderne tijd is het leuk om een evolutie te zien. Ik sprak met enkele stewardessen die nu actief zijn bij Jetairfly. Het was interessant om te onderzoeken of de glamour er nu effectief af is.
Wat een opvallende constante is, is dat veel vliegend personeel een band voor het leven heeft. Er bestaan Sabena-facebookgroepen, ze organiseren jaarlijks een barbecue. Het is een aparte job en een onregelmatig leven. Ze voelen zich begrepen door elkaar.
Vliegen is dan ook niets exclusiefs meer. Mensen van alle slag kunnen en doen het. Ter vergelijking: in 1953 moest de gemiddelde Belg een half jaarloon uitgeven aan een heen- en-terugticket naar New York in economyclass. In 1966 was dat nog twee maanden loon, en zo bleven de prijzen dalen. Op reis gaan met het vliegtuig bleef lange tijd een onbetaalbare luxe voor de meeste mensen, maar de democratisering zette zich sterk door.
Kan je de vergelijking maken tussen het gouden luchtvaarttijdperk en de huidige Ryanair-cultuur?
Vliegen is toegankelijker en democratischer geworden. Er circuleert veel minder geld in de sector, het is minder luxueus en glamoureus dan vroeger. Het leven als vliegend personeel is harder geworden, je hebt nu veel meer te maken met onregelmatige uren voor minder loon.
De passagiers zijn ook veranderd. Sommigen zijn minder stijlvol en minder beleefd.
Tegenwoordig schrikken sommige passagiers er blijkbaar niet voor terug om de cabin crew bevelend toe te spreken of schijnen ze elementaire vormen van beleefdheid te vergeten. Ze zetten na het eten hun plateau op de grond en knippen dan met hun vingers naar de eerste stewardess die passeert. 'Neem je dat niet mee?' snauwen ze.
Stewards en stewardessen hebben minder tijd voor passagiers en vinden dat jammer. Vroeger was er ruimte voor gesprekken en leerden ze mensen kennen: wetenschappers, diplomaten, reizigers van alle slag…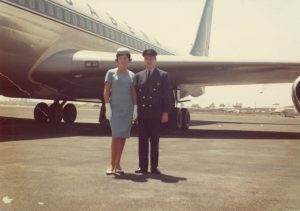 Wat was het meest surrealistische verhaal?
Eén stewardess beschreef een vlucht 'gekker dan Monthy Python'. Haar chef de cabine was aan zijn laatste vlucht toe en gaf haar voor de vlucht alle papieren. "Poeske, gij doet alles". Hij had er geen zin meer in. Aan boord was een zwaargewonde man die gerepatrieerd werd samen met zijn vrouw en een dokter. De draagberrie stond op drie zetels in economyclass en zijn vrouw werd een stuk verderop gezet, uit angst dat ze hysterisch zou worden. Verder was de echtgenote van een belangrijke chief pilot aan boord en ze was jarig. De stewardess moest de bar van eerste klas versieren en een 'gâteau met bougiekes' aanbieden.
Middenin de service begonnen de monitoren van de zwaargewonde man te piepen. De dokter sloeg meteen aan het reanimeren, maar het hielp niet. Terwijl alle economy-passagiers zaten te eten, kwam de man te overlijden.
Na het overlijden verzamelden de captain, de dokter en ik in de bar boven voor de hele papierwinkel. Daarna riepen we de echtgenote. Ze nam het relatief goed op en zei dat ze al weinig hoop had gehad. De dokter gaf haar een spuitje en terwijl ze wat ging rusten, begon ik de ballonnen op te blazen voor die jarige madame. Ze vond dat we voor haar zo'n komedie niet moesten opvoeren, maar we zongen toch "Happy Birthday".
Het was alles bij elkaar. Gekker kan je het niet bedenken.
Wat was het droevigste verhaal?
Het allerergste vond ik het verhaal van een koppel dat hun dochter zou gaan bezoeken in Griekenland, die daar als animatrice werkte. De vader zette de moeder af aan de ingang van de luchthaven en ging de auto parkeren. Tegen de tijd dat hij aan de incheckbalie kwam, lag zijn vrouw daar dood door een hersenbloeding. De vader vloog toch naar de vakantiebestemming om zijn dochter te gaan vertellen dat haar moeder overleden was. Dat moet hartverscheurend zijn geweest.
Vliegend personeel probeert veel te relativeren, maar verhalen als deze kruipen onder hun vel. Maar stewardessen met enkele jaren op de teller hebben het nog het moeilijkst met lastige passagiers: op het einde van hun carrière is het soms een opdracht om vriendelijk te blijven tegen onbeschofte of onbeleefde reizigers.
Hoe zou jij het er van af brengen als stewardess?
Ik zou het boeiend vinden om te reizen. Zeker als er tijd zou zijn om de bestemmingen te verkennen. Ik weet niet of ik stressbestendig genoeg zou zijn, beslissingen nemen over leven en dood lijkt me zo moeilijk. Je wordt daar wel op getraind, maar toen ik zulke verhalen hoorde, dacht ik: gij liever dan ik.
Hoe voelt het om als journalist zelf geïnterviewd te worden?
Voor mij is het stuk van het project dat het meest onwennig is, het uit handen geven van wat er over geschreven wordt. Ik probeer alles na te lezen, dat is pure beroepsmisvorming. Maar ik ben blij met elke vorm van positieve aandacht die dit boek krijgt.
Heb je nog boekentips voor een lange vliegtuigreis?
They came like swallows van William Maxwell. Sober, maar zeer ontroerend.
Mr Gwyn van Alessandro Baricco. Licht en diep tegelijk.
(En voor wie drie keer rond de wereld vliegt en meer dan 700 pagina's wil verzetten) A Little Life van Hanya Yanagihara. Een verre van een perfect maar wel intens boek.
Welkom aan boord, Katrien Steyaert, Uitgeverij Van Halewyck. Het boek ligt vanaf 7 juni in de winkels.
www.katriensteyaert.be