Er zijn vrouwen aanwezig in de Ilias, het is waar. Er is Helena, waarmee alle ellende begon. Er zijn Athena en een hele rits godinnen die zich maar wat graag mengen in een fris potje bonje. Onsterfelijk zijn is vast behoorlijk drempelverlagend bij het deelnemen aan een dodelijk conflict. Maar het moet gezegd worden, de rest van het verhaal is weggelegd voor een meute testosteronbommen -al dan niet (half)goddelijk- die zich hexameter na hexameter het pleuris hakken. Sterfelijke vrouwen komen alleen ten tonele als hun glorieuze vent het loodje legt onder het zwaard van een andere glorieuze vent- zoals Andromache overkwam- of wanneer ze als oorlogsbuit worden verhandeld. Zoals Briseis, de trofee van Achilles, halfgod en éénmans weapon of mass destruction. Het is door de ogen van Briseis dat Pat Barker de Trojaanse oorlog vertelt, wat een ronduit briljante roman oplevert.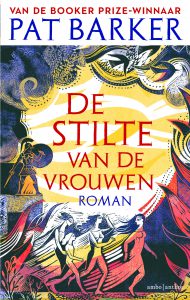 Briljant, omdat Barker de toon en de sfeer die Homerus creëerde perfect weet te behouden, terwijl ze geen gelegenheid onbenut laat om de originele plot aan te vullen met het gruwelijke lot van vrouwen en kinderen bij al die heldendaden.
Door Briseis als hoofdpersonage te nemen kan Barker het hele scala van oorlogshorror bestrijken. Briseis wordt gevangen genomen tijdens de vernietiging van Lyrnessus, waar ze getuige is van hoe Achilles haast achteloos haar broers afslacht. Ze ziet er hoe vrouwen zich van een toren werpen om niet in de handen te vallen van de Grieken, ze is erbij wanneer zwangere vrouwen als voorzorg worden vermoord, zodat er geen jongen geboren wordt. Ze wordt samen met enkele lotgenoten de brandende stad uit geëscorteerd, verdoofd door de absolute gruwel en van streek omdat ze zich als klein meisje niet meer onbedekt in het openbaar heeft vertoond.
Briseis is een cadeautje voor Achilles, uit erkentelijkheid voor betoonde vlijt. Als prijs van een held geniet ze een bevoorrechte positie en mag ze vrij door het Griekse kamp lopen, waardoor ze de erbarmelijke omstandigheden van de gewone slavinnen kan aanschouwen. Zij moet dan weer elke nacht het bed delen met Achilles, die nauwelijks het woord tot haar richt en zich amper van haar bestaan bewust lijkt.
Ten onrechte, want terwijl we Briseis in de originele Ilias nauwelijks leren kennen -ze krijgt amper tekst toebedeeld en fungeert er meer als rekwisiet- is ze hier een mondige, intelligente vrouw die de rouwdouwers om haar heen moeiteloos doorgrondt. Afgezien dan van… Achilles.
Barker zet Achilles neer als een complex en getroebleerd figuur, ver van de goddelijke perfectie die de mythe wil. Hij ís de genadeloze moordmachine die het bloed niet meer uit zijn poriën gewassen krijgt, de koppige superman met een intens anger management probleem en de halfgod die met zijn oorlogskreet hele legers vuil ondergoed bezorgt, uiteraard, maar ook een verwaarloosde jongen met een wispelturige godin als moeder, een vat vol liefde voor Patrocles en een wandelende collectie littekens. (Waarmee Briseis de mythe van de onkwetsbare Achilles schamper naar de prullenmand verwijst.)
Ook bij Barker ijlen alle helden onhoudbaar naar het lot dat de goden voor hen hebben weggelegd, met Achilles op kop. Hector vermoordt Patrocles, die de plaats innam van Achilles, die zat te mokken omdat Agamemnon zijn speeltje -Briseis- had afgepakt, het oerverhaal is gekend. Dankzij De stilte van de vrouwen weten we nu wel wat Briseis ervan vond. (Agamemnon is een all-round etter met specifieke seksuele voorkeuren, onder andere. En Odysseus is een gladjanus, bevestigt ze.)
Wanneer Troje valt -en hier lijmt Barker een stukje Euripides aan Homerus- eindigen we met waar het begon: weer een stad die valt, weer vrouwen en kinderen die de dupe zijn. Deze keer is het Andromache, de weduwe van Hector, die de totale vernietiging van alles wat haar lief is mag aanschouwen. Haar zoontje wordt van de kantelen gekeild en zelf wordt ze afgemarcheerd als de prijs van de zoon van Achilles. Bij Barker vindt Briseis Andromache terug in een hut in het kamp van de Grieken, in dezelfde erbarmelijke staat als waarin ze er zelf belandde. Samen krijgen ze een enkeltje richting Griekenland aangesmeerd, aan de zijde van hun Griekse echtgenoot. Het enige dat achterblijft wanneer de boten vertrekken na tien jaar bloedige ambras, is een onwerkelijk leeg strand en de grafheuvel van Patrocles en Achilles.
Pat Barkers De stilte van de vrouwen is een broodnodige herinterpretatie van het oerverhaal dat willens nillens de Europese cultuur mee heeft bepaald. De onderliggende boodschap is uiterst helder, maar nooit belerend, en geschreven in de maat met een lied dat bijna drieduizend jaar geleden voor eerst klonk. Zoals ik al zei: briljant.