Lyrisch worden… het overkomt me bij boeken (ja, bij jou Alicja), bij zonsondergangen in verlaten baaien (vorige week nog op Golden Bay in Malta), bij liedjes (repeat Florence and the machine please), na lange wandelingen wanneer de uitputting nabij is en … bij echt lekker eten. Zoals in de Leuvense bistronomie, Bistro Lust. Wij nodigden er Katrijn Van Bouwel uit om onze columnwedstrijd te jureren en geven je vier redenen waarom wij lyrisch worden van Lust.
Ambacht
Bij Lust krijg je kippensoep waarvan foodie Katrijn in extase raakt ("puur bilvlees"), proef je taco's met pulled pork die lijkt te smelten in je mond en combineren ze smoked mussels met mosseltjes in't zuur…  en dan zijn we de chocolaatjes met een gouden randje nog vergeten. Kok Wouter Vandeput (ex-Luzine) krijgt er carte blanche en is bezeten door een verfijnde en ambachtelijke keuken. Het menu is simplistisch opgesteld en een opsomming van de voornaamste ingrdiënten (bvb.  wild zwijn – pompoen – daikon – koolrabi). Wouter houdt de menukaart bewust sober en werkt graag met 'pure' ingrediënten:
"De ingrediënten liggen niet voor de hand en we laten de klant vooraf ook niet weten wat we ermee zullen doen. Zo blijft het verrassingseffect groot."
Schoonheid
Bij Lust dineer je in een statig herenhuis of in de bijhorende sfeervolle stadstuin. De belichting en inrichting zijn ongedwongen en smaakvol. Ons oog valt op dit kunstwerk aan de ingang.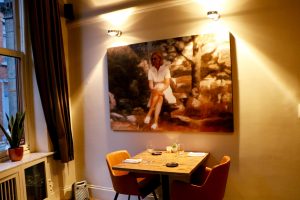 Oprichter Johan Lust (what's in a name): "Het is een schilderij van Dirk Eelen, de broer van Jan. Veel klanten denken dat Paola staat afgebeeld. Het schilderij maakt echter deel uit van de reeks Random memories die is gebaseerd op een 8 mm filmpje van een willekeurig Engels gezin."
Echt
In Lust serveren ze geen gastronomie maar bistronomie. De muziek en de vibes mogen niet te stijf zijn, de bediening is vlot, hartelijk en into een leuke babbel. Johan:
"We willen de mensen 'puur' laten genieten. De sfeer is los, de uitleg beperkt."
Dat Lust in een zijstraat ligt is bovendien geen toeval: "Je passeert er niet spontaan, je moet aan ons denken. Als ik in een nieuwe stad kom, verdwaal ik ook liever in de zijstraatjes en probeer ik de grote markt en haar toeristenvallen te vermijden. Ik ga op zoek naar echtheid."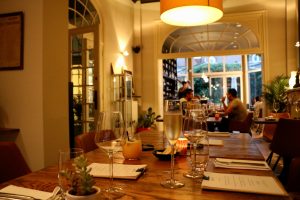 Gevoel
Au fond is Johan iemand die 'gewoon' graag gaat eten en heeft hij met Wouter een gepassioneerde en hardwerkende kok/venoot gevonden. Johan kent de Leuvense food scene door en door. Jaren geleden was hij vaste klant bij Guust, gevestigd in dit oude herenhuis in de Wieringstraat. Toen Guust over te nemen stond, waagde Johan de sprong van een commerciële carrière naar de horeca. De stap van Guust naar Lust was klein.
Ondertussen is Johan alweer met een nieuw project gestart. "Als ik in Leuven op zoek was naar een pasta of een slaatje, kwam ik bij Metropole, Zoff…terecht, maar daar heb je toch het gevoel dat je op café zit. Toen ontdekte ik een pand op de site van de oude sigarenfabriek en is Gloria geboren. Gloria is een echte bistro waar je terecht kan voor huisgemaakte Belgische klassiekers. Hoewel het geen café is, is mijn nieuwe restaurant heel laagdrempelig en relaxed."
Kortom, Bistro Lust is een ambachtelijke en echte klassekeuken in een sfeervol decor met een ongedwongen en oprechte aanpak. Geniet van de herfst, geniet bij Lust!
PS Enkele dagen geleden kreeg Bistro Lust zijn eerste quotering in de Gault Millau: 13/20. Proficiat!