De afgelopen twee jaar mocht ik voor het werk regelmatig naar Londen. Met welke boeken ik me voorbereidde, kon je hier al lezen. Vandaag deel ik vijf literaire en non-literaire redenen waarom ik zo veel van Londen hou.
The skyline van Londen is fantastisch maar vergeet The London Eye! Neem in de plaats hiervan de lift in het shoppingcenter One Change achter St. Paul's Cathedral. Je komt terecht op een terras met een adembenemend uitzicht. Een droomspot voor een picknick. De lift zelf staat garant voor magische reflecties.
2. Londen is de stad van Harry Potter! Geen zin om samen met je fanatieke tienerdochter uren aan te schuiven op Platform 9 3/4 in King's Cross? Ga iets drinken in Leadenhall Market. Voor de kenners: deze overdekte markt vormde de set voor Diagon Alley en The Leaky Cauldron. Van horen zeggen hé! Hiermee scoor je gegarandeerd bij je tieners! Na de werkuren verandert Leadenhall Market in een grote afterwork bar. Londenaars in a suit verzamelen er massaal voor een pint rond genummerde bordjes die imaginaire tafeltjes moeten voorstellen.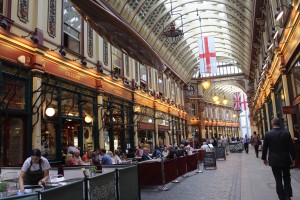 3. Did I mention the bookstores! Eveline sloeg haar boekenbuit met kerst in bij Waterstones aan Piccadilly, het boekenwalhalla van Londen. Op de tweede plaats voor mij: Daunt books op Marylebone High Street, een boekhandel gespecialiseerd in reisboeken in een oud Edwardiaans gebouw met prachtige galerijen.
4. Streetfood! De Engelse keuken een slechte reputatie? Niet in Londen… Het moment van de dag waarnaar ik elke keer weer het meest naar uitkijk? Nee, niet het English breakfast maar wel de lunch. In Londen vind je overal streetfood markets. Mijn favoriet? Borough Market! Maar ook in Notting Hill (oooh die falafel) en Camden Town (mmm die homemade icetea) kan je gezond, lekker en betaalbaar eten. Geen foodmarket in de buurt, ga voor een take-away lunch in het Japanse Itsu!
5. Rain in London? Geen probleem. Londen is de museumstad bij uitstek en de meeste musea zijn nog gratis ook. Een recente ontdekking voor mij is het Victoria & Albert museum. Om één of andere reden leken het nabijgelegen Natural History museum en Harrods me altijd een tikkeltje aantrekkelijker. In Victoria & Albert vind je echter alles: Japans speelgoed, imposante jurken, onbetaalbare juwelen… En deze parel van een National Art Library!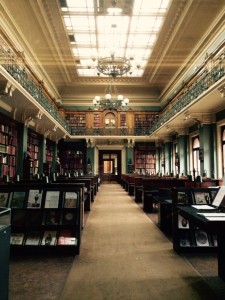 To be continued… want ik heb nog niks gezegd over mijn favoriete happy hour bar, lievelingspark, grappige winkels in Camden, chewing gum art…