De wereld van Leo Timmers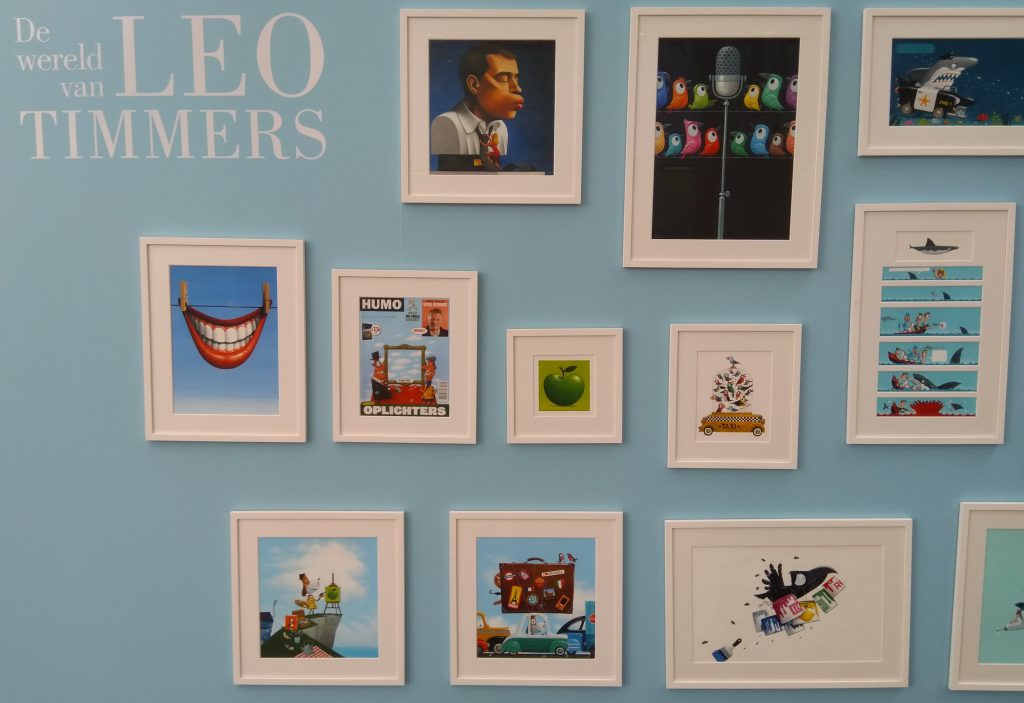 Leo Timmers is bij ons kind aan huis. Of althans zijn prentenboeken, de auteur zelve zou tegenwoordig het risico lopen zijn pols te verzwikken na een buiteling over rondslingerend speelgoed en dat willen we niet op ons geweten hebben. We kijken immers al uit naar nieuw werk, en dan is Aap op straat nog maar heel recent uit. Geen druk hoor, Leo.
Er is bij ons geen gelegenheid te klein, of er hoort een Timmers bij. Zo moesten de Britse hulpdiensten me van de ferry dragen nadat ik bij het zien van de beteuterde kop van de leeuw in De kar van de koning mezelf in een mastworp had gelachen. Garage Gust, Wij samen op stap, Boem, Een huis voor Harry, Franky… we gaven ze elkaar cadeau. Het klikt helemaal met de kleurrijke stijl van Timmers, met de talloze details in zijn prenten, met de ruwe accenten die zijn auto's en machines van een ziel voorzien. Misschien is het genetisch, maar ook zoonlief steekt tegenwoordig zijn waardering voor Garage Gust niet onder stoelen of banken. (Lees: hij probeert Gust op te eten.)
Er moest dus al een knoert van een tractor, bestuurd door een olifant, aan te pas komen om me weg te houden bij de boekvoorstelling van Aap op straat. Niet in het minst omdat ik nadien Leo Timmers wat vragen mocht stellen. En omdat de bibliotheek van Genk -op zich overigens al een juweeltje- helemaal in het teken stond van de wereld van Leo Timmers. Het klinkt terecht alsof Sinterklaas en de Kerstman op je verjaardag langskomen om de paashaas op te dienen, al probeerde ik mijn enthousiasme wat te temperen. Ik was die mastworp nog niet vergeten.
Zoals dat gaat bij boekvoorstellingen, kreeg Leo eerst een hoop vragen voorgeschoteld. Niet alleen over Aap op straat, maar ook over hoe hij precies werkt. Dat kijkje achter de schermen vond ik machtig interessant. Nu ik kon zien hoe zo een prent tot stand komt, krijgen onze prentenboeken meteen weer een extra dimensie. Die moddervlekken op die kraanwagen, en die roest op dat verkeersbord? Daar is enorm veel werk ingekropen.
Wist je trouwens dat…
Leo al meer dan 25 jaar prentenboeken maakt?
Hij nooit een computer gebruikt om prenten uit te werken, maar altijd acrylverf?
Hij een hele week werkt aan het schilderen van één plaat?
Hij acht jaar was toen hij zijn eerste strip maakte en twaalf toen hij zijn eerste strip –De schat van Odoakar– publiceerde?
Hij in elk boek een ander dier probeert te tekenen?
Hij voortdurend details toevoegt aan de prenten, zodat er altijd veel te zien en te zoeken is?
Leo's werk wemelt van voertuigen en dieren in alle vormen en kleuren, maar hij eigenlijk niet van moderne auto's houdt?
Hij plakband en veel geduld gebruikt om lekker ruw te kunnen werken, met prachtige texturen als resultaat?
Ondertussen had er een potige bende koters plaatsgenomen op kussens vooraan in de zaal, voor een live vertelsessie van Aap op straat. Dat het jonge publiek zich geamuseerd heeft met de avonturen van een kleine aap die een hele file op stelten zet, heeft men naar verluid tot op de Zuidpool gehoord. Het dwangbuis van sociaal decorum weerhield me ervan om als vent van veertig mee luidkeels 'Jaaaaaaah!' te brullen, maar laat ons het erop houden dat ik me niet meer zo heb ingeleefd in een spektakel sinds in de derde kleuterklas plots de Boef achter de rug van de Champetter opdook.
Dat de auteur zich rustig tot de rocksterren van de kinderboeken mag rekenen, bleek uit de rij die zich vormde bij de signeersessie. En toch wou de man ons nadien nog te woord staan, ondanks een tekenhand waarvan de stoom afsloeg en een ongetwijfeld olympisch rammelende maag. Waarvoor hulde.
Je hebt een enorm herkenbare stijl. Enerzijds zijn er de vrolijke kleuren, anderzijds zijn de machines en de auto's bemodderd, of roestig, of versleten. Doe je dat bewust? Maken de kleine imperfecties het geheel mooier?
Hier ben ik steeds meer mee bezig. Wat ik hiermee wil doen is de aandacht vestigen op het handwerk. Door in een digitale wereld iets 'analoog' in mijn prenten te verwerken wil ik focussen op het tastbare, als contrast met de 'perfecte' prenten die door een computer worden gemaakt. Het sluit ook aan bij het analoge van de voertuigen en de machines. Die dienen om iets maken, ze illustreren het proces van iets tastbaar te creëren.
Je werk bulkt van de techniek. Auto's in alle geuren en kleuren, zoals in Boem en Aap Op Straat, heuse robots zoals in Franky en de meest creatieve oplossingen zoals in Garage Gust. Is er een ingenieur aan jou verloren gegaan?
(lacht) Nee hoor, ik was veel te slecht in wiskunde. Ik focus liever op de verbeelding die achter het uitvinden schuilt, op het idee dat 'het echt kan'. Een beetje zoals de uitvindingen van Panamarenko, die erin slaagt om op een serieuze manier iets heel fantasievol te maken. Franky zou bijvoorbeeld echt kunnen, de robot is gemaakt uit gewone huisraad. Het gaat in mijn boeken vaak over het plezier van maken en creëren. Franky heeft vele kinderen ertoe aangezet hun eigen robot te maken. Ik krijg regelmatig foto's doorgestuurd. Dat is toch fantastisch? Bij wat machines uitvoeren zie je duidelijk oorzaak en gevolg. Zo begrijpen we de wereld vandaag niet meer. Die is abstracter en virtueler geworden. Wanneer ik een workshop geef, merk ik wel vaker dat de kinderen niet meer weten hoe ze moeten beginnen met iets te maken. Ze missen de impuls om iets te creëren. Daarom vind ik het een belangrijke verantwoordelijkheid van een kinderboekenschrijver om verbeelding én creativiteit te blijven benadrukken.
Je prentenboeken worden ook gretig door volwassenen gelezen. Is dat het geheim van een goed prentenboek: plezier voor kinderen en volwassenen?
Ik vind dat kinderboeken in de eerste plaats voor kinderen moeten zijn. Ze moeten het kind heel serieus nemen. Ze mogen vooral niet betuttelend zijn en zeker niet over het hoofd van de kinderen met de ouders praten. Een kinderboek is in de eerste plaats voor de kinderen en voor het kind in de ouders.
Als je het kind serieus neemt, dan is het een boek voor iedereen.
 Moffel je wel eens naasten als personage in je boeken?
(lacht) Wel, ik heb toevallig drie ooms die alle drie een garage hadden. Als kind mocht ik dan 's zondags in de garage rondlopen. Eén van mijn ooms had dan wel een garage, maar hij kon zelf niet autorijden. En zo is Gust van Garage Gust geboren. Gust kan ook niet autorijden; hij komt met de fiets. Zo liep ik ook al een hele tijd rond met het idee voor Een huis voor Harry, maar het was pas toen we een raskat kochten dat ik het verhaal zelf beter begreep en zag dat het moest gaan over een huiskat die niet graag weggaat.
Wat zijn jouw favoriete prenten- en kinderboeken?
Ik kom altijd uit bij dezelfde auteurs. Max Velthuijs, bijvoorbeeld. Maurice Sendak. Leo Lionni, de man achter Een vis is een vis en Zwemmie, en zoveel anderen. Ik hou ook van het werk van Oliver Jeffers en Jon Klassen. Ik heb een serieuze boon voor de oude garde van de jaren '60, wat mij betreft de gouden eeuw van de prentenboeken. Auteurs van die generatie genoten van veel vrijheid en konden naar hartenlust experimenteren met de vorm. Ik merk ook dat ik altijd teruggrijp naar werk van schrijvers-illustratoren.
Met een glimlach en met een gesigneerde En dat doen we dus -zonder thuis komen stond garant voor gekrakeel – verliet ik de bibliotheek van Genk, maar bleef in mijn hoofd nagenietend rondzwerven in een kleurrijke wereld waarin alles kan. Ik was er dan ook even rotsvast van overtuigd dat ik met mijn auto een betonnen paal kon opschuiven, maar mijn verbeelding liep snel te pletter op de erg tastbare wetten van de fysica. Maar dat ik daarna fier als een gieter met mijn echte, unieke, van voor tot achter kunstzinnig gehavende machine over de straten tufte, dát kan alleen als je kind aan huis bent in de wereld van Leo Timmers.
PS: ontmoet Leo op zaterdag 3 en zaterdag 10 november op de boekenbeurs, waar hij eerst voorleest in de gezellige kinderhoek van L&M Books (hal 4, stand 405) en nadien signeert. Alle details vind je hier.