Leestips nodig? We pikten vijf aanraders uit onze 'net uitgelezen' stapel.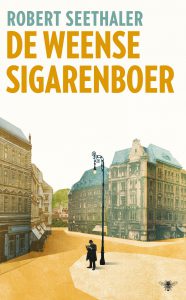 De Weense sigarenboer – Robert Seethaler (De Bezige Bij)
Wenen, net voor de Anschluss. De 17-jarige Franz Huchel uit de Oostenrijkse bergen wordt door zijn moeder naar Wenen gestuurd, om er in de leer te gaan bij sigarenboer Otto Trsnyek. Otto had nog een kleine rekening openstaan bij de moeder van Franz, voor bewezen diensten waarover ze het liever niet heeft met haar zoon. Franz belandt in de tabakswinkel van Otto, waar hij prompt als eerste opdracht alle kranten moet lezen. Elke dag, zodat hij met de klanten kan meepraten. Zoals dat gebeurt wanneer je zeventien bent, duurt het niet lang of Franz wordt verliefd op nét dat meisje dat het meest geschikt is om hem malheuren aan te doen: de Boheemse Anezka, die als hoofdberoep wel eens op een podium met haar gat zwiert, gekleed in een indianentooi en verder niets. Het geestelijk welzijn van Franz krijgt het hierdoor flink te verduren, maar gelukkig is er die rare klant met het brilletje die nogal beroemd is om zijn inzichten in de menselijke geest. Sigmund Freud, heet hij. In ruil voor handgerolde sigaren mag Franz bij hem op de sofa, op voorwaarde dat hij -verrassing- zijn dromen opschrijft. En hij de Gestapo kan omzeilen, die Freud op de huid zit.
Natuurlijk wil Seethaler geen coming-of-age riedel van dertien in een dozijn verpatsen, met Freud als leuke gimmick. Het hele verhaal speelt zich af met de aanzwellende donder van onheil op de achtergrond. Onheil dat door de meeste personages schijnbaar niet wordt opgemerkt, tot het te laat is. Otto -door zijn afkomst persona non grata bij het regime- ziet de bui hangen, maar is machteloos. Franz, die elke dag alle signalen in de vorm van kranten onder zijn neus krijgt, zit met zijn puberhoofd bij Anezka. Pas wanneer de nazi's Otto door hun vernietigingsmachine trekken en Freud halsoverkop Wenen moet ontvluchten, gaat Franz op zijn hoogst eigenzinnige manier tot verzet over. Uitstekend boek.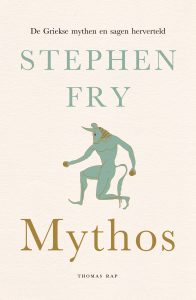 Mythos – Stephen Fry (Thomas Rap)
Geen man beter geschikt om het onoverzichtelijke kluwen van de Griekse mythen aan te pakken dan Stephen Fry. De geheel uit Britse wittiness opgetrokken allesweter, schrijver en acteur -je kent hem als de heerlijk foute Generaal Melchett in Blackadder- lijmt de hele saga met klodders humor aan elkaar. Het is hem om de verhalen zelf te doen, geeft hij aan in de inleiding, niet om de ontelbare interpretaties die er door de eeuwen heen zijn ontstaan. Waarbij de lezer meteen een zucht van opluchting slaakt en zich overgeeft aan een kettingreactie aan Grieks drama, zonder zich te hoeven schamen wanneer hij op pagina drie al niet meer weet wie nu weer met wie heeft gevogeld.
In den beginne was er naast chaos immers vooral een nijpend gebrek aan bedpartners die niet toevallig je broer of zus waren. Maar kom, inteelt was toch nog niet uitgevonden.
Fry heeft geen last van preutsheid en beschrijft het liederlijke leven van Titanen en Goden met het gepaste detail, hier en daar verwijzend naar sporen van de mythen in de hedendaagse taal. En dat werkt. Mythos is een sappige, leesbare pageturner geworden, die niet inboet aan compleetheid en correctheid. Waarom zou je je nog door de paginalange volzinnen van de Metamorfosen worstelen als je in Mythos stoot op juweeltjes als 'Next Gaia visited her daughter Mnemosyne, who was busy being unpronounceable'?
Het eeuwige leven – Matt Haig (Lebowski)
Matt Haig werd door Stephen Fry 'fenomenaal' genoemd, volgens de blurb, dus dat moest ik even checken. Het eeuwige leven volgt de woelige levensloop van de heer Tom Hazard, geboren en getogen in het Frankrijk van de Catharen en bij het ter perse gaan nog maar enkele eeuwen oud. Een jong veulen, quoi. Tom lijdt -enfin, 'lijdt'-  aan een zeldzame aandoening waardoor hij een slordige twintig keer trager veroudert dan zijn medemens. Een levensverwachting van duizend jaar ligt binnen handbereik, mits wat aandacht voor gesatureerde vetten en alcohol en zo. Niet verouderen ligt nogal gevoelig in het door hekserij bezeten Elizabethaans Engeland, waardoor Tom voor een brandstapel-happy meute op de vlucht moet en zijn grote liefde Rose en hun dochter Marion moet achterlaten. De rest van zijn lange leven probeert Tom het verlies van Rose een plaats te geven, terwijl hij om de haverklap van hot naar her zwerft zodat de mensen geen onraad ruiken bij zijn hardnekkig rimpelloze kanis. Haig zet een roerend liefdesverhaal neer en gebruikt de volle reikwijdte van Toms eigenaardige aandoening om het verhaal met lekkers te spekken. Naast de netjes gedoseerde historische trivia en de ontmoetingen met beroemdheden van alle tijden -die knokpartij onder de neus van De Bard in The Globe Theatre!- reserveert Haig flink wat tijd aan rake observaties over de Grote Thema's. Al was het maar door de mond van Marion, die als kleuter al De Montaigne citeerde. Merci voor de tip, Stephen.
De verdwijning van Adèle Bedeau – Graeme Macrae Burnet (Hollands Diep)
Manfred Baumann is een vreemde vogel. Ik corrigeer mezelf: Manfred Baumann is nogal een griezel. De verdwijning van Adèle Bedeau was nog niet uit of ik zocht al een plaatsje voor hem in mijn hitlijst met grootste literaire klieren. (De heerlijke Ignatius J Reilly uit A Confederacy of Dunces staat nog altijd met stip op één, trouwens.)  Manfred runt in alle incompetentie de bank in een onooglijk gat in het oosten van Frankrijk en doet zijn uiterste best om van elke dag een copy-paste te maken van de vorige. Totdat de serveerster van het restaurant waar hij elke maaltijd nuttigt -Adèle Bedeau- verdwijnt en hij op de radar verschijnt van inspecteur George Gorski. Gorski, een al bij al sympathieke vent, loopt al jaren gebukt onder een berg frustratie omdat hij zijn eerste moordzaak maar niet opgelost kreeg en loopt het vuur uit zijn sloefen om het een en het ander te bewijzen met het oplossen van de verdwijning van Adèle. Geen literaire thriller zonder puike plottwist, dus daar ga ik niet verder over emmeren, maar laat het gezegd zijn dat Burnet de personages van Manfred en George psychologisch uitstekend heeft uitgewerkt. Vette dosis drama.
The Red House Mystery– AA Milne (Vintage Books)
Jazeker, het gaat om dezelfde AA Milne van Winnie The Pooh. De man heeft nog flink wat andere dingen geschreven, zoals dit geweldige moordverhaal. In de inleiding verklaart Milne zijn liefde voor detectiveverhalen, maar laat ook meteen weten dat hij zo zijn hebbelijkheden heeft als het gaat over hoe het moet geschreven worden. Zo vindt hij bijvoorbeeld dat het hoofdpersonage een amateur moet zijn, zodat we samen met de detective met vallen en opstaan het mysterie ontrafelen. Milne haalt zijn neus op voor forensische technieken. 'What thrill do we get when the blood-spot on the missing man's handkerchief proves that he was recently bitten by a camel?', zegt hij. Hij past dit alles netjes toe in The Red House Mystery, een klassieke Engelse whodunit waarvan de plot zich sneller door de bochten wringt dan zelfs de maag van een Formule 1 piloot kan verdragen. En toch is het een uiterst herkenbare Milne, want zelfs in meest dramatische passages is een humoristische ondertoon niet ver weg. De man kan het gewoonweg niet laten.
PS: Meer tips? Hierzo.
PS: Nog meer tips? Alhier en alhier.