Ja, ik kijk naar het kunstschaatsen. De glitter, de drama's en de Kiss and Cry zijn mijn ding. Mijn lief begint stilletjesaan krampen te krijgen van het rollen met zijn ogen als er weer een jurk vol Swarovski over mijn scherm dwarrelt. Of het ijs aandweilt, wat bij spectaculaire valpartijen vaak het geval is.
Dit weekend mocht ik het live meemaken, en reisde ik af naar Milaan voor het wereldkampioenschap kunstsschaatsen. Drie dagen ooh's en aah's, harde plastic tribunezitjes, veel geapplaudiseer, en inderdaad, het nodige drama. Heerlijk.
Tijd dus voor enkele literaire links die zich laten inspireren door 's werelds meest fantastische sport. (Deze zin is goed voor een ellenlange discussie in de comments, ik voel het).
Eerst even over les petits Belges. Want wij doen het redelijk goed, in kunstschaatsland. Dat hebben we te danken aan broer en zus Jorik en Loena Hendrickx, die onze driekleur verdedigen in de categorie mannen en vrouwen. Jorik was er helaas niet bij voor dit kampioenschap, maar zus Loena deed het schitterend en eindigde op een mooie negende plaats. Watch her, zij heeft talent, de nodige pit en strijdlust en gaat daar nog wat keet schoppen, in de hoogste regionen van de vrouwencompetitie. Broer Jorik waakt ondertussen over de ice-capades van zijn zus en timmert verder aan zijn weg naar de top. Toch een beetje benieuwd, waarover ten huize Hendrickx geruzied wordt aan de ontbijttafel. 'Mijn drievoudige Lutz is beter dan de jouwe?'?
Oh, en Jorik en Loena, als jullie wat boekentips willen nu het drukke olympische seizoen over is, hier komen ze:
Lees er de mooiste scènes uit de wereldliteratuur na waarin schaatsen een belangrijke rol speelt. The Guardian stelde een lijstje samen. Wat dacht je van deze scène uit Anna Karenina, waarin Levin op zoek gaat naar Kitty op de ijspiste:
"All the skaters, it seemed, with perfect self-possession, skated towards her, skated by her, even spoke to her." But then . . . "Put on skates, and let us skate together," says the lovely Kitty. "They set off side by side, going faster and faster, and the more rapidly they moved the more tightly she grasped his hand."
Op zoek naar romans die zich afspelen op en naast het ijs? Raadpleeg dan dit overzicht van Goodreads, en je kan er een hele zomer tegen, tot het schaatsseizoen weer begint.
En, beste lief, als je even vijf minuten kan stoppen met je ogen rollen, heb ik een tip voor jou: The New Yorker kwam met een alternatief voor de term 'kunstschaatsen'. Favorieten worden ongetwijfeld:
Blade Gymnastics

Sword-Throwing But the Swords Are Attached to Your Body

Don't Let the Sequins Fool You the Sport Is Incredibly Unsafe

Blinding Rhinestones

Whirling Concerns on Ice
Mijn absolute favorieten onder de kunstschaatsboeken?
Little Girls in pretty Boxes, over het maken en kraken van topschaatsers en turnsters. De blessures, de opofferingen, de eetproblemen en de sprint naar de top voordat de puberteit de kleine, agiele en frêle poppetjes verandert in grotere exemplaren met vrouwelijke vormen. Ik herlas het al twee maal en nu ik er over zit te schrijven, denk ik dat de derde leessessie niet lang op zich zal laten wachten.
Een klassieker binnen de kinderliteratuur is White Boots van Noël Streatfield. Harriet moet genezen van een langdurige ziekte, en de dokter raadt schaatsen aan als remedie om haar benen en immuunsysteem een duwtje in de rug te geven. Tijden de lessen ontmoet Harriet schaatser Lalla, wat de start is van een vriendschap met vallen en opstaan.
Op zoek naar de ins en outs van de schaatswereld? De roddels, de sensatie en de drama's? Journaliste Chrstine Brennan neemt je één seizoen lang mee achter de schermen van trainingssessies, wedstrijden en shows. En ja, het is sappig. Inside Edge, Christine Brennan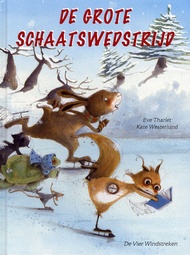 Voor de jongsten is er De grote schaatswedstrijd van Kate Westerlund en Eve Tharlet. Floris konijn, Pieter de eekhoorn en Roeland de schildpad besluiten deel te nemen aan een schaatswedstrijd. Floris zal winnen, want hij is de sterkste, weet hij. Pieter, de slimmerik, wil een nieuwe techniek ontwikkelen om sneller te kunnen schaatsen. En Roeland schaatst al filosoferend door het pittoreske landschap, zonder zich iets aan te trekken van de twee andere snelheidsduivels.
Om af te ronden, nog een filmtip. Margot Robbie schittert als Tonya Harding, die in de jaren '90 de krantenkoppen domineerde omdat ze een aanval op haar rivale Nancy Kerrigan beraamd zou hebben. Hetze alom in schaatsland, een geweldig schandaal in de pers en bombastische kijkcijfers voor de olympische spelen, enkele weken na het voorval: