Vijf kinderboeken voor en over buitenbeentjes
Speciaal voor Kinderboekendag selecteren wij vijf kinder- en jeugdverhalen met een bijzonder hoofdpersonage. Want is het je ooit al opgevallen dat het in kinderboeken stikt van de buitenbeentjes?
Waarom dat zo is? Roald Dahl legt dat heel goed uit:
"When you're writing a book, with people in it as opposed to animals, it is no good having people who are ordinary, because they are not going to interest your readers at all. Every writer in the world has to use the characters that have something interesting about them and this is even more true in children's books. I find that the only way to make my characters really interesting to children is to exaggerate all their good or bad qualities, and so if a person is really nasty or bad or cruel, you make them very nasty, very bad, very cruel. If they are ugly, you make them extremely ugly. That i think is fun and makes an impact." (uit 'Roald Dahl on writing')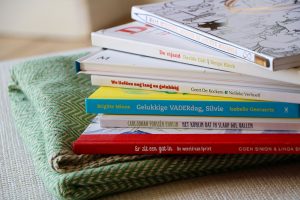 VOOR KLEUTERS
Het lied van de blauwe pinguïn van Petr Horáček (Lemniscaat)
Op een dag wordt er op de zuidpool een blauwe pinguïn geboren. 'Ben jij wel een echte pinguïn?', vragen de zwartwitte pinguïns verbaasd. Omdat hij er anders uitziet, laten zijn soortgenoten de blauwe pinguïn links liggen. Op zijn eentje begint de blauwe pinguïn dan maar liedjes te componeren… Wanneer de andere pinguïns zijn muziek horen, zoeken ze hem op. Zo kan de blauwe pinguïn toch nog zijn eenzaamheid doorbreken! Een ontroerend verhaal voor kleuters over uitsluiting, anders zijn en vriendschap. De dromerige blauw-wit-zwarte krijttekeningen geven de sfeer van het ijslandschap perfect weer. De Tsjechische schrijver van kinderboeken inspireerde zich voor de blauwe pinguïn op zijn vriend Richard, een echt buitenbeentje naar het schijnt.
VOOR KINDEREN
Vriend van Eef Rombaut (Van Halewyck)
Wat doe je als je moet kiezen tussen je beste vriend en de populairste van de klas worden? Het overkomt de verlegen Dino, die zijn vriendschap met de loyale Kikker op het spel zet om door de coole Bambi te worden aanvaard. Hij gaat Kikker zelfs een beetje pesten en praten met een diepere stem, maar dan raakt Dino in de problemen en willen zijn nieuwe vrienden hem niet helpen. Gelukkig is Kikker er nog! Een mooi prentenboek (check die opvallende zwartwit tekeningen met kleurrijke accenten) over waarom kinderen zich soms stoer gedragen om erbij te horen. 
VOOR TIENERS (EN STIEKEM OOK VOOR OUDERS)
Eleanor en Park  van Rainbow Rowell (Van Goor)
Na een jaartje bij een pleeggezin is de mollige Eleanor weer 'welkom' bij haar moeder en alcoholverslaafde stiefvader. Gekleed als een vogelverschrikker belandt ze in de schoolbus naast de Koreaanse Park, een speciale jongen die net genoeg status heeft verworven om in de schooljungle te overleven. Na weken van stilzwijgen worden de twee buitenbeentjes waanzinnig verliefd. Maar net als bij Romeo en Julia gaat hun liefdesgeschiedenis niet over rozen, daar zorgt Eleanors stiefvader wel voor. Een puur romantisch liefdesverhaal over twee aparte tieners die hun eigen unieke weg volgen. Een Young Adult roman van hoog niveau! 
Wonder van R.J. Palacio (Querido)
Als Palacio's eigen kinderen een meisje met een gezichtsafwijking ontmoeten, begint haar driejarige zoon prompt te huilen en loopt Palacio beschaamd weg met haar gezin. Deze pijnlijke confrontatie vormde de inspiratie voor de verlegen Auggie, een jongetje dat voor zijn misvormd gezicht wordt gepest op school. Gelukkig kan de jongen met zijn humor elke situatie ontwapenen en zijn Auggie's intelligente observaties hartveroverend:
"Here's what I think: the only reason I'm not ordinary is that no one else sees me that way."
In Amerika resulteerde deze bestseller in de landelijke anti-pest campagne Choose Kind en ondertussen kan je Wonder ook op het grote scherm zien, met onder meer Julia Roberts in één van de hoofdrollen.
VOOR OUDERS
Zeven keer vallen, acht keer opstaan van Naoki Hagashida (Nieuw Amsterdam)
Op zijn dertiende schreef de zwaar autistische Haoki Higashida de praktische bestseller Waarom ik soms op en neer spring. Hierin beantwoordt hij vragen over autisme die iedereen wil maar niemand durft te stellen, zoals 'is het waar dat jullie er een hekel aan hebben om aangeraakt te worden?' Ondertussen is Naoki een twintiger en geeft hij opnieuw een inkijk in zijn leven met autisme. Hij toont hoe iemand met een zware communicatieve stoornis met een beetje geluk, een liefhebbende familie en een dosis vastberadenheid toch kan slagen in het leven en gelukkig kan worden. Zelf had Naoki de ambitie om schrijver worden. Van een outsider werd hij – na Murakami – de meest vertaalde Japanse auteur. Een inspirerend from zero to hero levensverhaal voor dromers!
PS. De Boekenknecht tipte me niet alleen de wijze woorden van Roald Dahl, maar durft zelf ook al eens verhalen met knettergekke personages schrijven.
PPS. De meest bijzondere kinderen, die vind je bij Miss Peregrine.