Thisishowweread op de boekenmarkt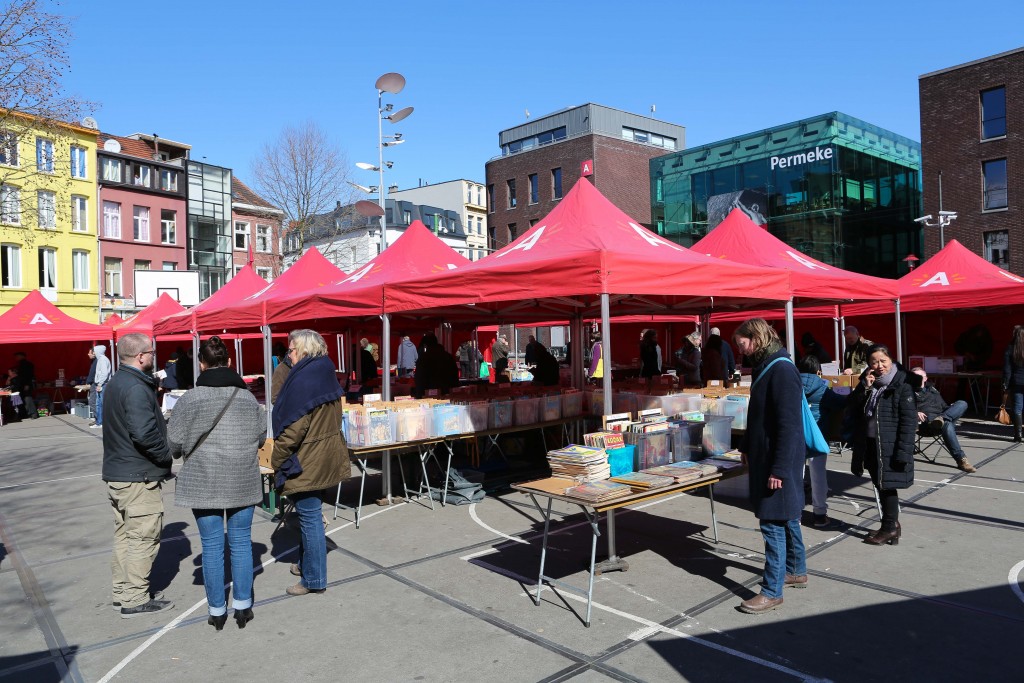 Op zondag 20 maart sleepten de boekenmeisjes een tiental dozen vol boeken, bergen cupcakes, een thermos koffie en een fles wijn naar het Herman De Coninckplein (vlakbij de Permeke bibliotheek) in Antwerpen. Daar vindt elke derde zondag van de maand van 10 tot 16u een gezellige boekenmarkt plaats. Neem dat slepen trouwens maar letterlijk…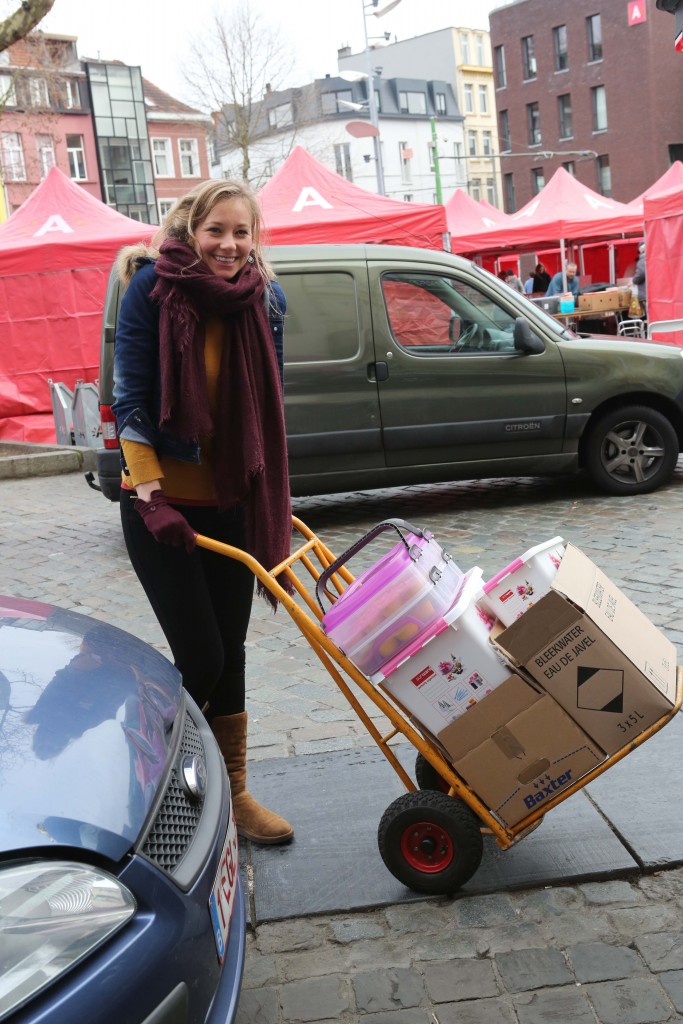 Het werd een gemoedelijk dagje vol ontmoetingen met andere boekenfans. We deelden leestips uit en proefden van onze eigen cupcakes onder het motto: zien eten, doet eten. Alles voor de vlotte verkoop… Die hard boekenfans als we zijn, konden we het niet laten om toch enkele boeken uit het aanbod van collega boekenverkopers te scoren. Via ruilhandel, welteverstaan. En we probeerden ons heel erg in te houden. Tenslotte maakte onze aanwezigheid op de boekenmarkt deel uit van 'Operatie Kastopruim'. Op deze foto zie je onze 'oogst van de dag'. Drie keer raden wie van ons met welke titels huiswaarts zou keren. Yup, soms zijn we een beetje een karikatuur van onszelf.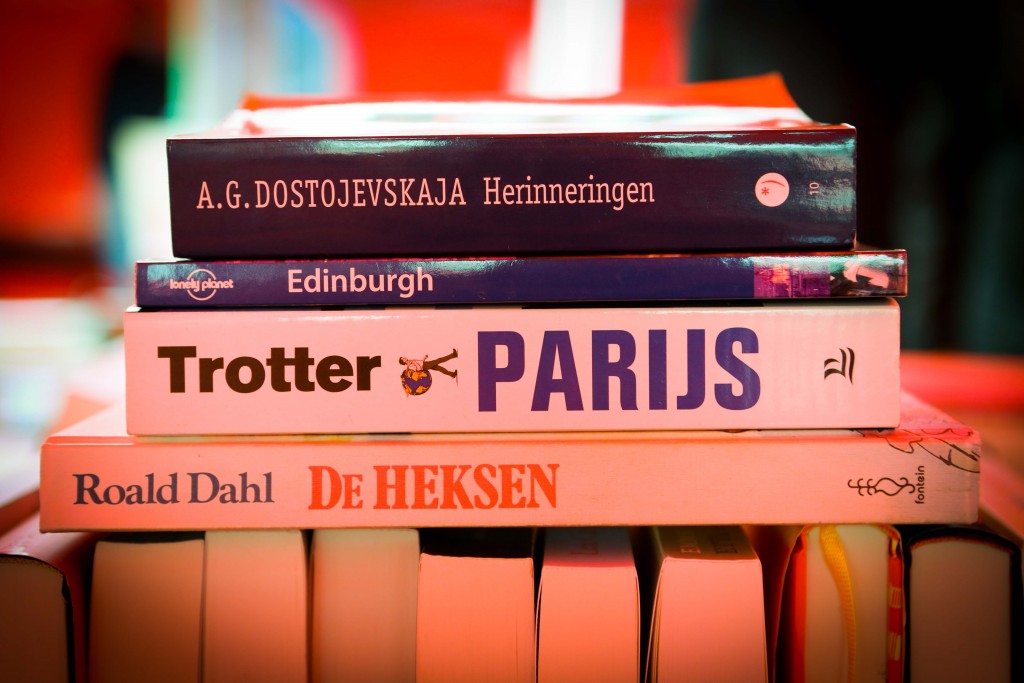 Wie dacht dat wij enkel gedijen op glamoureuze literaire events, kreeg vandaag een hands on versie van de boekenmeisjes te zien. Het was zo'n dag waarop bleek dat Eveline verdacht goed duveltjes kan manoeuvreren, dat Katrien bereid is tot schaamteloos marchanderen voor een bak warme noedels en dat Barbara zo'n – en dit is waarschijnlijk een understatement – tien keer per uur de kassa (een roze plastic handtas) telt. Terwijl Eveline en Katrien zich met hun Uggs en Timberlands wapenden voor een dagje in de koude, kwam Barbara elegant aantrippelen in een zwarte leren rok en high heels. Het was dan ook alleen om op te warmen dat Barbara af en toe de kassa aan de andere boekenmeisjes overliet.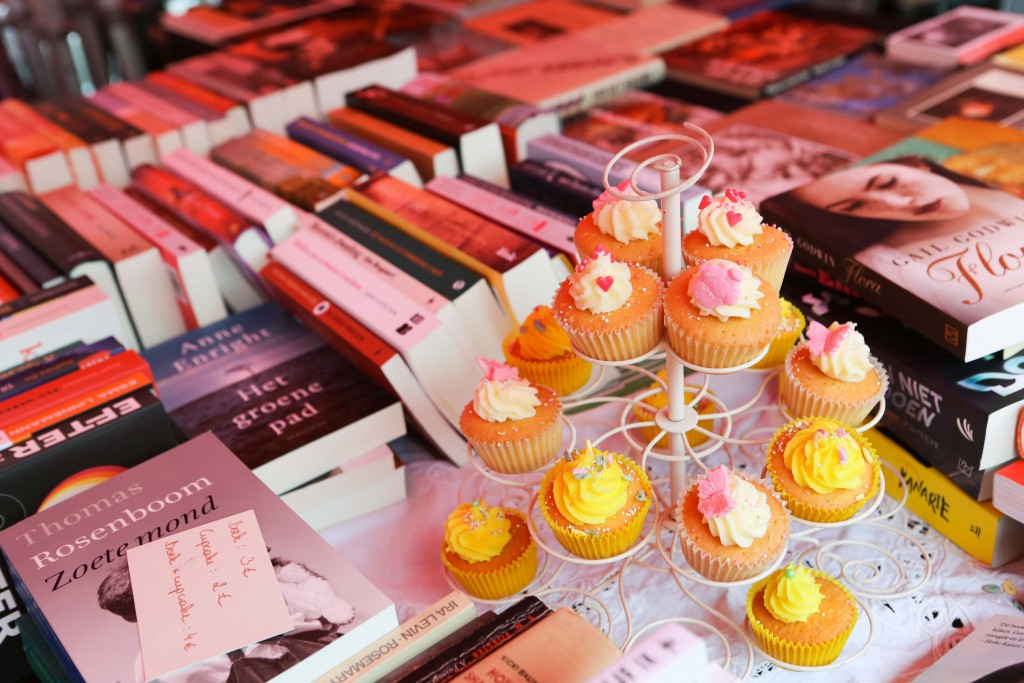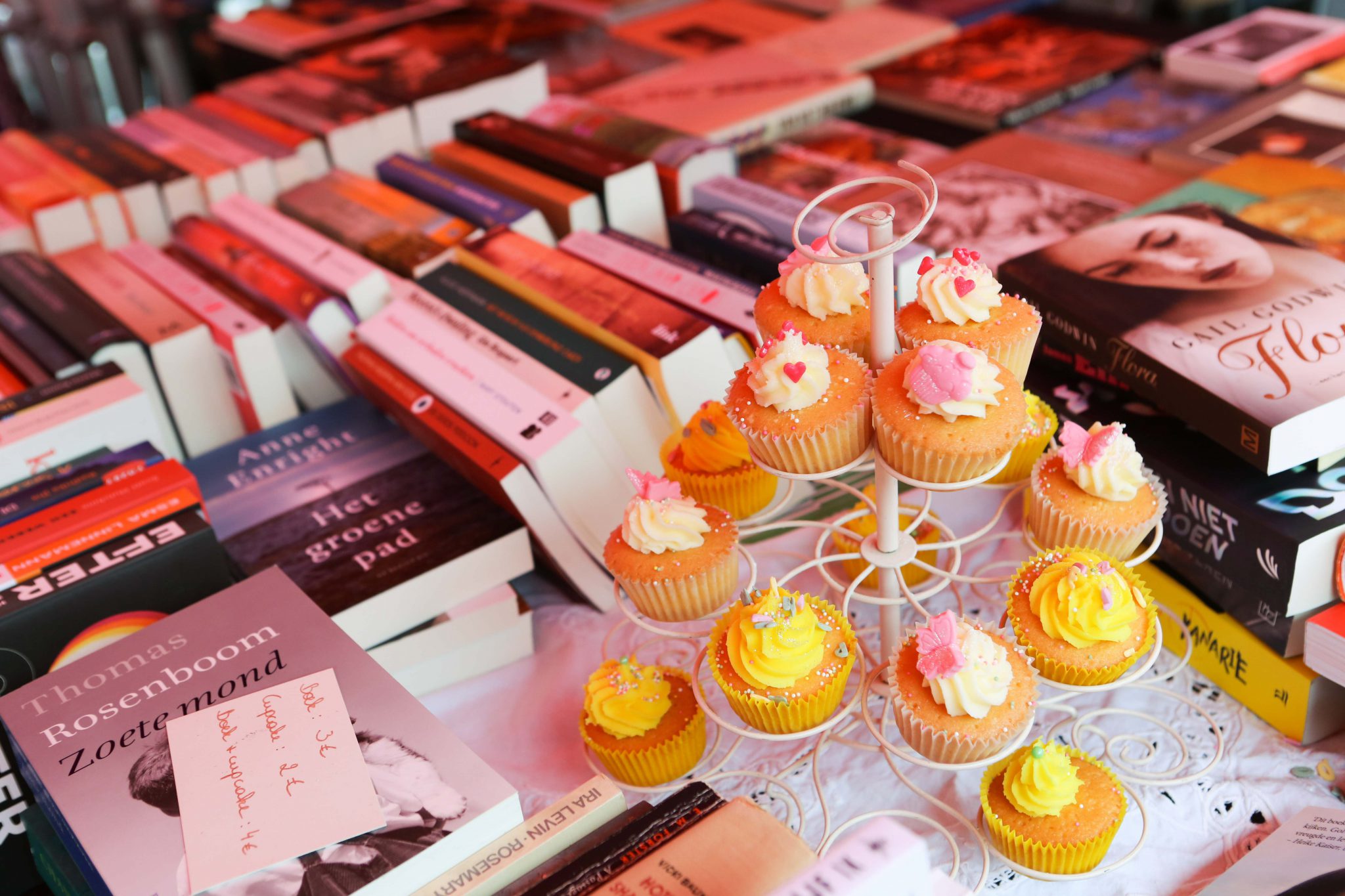 Het was een ijskoude maar ook een hartverwarmende dag. Boeken achterlaten, het valt ons alle drie moeilijk. Barbara's teergeliefde memoires van de weduwe van Pablo Neruda kwamen echter in de handen van een enthousiaste Erasmusstudente, we maakten lezers met wenslijstjes gelukkig (één van hen vond bij ons maar liefst drie boeken van zijn to-read schriftje) en anderstaligen waren vastberaden van plan hun Nederlands te verbeteren met hun buit van ons standje.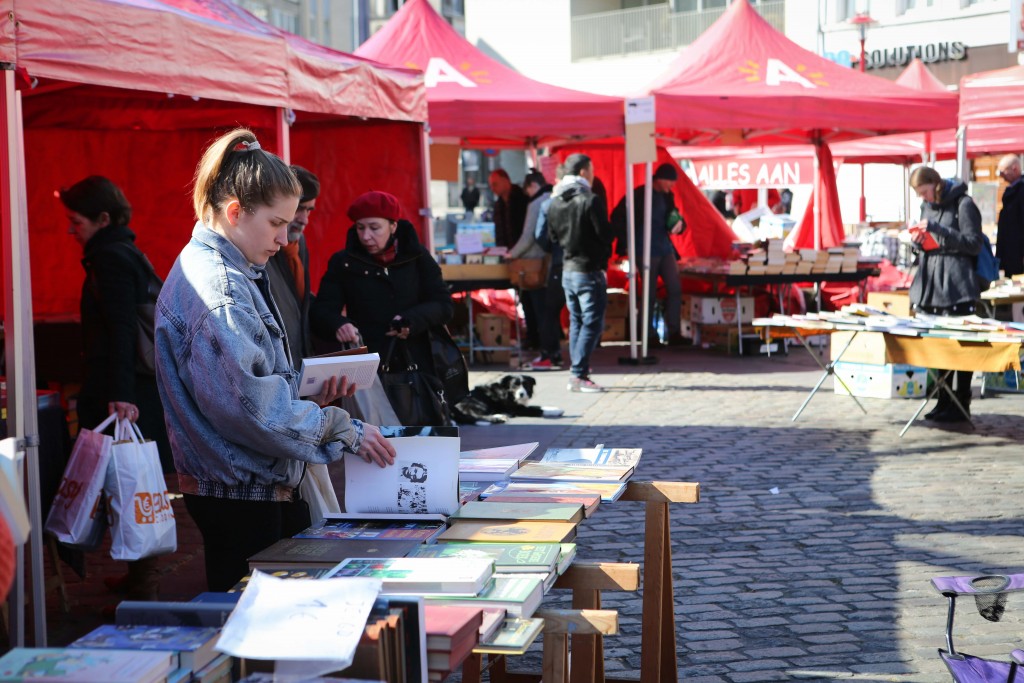 We maakten kennis met de man achter anglodutchbooks.com, de site voor zeldzame boeken. Zeker een kijkje waard, zo scoor je voor 175 euro een uitgave van Alice in Wonderland met illustraties van Mervin Peake. Ook de man achter het boekendorp in en rond het fort van Lillo kwam een praatje slaan. Zet het deze zomer zeker in je agenda, de man achter de organisatie doet het met hart en ziel.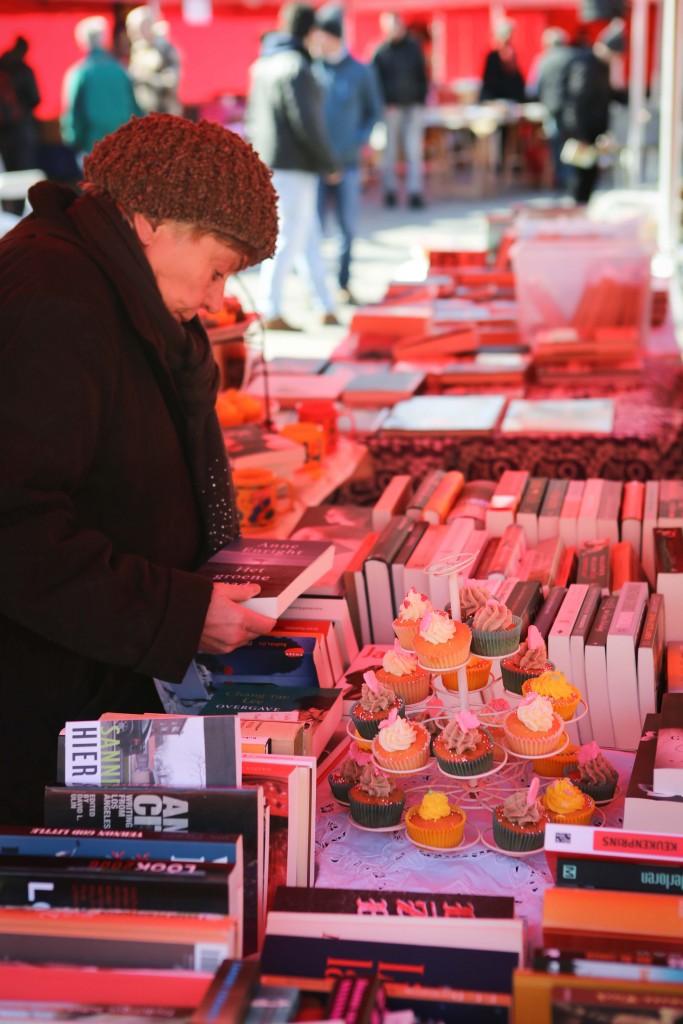 Dieter van booksinbelgium.be, de grootste site in tweedehands boeken in België, kwam tussen onze stapels boeken snuffelen. De geur van chocoladecupcakes bleek onweerstaanbaar, Dieter keurde de cupcakes en de inhoud van onze tafels vol leesvoer goed. Hij nam ons boekenadvies serieus en kocht wat wij hadden aangeraden – dat deden nog enkele bezoekers… Volgende keer afficheren we 'gratis leesadvies' als extra troef.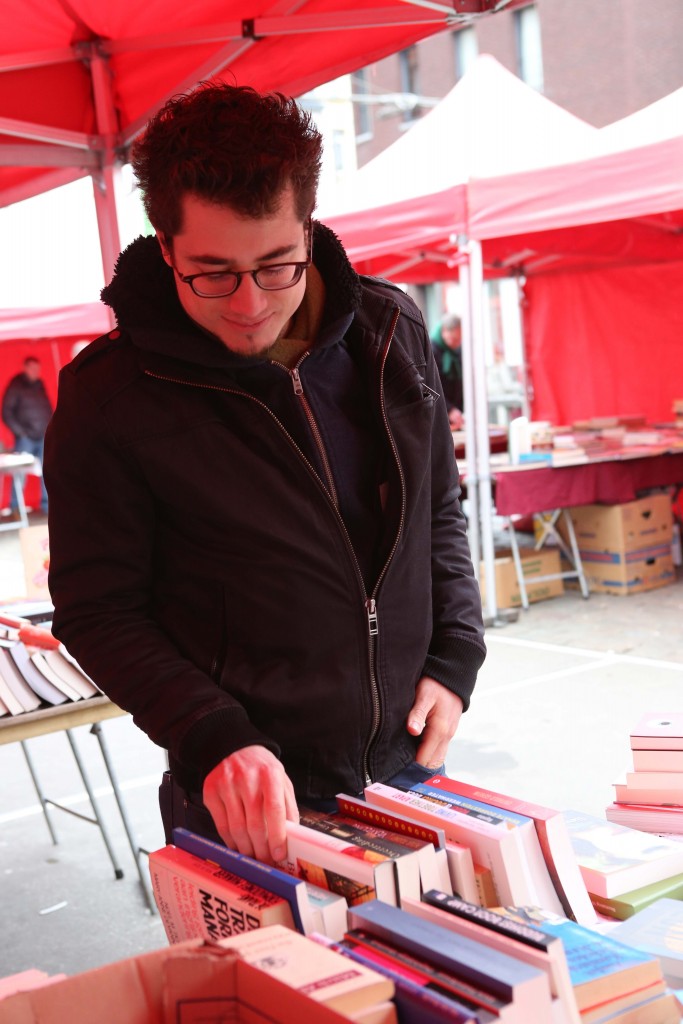 De honger van bezoekers en boekverkopers werd ondertussen gestild met roze glimmende cupcakes. Niet alleen een succes bij vijfjarige meisjes maar de gebakjes ontwapenden zelfs de stoerste van onze collega's die met een knipoog informeert of we zijn maag liefst gevuld zien met hartjes of vlinders.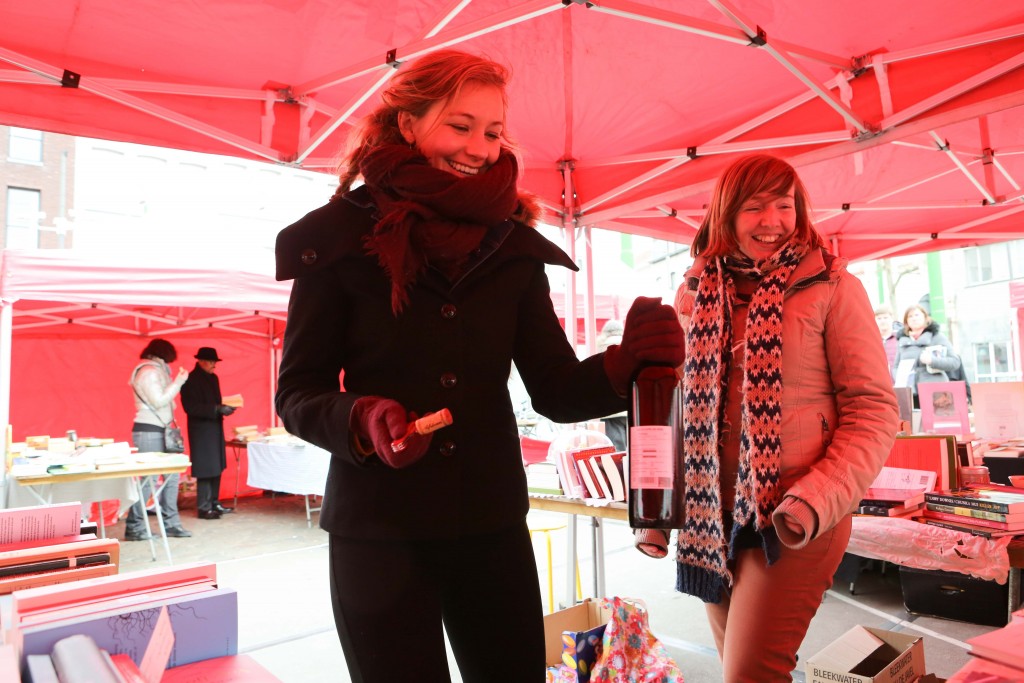 Zin gekregen om zelf te gaan bakken? Thisishowweread deelt graag het succesrecept uit het boek van De koekjesfee: Feestelijke taarten, cupcakes en koekjes.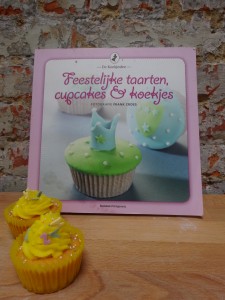 Cupcakes
Ingrediënten:
(Voor 24 cupcakes)
250gr suiker
5 eieren
250gr bloem
250gr boter, op kamertemperatuur
1 zakje bakpoeder
Bereidingswijze
Meng de eieren met de suiker tot je een luchtig beslag hebt, voeg daarna de boter, de bloem en het bakpoeder toe. Meng tot het deeg volledig egaal is. Voeg een smaak toe naar keuze: kaneel, speculooskruiden, vanillesuiker cacao, amaretto, baileys, cocosmelk,…, Doe het deeg in cupcake papiertjes en laat 10-15 minuten bakken op 150°.
En dat hemels toefje bovenop de cupcakes?
Boterroom
Ingrediënten:
Bodempje lauw water
500gr bloemsuiker
250gr boter, op kamertemperatuur
Bereidingswijze:
Meng de boter en de suiker met behulp van een mixer. Voeg, indien nodig, een klein beetje water toe. Voeg naar keuze een smaakje toe: cacaopoeder, aroma's, vanillesuiker, cocospoeder, speculaaspasta,… Voeg eventueel enkele druppels kleurstof toe: roos, groen, blauw,…  Doe de boterroom in de spuitzak en knip de onderkant er af. Spuit kleine toetjes op de cupcakes en versier naar keuze met sprinklers, glitter of suikerpasta. Wij kiezen voor de drie tegelijkertijd.
Tekst: Barbara, Eveline en Katrien.