4 beelden, 4 boekendingen (4)
Maart is halfweg en leverde al vier mooie boekenbeelden op…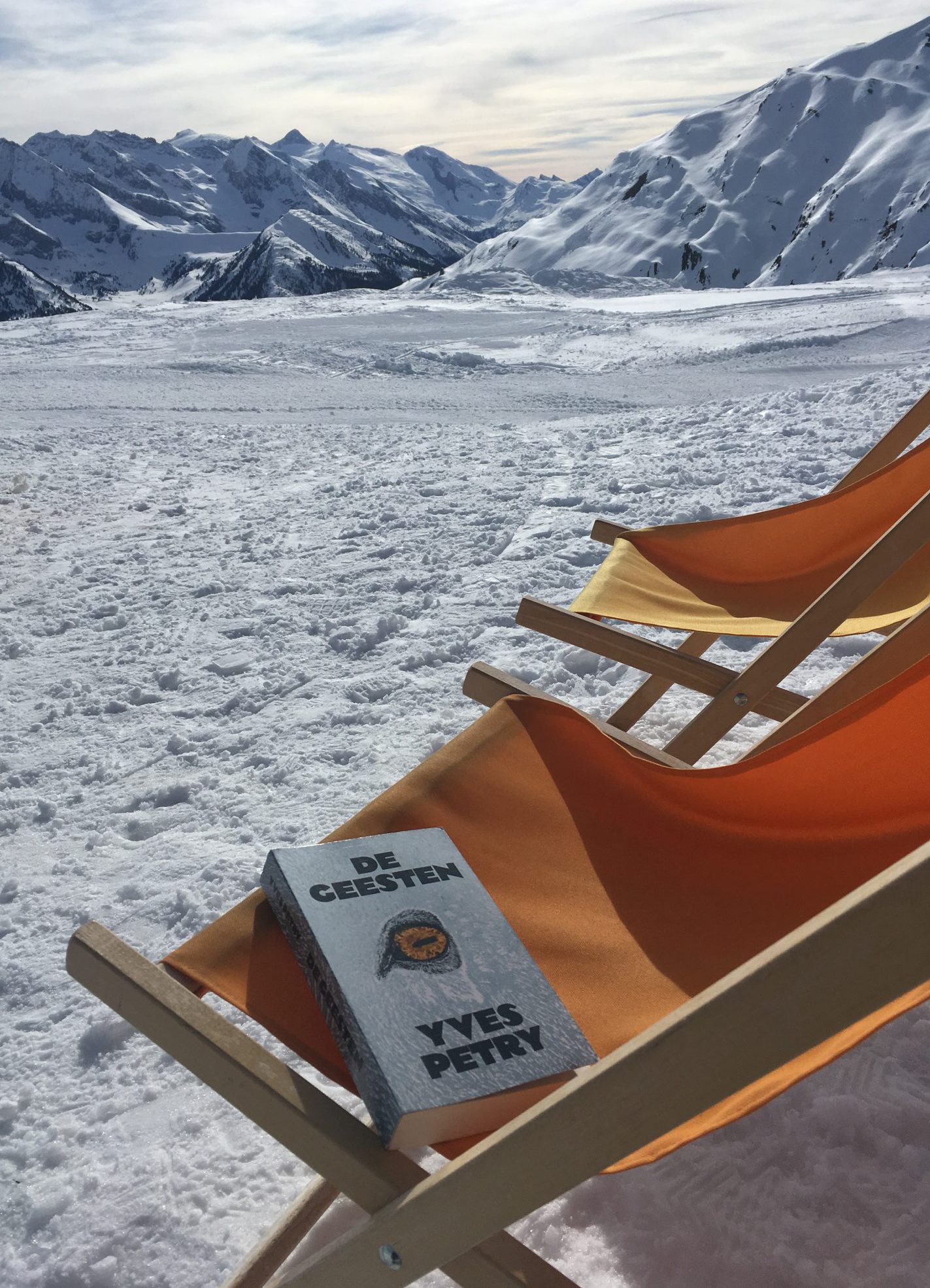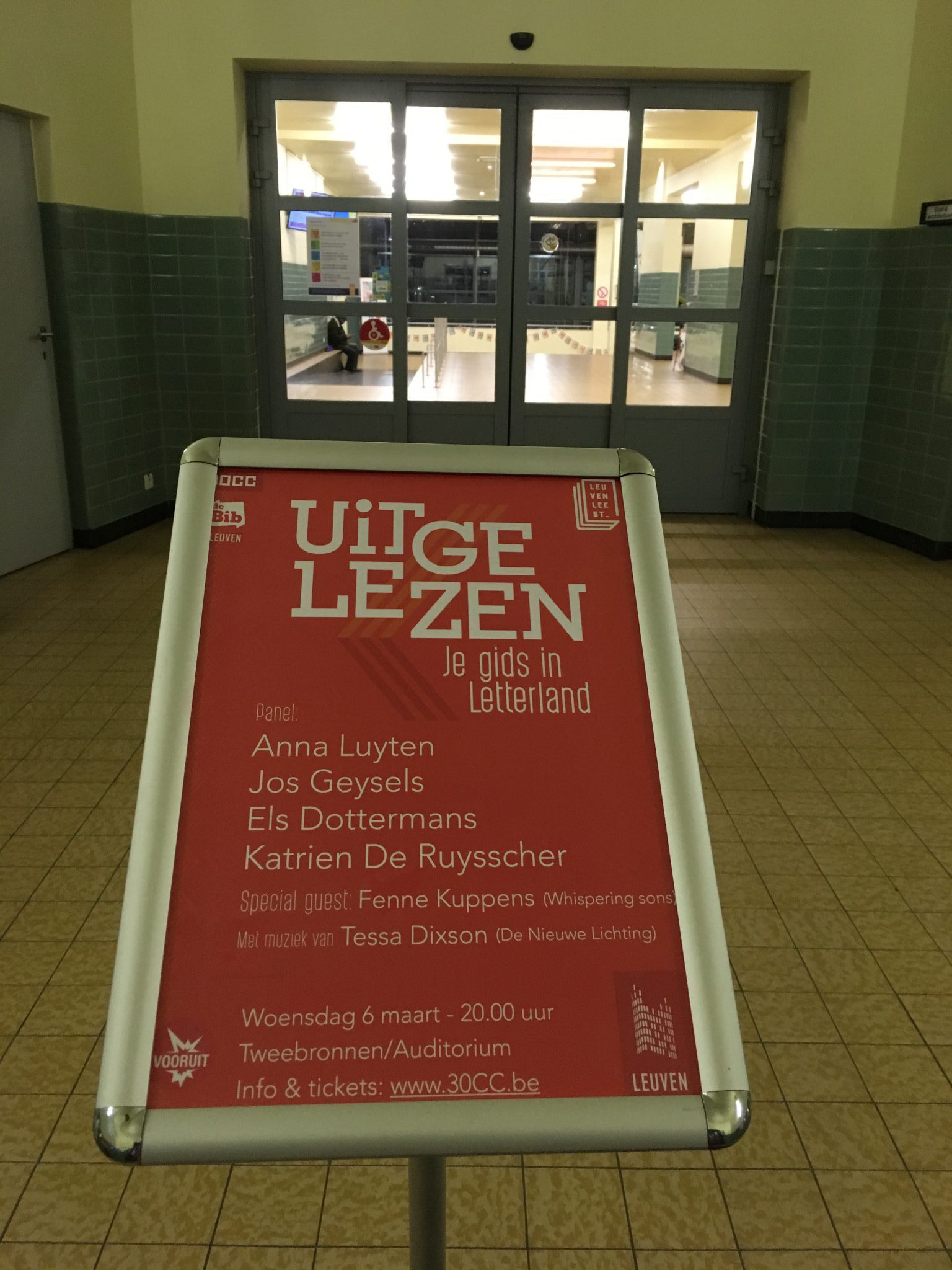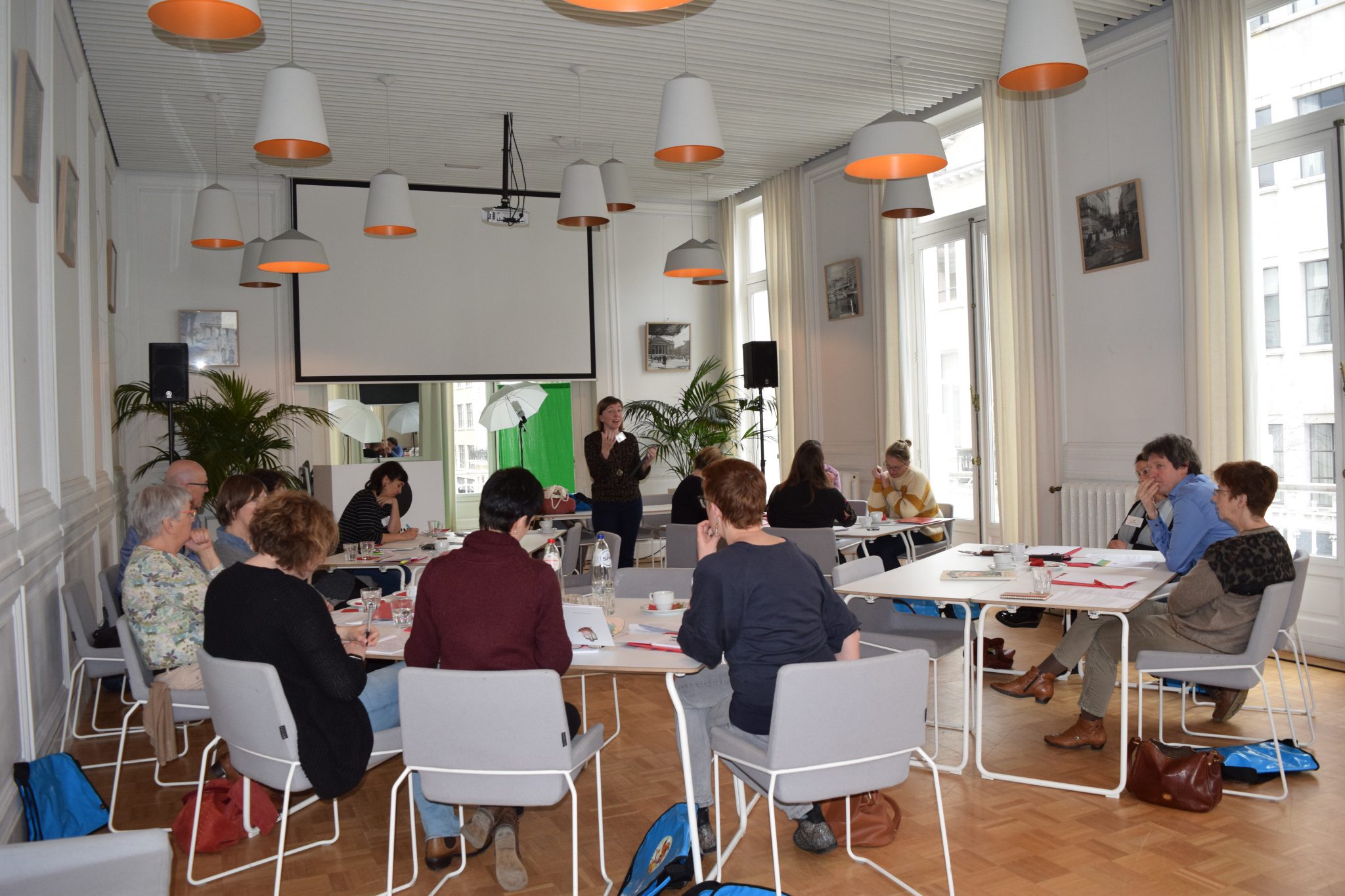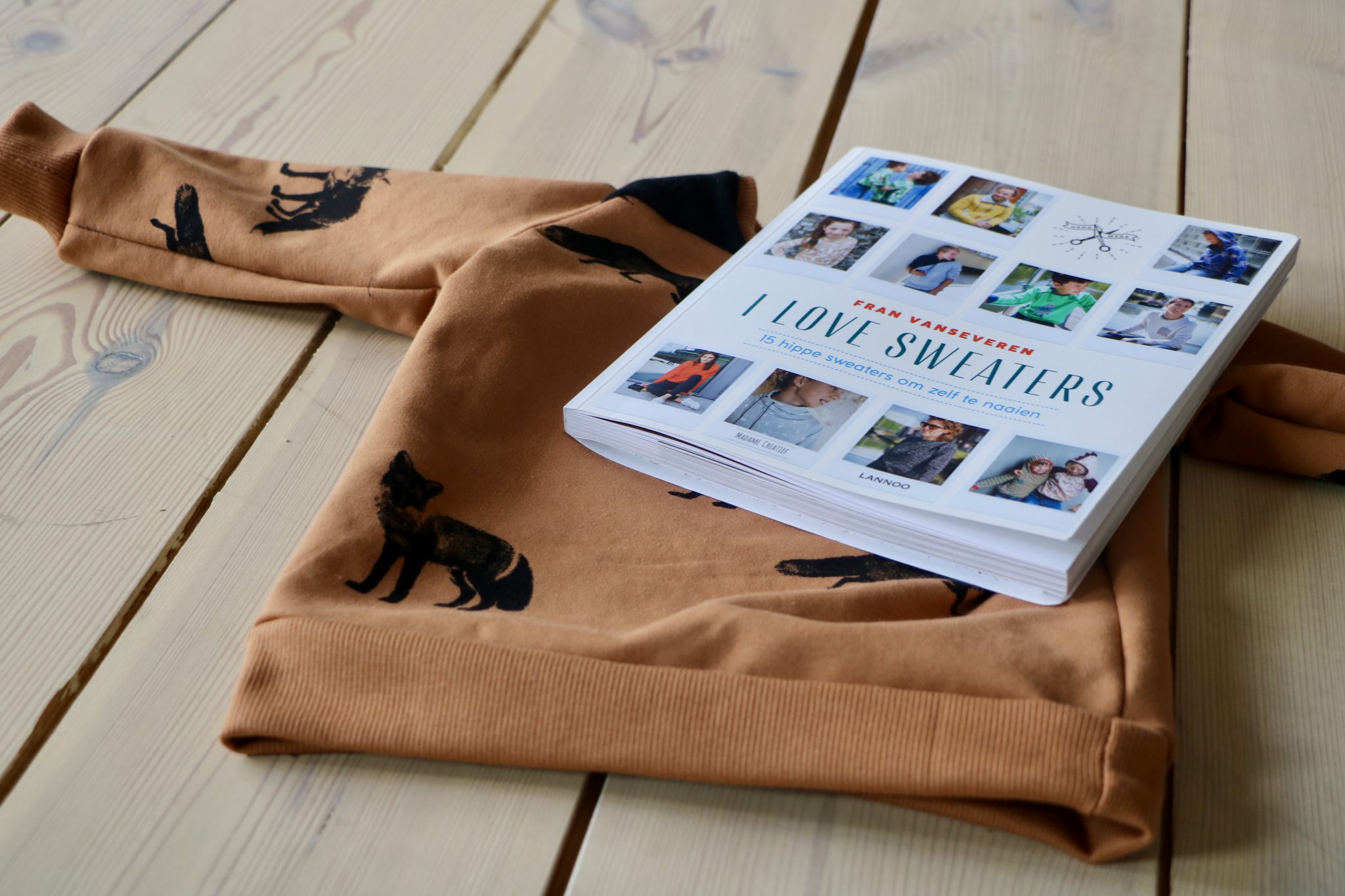 1.De Geesten van Yves Petry mocht mee op shortski naar het Zillertal. Dat ik in Oostenrijk maar 40 pagina's ver geraakte, had echter niets met Petry te maken, wel met een vers laagje sneeuw dat ervoor zorgde dat we overdag zo veel kilometers maakten, dat we na het avondeten (en ook wel een schnaps of twee) meteen in slaap vielen. The day after las ik de roman, over de getraumatiseerde derde-wereldarts Mark Oostermans wel in één ruk uit. Hoewel de dikke vette knipoog naar recensent Mark Cloostermans me natuurlijk niet ontging, deden de reflecties over de ontwikkelingsgeneeskunde uit De Geesten me heel erg terugdenken aan de fantastische documentaire The Rebel Surgeon. In die docu krijgt een Zweedse chirurg het zo moeilijk met het protocol en de obsessie voor details in de Westerse geneeskunde, dat hij naar Afrika trekt waar nog zoveel essentieels te verbeteren is. Zonder scans stelt hij daar kankerdiagnoses, snijdt hij met een ordinaire zaag een speer uit iemands lichaam en herstelt hij breuken met spanbandjes uit de lokale Brico. Dat levert niet alleen enkele spectaculaire scènes op, maar stelt onze ultrahoge verwachtingen over artsen meteen in een ander perspectief. Deze woorden van Mark Oostermans hadden dan ook uit de mond van the rebel surgeon kunnen komen:
"Het was niet mijn roeping me bezig te houden met mensen die op een of ander punt in hun leven werden overvallen door een knagend gevoel van onechtheid. Ik besteedde mijn krachten liever aan hen die al bij de geboorte met de onverbiddelijke echtheid van hun lot te maken hadden."
2. Boekenprogramma 'Uitgelezen' kwam op 6 maart naar Leuven. Moderator Fien Sabbe, journaliste Anna Luyten, voormalig VFL-voorzitter Jos Geysels en actrices Els Dottermans en Katrien De Ruysscher hadden naar aanleiding van Internationale Vrouwendag de opdracht gekregen Normale Mensen (Sally Rooney), Mijn jaar van rust en kalmte (Ottessa Moshfegh) en Drift (Bregje Hofstede) te lezen en becommentarieerden deze 'vrouwenboeken' in een geanimeerd panelgesprek. Tussendoor regende het kijk- en leestips en werden we bijgepraat over de laatste literaire roddels.
Wat heb ik onthouden?
Als er een theaterstuk komt van Normale Mensen, dan willen Els en Katrien maar wat graag de rol van Connells moeder spelen: "zo'n mooie persoonlijkheid". Mocht Anna ooit gaan acteren, dan kiest zij voor de zotte psychiater uit Mijn jaar van rust en kalmte.
Als je houdt van de verstandige personages van Sally Rooney, moet je van Els Dottermans ook naar de Netflix-serie Russian Doll kijken. Daarin wemelt het van de jonge zelfbewuste meisjes die spreken in volzinnen. Anna raadt dan weer aan om eens te googelen op 'Sally Rooney' en 'debater'.
Volgens Jos is de slotzin van Moshfegh van een meligheid die thuishoort in Van Gils en Gasten, Els vergelijkt het hoofdpersonage – dat een jaar in bed blijft – met Oblomov en vraagt zich af waarom het 'grappig' is dat een man zich lamlendig houdt, terwijl we het van een vrouw onuitstaanbaar vinden.
Terwijl Katrien Drift zalig herkenbaar vondt, is het geen boek voor Jos: "stel je voor dat je samen bent met iemand die elk detail van jou wil weten. Dan kruip ik ver weg." Anna had het dan weer moeilijk met de ethische kwestie van het autobiografische verhaal. Bregjes ex, van wie ze wegloopt in een koude winternacht, krijgt immers geen wederwoord.
Verder hielden Anna, Katrien en Els zo'n vurig pleidooi voor 'hun boeken van het moment' dat ik De lange droogte van Cynan Jones, Odes van David Van Reybrouck en Een Honger van Jamal Ouariachi meteen op mijn leeslijst heb gegooid.
'Uitgelezen' is zoals boekenprogramma's horen te zijn: slim en sexy, van niveau en vol humor. 'Uitgelezen' maakt lezen weer romantisch en presentatrice Fien Sabbe leidt de gesprekken ogenschijnlijk zo casual, dat het publiek zich een vlieg voelt in een leesclub vol interessante persoonlijkheden. Ik ben er volgende keer opnieuw bij!
3. Afgelopen zaterdag gaf ik een workshop recensies schrijven voor de vrijwilligers achter Pluizer. De recensiesite voor kinderboeken publiceerde onlangs haar tienduizendste (!) recensie en nodigde haar recensenten uit voor een inspiratiedag in de Brusselse beleefbib Muntpunt. Ik mocht de spits afbijten. Bijzonder fijn om aan de slag te gaan met een geïnteresseerd publiek van ervaringsdeskundigen en te merken dat iedereen met dezelfde vragen zit: hoe schrijf je over illustraties, wat als je een boek niet goed vindt en mag je 'ik' schrijven in een recensie. Dat ik dat eigenlijk heel graag doe, zo'n schrijfworkshop geven.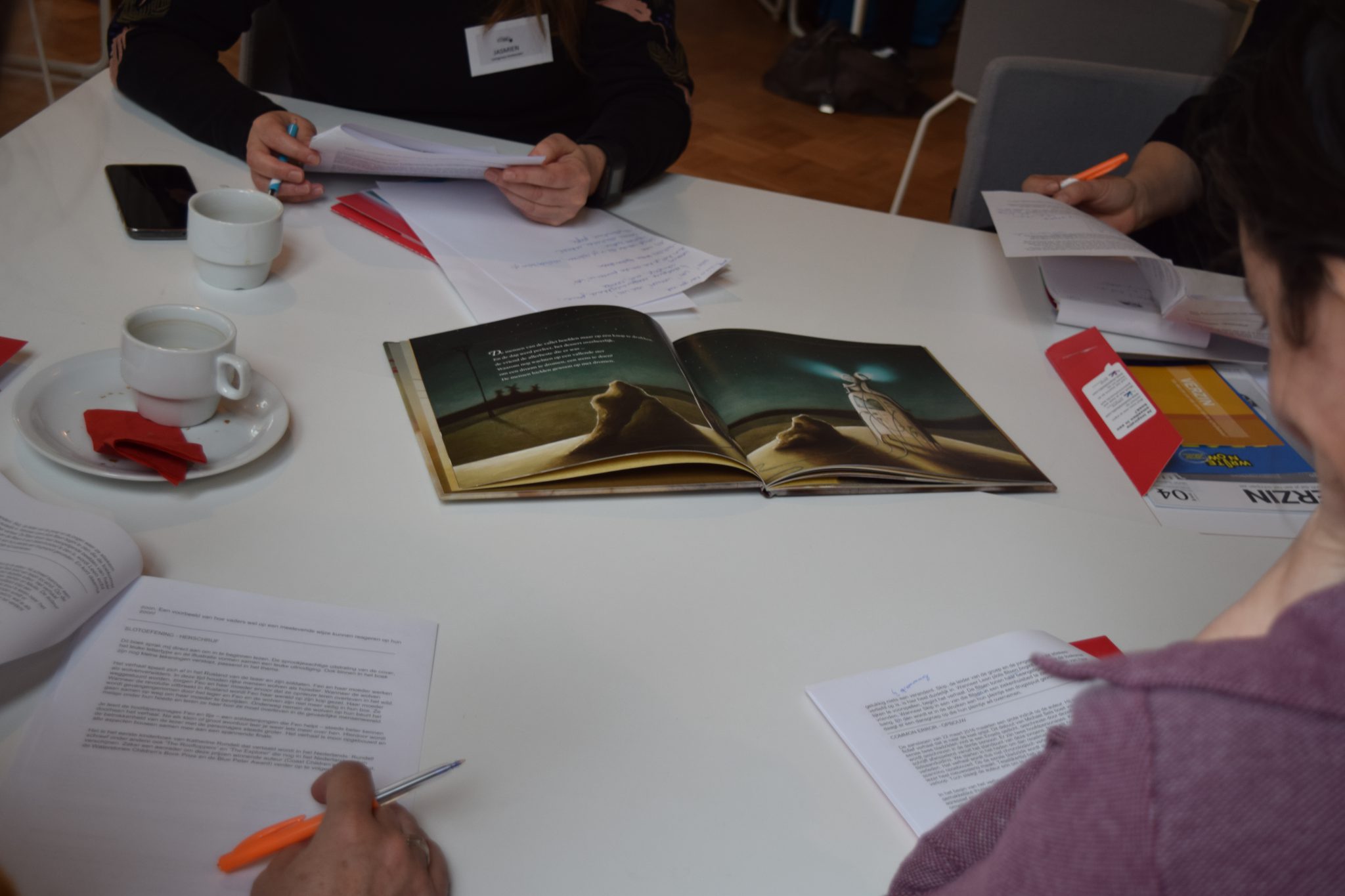 4. Sinds ik geen hoofd- en bijberoep meer hoef te combineren, is er 's avonds en in de weekends weer wat tijd vrijgekomen. Zo kwam het dat ik afgelopen vrijdag experimenteerde met Ottolenghi in de keuken (ik maakte zonder overdrijven de lekkerste pasta ooit en ben hiermee, net als half-Vlaanderen eindelijk lid van de Yotam-fanclub) en pikte ik onlangs het naaien weer op. In een ver verleden volgde ik eens een cursus, maar het hoge boerinnenbondgehalte van de lesgeefster deed me na enkele maanden afhaken. Zondagochtend koos mijn zus een ontwerp uit I love sweaters, was mijn neefje van anderhalf enthousiast over een stofje met 'foshen' en was 's avonds zijn pull (zo goed als) klaar. En no worries het wordt hier geen naaiblog, maar als het nog eens zo stormt zoals zondag, zou ik wel eens iets voor mijn metekindje kunnen maken.
PS. Barbara deelde onlangs deze beelden en boekendingen.