Volgeboekt: moet er nog chocolade zijn?
Ik weet niet hoe het met u zit, beste lezer, maar tijdens de paasvakantie ben ik in de ban van chocolade. En omdat er nu éénmaal een limiet zit op het aantal paaseieren en chocolade paashazen dat een boekenmeisje kan eten, schakelen we dit weekend over op ander lekkers: boeken met een chocoladethema.
Verlangen naar chocolade zet Barcelona, sterke vrouwen en chocolade centraal. Een succesrecept, als je het mij vraagt. En schrijfster Care Santos durft al eens experimenteren in haar boekenkeuken en keert de chronologie om. Ze vertelt het verhaal van drie vrouwen uit drie eeuwen van achter naar voor. Druipend in een chocoladesausje.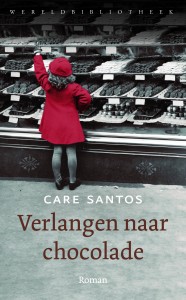 It's the prize of a lifetime! Gobstoppers, wriggle sweets and a river of melted chocolate delight await – Charlie needs just one Golden Ticket and these delicious treats could all be his."
Kwisvraag voor een paasei: uit welk boek komt dit? Nee, inderdaad, te gemakkelijk, ik broed nog wel even verder over een betere strikvraag voor de grote chocoladekwis. Maar wat was de prijs van de duurste editie van Sjakie en de chocoladefabriek? Een eerste uitgave uit 1964, gesigneerd door Mr. Dahl himself. Ging voor 25.000$ de deur uit. Tja, het is dat, of een nieuwe auto. Met wat opties…
Zit je met een chocolade-overstock na de passage van de paasklokken? Verwerk het in taart, is ons motto. De chocolade fudgetaart uit het Guilty pleasures kookboek van Sabine Koning kan je hier terugvinden. Een creatie met bastognekoeken, roomboter, pure chocolade en nog een klodder roomboter.  Op Sabine's blog, Oh My Foodness, kan je je verder verlekkeren. Onze welgemeende en oprechte excuses voor de vakantiekilo's. Wij wijzen met beschuldigende vinger richting paashaas.
Serious Eats bundelt vijf boeken over chocola waar u niet omheen kan. Laat u verbazen door The true history of chocolate van Sophie en Michael D. Coe, twee archeologen met een specialisatie in de Maya cultuur. Of duik in The great book of chocolate van David Lebovitz, de bekende patissier die zich in Parijs vestigde om te bloggen over… desserten.
Een smakelijk weekend gewenst!