Voor schrijfster en kunsthistorica Bregje Hofstede is het lichaam 'een last: het zeurt om onderhoud'. Ze vertoeft liever in haar geest en is trots op haar zelfdiscipline en concentratie. Dan kan ze op haar vierentwintigste plots haar benen niet meer bewegen. De diagnose: een burn-out. Via meditatie en lange wandelingen probeert Hofstede de verloren gegane eenheid tussen haar lichaam en geest te herstellen. In De herontdekking van het lichaam onderzoekt de schrijfster waar die scheiding tussen lichaam en geest vandaan komt, wijst ze op de gevaren van een te doorgedreven obsessie met gezondheid en legt ze op reis in het Midden-Oosten de vinger op de wonde van haar onvrede met haar lichaam: de rol van haar geslacht.
In een rustige Turkse koffiebar in Frankfurt, ver weg van de drukte van de Buchmesse, mocht ik haar interviewen.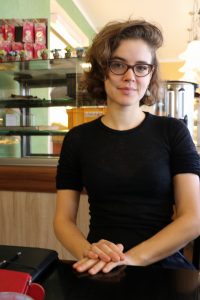 Waarom is de ene mens meer vatbaar voor een burn-out dan een ander? 
"Als je gelukkig bent, ligt de grens van wat je aankan veel verder. Ik was afgestudeerd in de kunstgeschiedenis en van plan om te promoveren. Maar sinds de beurscrash wordt er bezuinigd in de culturele sector. Er was geen geld voor een doctoraat. Ik moest een nieuwe richting zoeken en mijn plan A laten varen.
Nu, veel mensen hebben het moeilijk, maar ik ben gecrasht omdat ik me niet bewust was van mijn fysieke limieten. De impuls die anderen doet stoppen, ontbrak bij mij. Ik merkte wel dat ik 's nachts wakker lag omdat mijn hart bonkte in mijn keel – iets wat me trouwens extra stress bezorgde – maar ik deed er niks aan.
Ik ging telkens opnieuw een heel klein stapje verder. Dat ene stapje, dat is altijd mogelijk. Tot je plots over het randje gaat."
Een burn-out op je vierentwintigste, terwijl je alles leek te hebben om gelukkig te zijn. Hoe wordt hierop geageerd?
"Zelf had ik ook nooit gedacht dat dit me op mijn vierentwintigste zou overkomen.
Heel lang vond ik van mezelf dat ik niet moest zeuren. Ik bevond me in een luxepositie, woonde in het westen en ben hoogopgeleid.
Na het verschijnen van De herontdekking van het lichaam interviewde Lize Spit me voor De Morgen. Achteraf heb ik via Facebook heel wat negatieve reacties gekregen van mensen die het larie en gezever vinden. Veel oudere mensen vinden dat het leven vroeger harder en slechter was en geloven mijn verhaal niet echt.
De laatste tijd heb ik echter heel wat lezingen gegeven over burn-out en in het publiek zitten er vaak leeftijdgenoten die mijn verhaal herkennen. Bereikbaarheid is tegenwoordig de norm. Niemand leert je hoe je je hiertegen moet beschermen."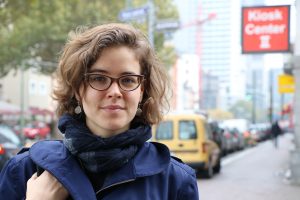 Ben je helemaal genezen? 
"Ik denk niet dat ik er al helemaal overheen ben. Ik kan minder dan vroeger en als ik een deadline heb, dan merk ik dat meteen. De vraag is natuurlijk, is het omdat ik dit zo wil, of omdat ik niet meer aankan. Ik heb duidelijk minder stamina dan vroeger en als er iets gebeurt en ik de stress van toen weer voel, dan panikeer ik, alsof het een oude wonde is die weer opengaat.
Hoe bescherm je jezelf tegen een heropflakkering? 
"Ik wandel heel veel en breng zoveel mogelijk tijd door in openlucht. Op mijn gsm staat mijn e-mail af. Ik heb geen nine to five job maar iedere week blokkeer ik enkele dagen met een X in mijn agenda. Dan plan ik geen afspraken en dwing ik mezelf om bvb. naar een matinée voorstelling te gaan. Ook hier op de Messe kom ik niet naar het happy hour en pik ik maximum één feestje mee.
Ik probeer ook om regelmatig mijn comfortzone te verlaten. Voor mijn artikelenreeks over keuzevrijheid voor De Correspondent experimenteer ik met kleine dingen om mijn dagelijkse routine om te gooien. Zo probeer ik om bij het wachten niet meteen naar mijn gsm te grijpen. Op die manier kom je veel gemakkelijker tot een praatje. Van nature ben ik heel schuchter, dus dat is telkens een drempel die ik moet overwinnen.
Het beroep van schrijver is niet heel erg gebalanceerd. Je leeft veel in je hoofd en in je fantasie. Het is een eenzaam en onrustig bestaan met weinig ankers in de echte wereld.
Ik kan me heel goed vermaken op mijn eentje maar het is goed dat ik bij De Correspondent heel prettige collega's heb. Een leven zonder collega's zou ongezond zijn voor mij."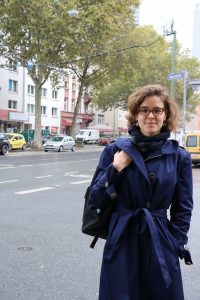 In je boek wijt je de problematische relatie met je lichaam ook aan het vrouw zijn. Hoe moeilijk is het om een vrouw te zijn in het literaire wereldje? 
"Ik krijg als schrijfster op een podium heel vaak te horen 'wat ben je jong'. Over een jonge schrijver wordt zoiets nooit gezegd.
Ik vind het niet gemakkelijk om naar voren te komen en te zeggen 'hier ben ik'. In mijn opvoeding heb ik geleerd om bescheiden te reageren, ook op een compliment. In de Nederlandstalige literatuur vind ik dat Saskia de Coster op een heel goede manier naar buiten komt. Simone van Saarloos hanteert dan weer een echte guerrilla stijl en Connie Palmen is helemaal wars van valse bescheidenheid. Zij eist om inhoudelijk serieus te worden genomen. Je hebt veel jonge vrouwen in de hedendaagse Nederlandstalige literatuur. Zij vormen een sterke cohorte. Tussen hen bestaat er veel solidariteit. Er heerst geen afgunst. Bij de mannen is dat anders. Zij zijn 'sneller op hun pik getrapt'."
Het is opmerkelijk dat je niet schrijft over seks in De herontdekking van het lichaam!
"Dat klopt. Ik heb het wel overwogen. In het publieke debat ben ik er ook voor uitgekomen dat het stoppen met de pil een hele positieve impact heeft gehad op mijn seksleven. Het maakte deel uit van mijn genezing, alsof een grijze sluier werd weggenomen.
In De herontdekking van mijn lichaam vond ik dat seks zou afleidden. Het hoorde niet in de journalistieke lijn.
In een volgend boek gaat het thema zeker nog aan bod komen maar dan op een meer poëtische en lyrische manier. In mijn romans ben ik nog niet klaar met mijn lichaam."
Wat brengt de toekomst? 
"Ik ben al twee jaar bezig met een nieuwe roman, maar De herontdekking van het lichaam heeft het schrijfproces onderbroken. Het was niet slecht om even afstand te nemen. Mijn nieuwste boek gaat over een jonge vrouw die afhankelijk is van de mening van anderen. Ze heeft geen eigen criteria en is alle grip verloren.
Ik blijf ook bij Cossee want ik ben hier heel tevreden. Doordat het zo'n kleine uitgeverij is, moet je niet onderaan de ladder starten tussen alle grote namen. Hun stijl is degelijk en niet agressief. Bij Eva voel je de liefde voor literatuur, alle werknemers lezen je boek trouwens. Hier kan ik rustig groeien. Cossee is bovendien onafhankelijk en maakt geen deel uit van een groot concern. Ze geven niet alleen om winst. Als ze echt in iemand geloven, blijven ze je uitgeven, ook als de verkoopcijfers minder zijn."
De herontdekking van het lichaam, Bregje Hofstede, Cossee