Interview: Karin Slaughter (Deel 2)
We trakteerden je mid augustus al op een portie Karin Slaughter. We spraken haar in Londen naar aanleiding van Laatste weduwe, haar nieuwste boek. Benieuwd naar haar literaire wish list, haar visie op thrillers en de druk die een bestseller auteur ervaart? Lees dan vooral verder.
Wat vertelt een professor literatuur zijn studenten over 400 jaar over je oeuvre?
Goh, ik hoop in de eerste plaats dat ik vermeld word in de cursus. Ik heb het gevoel dat ik deel uitmaak van een nieuwe generatie vrouwelijke schrijvers: Mo Hayder, Sara Paretsky,… We treden in de voetsporen van pioniers als Agathe Christie en zien een evolutie. Agatha vermoordde enkel mensen die het verdienden. Daphne du Maurier terroriseerde goede mensen in haar boeken.
Misdaadromans reflecteren het politieke gedachtegoed van een tijd. We schrijven heel momentaan. Dickens, Dostojewski,… Het zijn allemaal misdaadromans die tot de kanon behoren en aan universiteiten onderwezen worden. Ik hoop over 400 jaar in dat lijstje te mogen volgen.
Wordt het thriller genre te vaak afgedaan als strandlectuur?
Het krijgt inderdaad weinig respect. Persoonlijk lees ik geschiedenisboeken op het strand, dus misschien ben ik niet de juiste persoon om dit te vragen? (lacht).
Als intelligente en goed opgeleide mensen een thriller lezen zullen ze het al snel geen thriller meer noemen. Net zoals verstandige mensen The Handsmaid Tale geen fantasy noemen. Ze zijn zich bewust van de maatschappelijke waarde van het werk. Het label Thriller is goed voor de verkoop en speelt dus in mijn voordeel. Maar meer en meer boeken zijn hybride. Goede misdaadromans hebben het over de maatschappij en houden lezers een spiegel voor.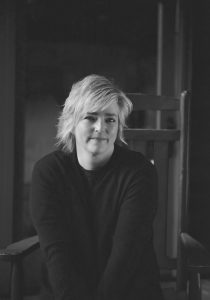 Welke literaire experimenten staan nog op je verlanglijstje?
Mensen vragen me of ik ooit een boek schrijf waarin niemand sterft. Euhm… nee. De dood is er voor iedereen, we weten allemaal dat het er aan komt. Het geeft je de kans om te reflecteren over het leven.
De relatie tussen Sara en Will ondergaat grote veranderingen in het boek?
Klopt! Toen ik het einde schreef, was ik erg trots. Een boek op die manier laten eindigen en er verder niet op ingaan vraagt veel moed, denk ik… Ik was wel gechoqueerd over de enthousiaste reacties van het lezerspubliek over de afloop. Gelukkig hebben zowel de lezers als ik nu even tijd om er over na te denken.
Je levert 1 boek per jaar af, maar stelt je schrijfwerk uit tot op het laatste?
Ik schrijf enkel onder druk, je kan dat aan elke leerkracht vragen die ik ooit gehad heb. Ik was echt een verschrikkelijke student (lacht). Ik steek veel tijd in toeren en reizen, dus al mijn schrijfwerk prop ik in de maanden november en december. Ik probeer niet te veel tijd steken in interviews om mijn schrijftijd te bewaken. Dat vraagt wat plannen en nee leren zeggen.
Ik denk vooraf lang en hard na over het boek en schrijf het dan uit in een rotvaart. Ik weet wie de slechterik is, hoe het zal eindigen en wat de motivatie is van iedereen.
Als ik een boek schrijf, ben ik in mijn hoofd al bezig met het volgende. Soms is het moeilijk om niet meteen aan dat volgende te beginnen en het boek dat voor mij ligt af te maken.
Je verkoopt miljoenen boeken wereldwijd. Zorgt dat voor druk?
Druk? Nee, de enige waarmee ik de strijd aanga ben ik zelf. Ik wil dat mijn lezers tevreden zijn en laat de Amazon commentaren links liggen. Naarmate je langer bezig bent, groeit je zelfvertrouwen. In het begin vond ik het doodeng om voor een publiek te spreken. Vandaag is er niks meer waarover ik me schaam, ik heb alle gênante dingen al eens gehad: publiekelijk geboerd, van een podium gevallen, een knorrende maag,…. Ik ben nu ook wat ouder en dat geeft, naast die vervelende rimpels, toch wat rust.
Ik lees graag en merk het als een schrijver er zijn pen aan geveegd heeft of zijn werk snel-snel dicteerde aan iemand. Dat maakt me erg kwaad: ik heb geld uitgegeven aan je boek, ik volg je werk en ik heb niet het gevoel dat je je best hebt gedaan. Zo wil ik mijn lezers nooit teleurstellen.
En teleurstellen doet Karin niet. Getuige daarvan zijn haar meer dan 35 miljoen verkochte boeken die in 37 talen vertaald werden. Laatste weduwe is spannend, ijzersterk en blaast je van je geëmancipeerde sokken.
Laatste weduwe, Karin Slaughter, Harper Collins