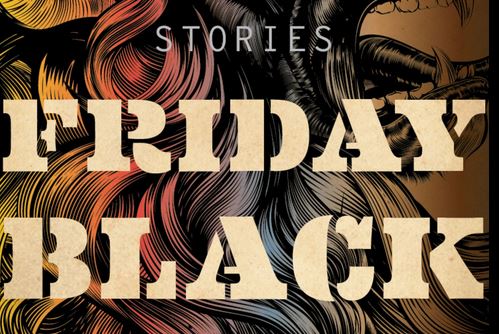 Dat Nana Kwame Adjei-Brenyah over dezelfde kam wordt geschoren als George Saunders is geen wereldschokkend nieuws. Daarvoor zijn immers stromingen en literaire modetrends uitgevonden, zodat mensen die plakkerige pollekes krijgen als ze een boek niet het juiste vakje kunnen stoppen niet aan het hyperventileren gaan. Het is overigens niet van de pot gerukt, Adjei-Brenyah's vreemde, gedurfde, donkere, dystopische (*) verhalen kunnen pront naast het beste van Saunders staan. Maar wat wél wereldschokkend is, is dat de grote Saunders zelf zijn werk 'an excitement and a wonder: strange, crazed, urgent and funny' noemt, terwijl Colson Whitehead hem opnam in de '5 under 35' auteurs voor 2018. En dat… voor een debuut.
De Afro-Amerikaanse Adjei-Brenyah opent met The Finkelstein Five, genoemd naar vijf zwarte tieners die door een blanke man onthoofd werden met een kettingzaag, omdat hij zich nogal door hen bedreigd voelde bij het verlaten van de bibliotheek. Wanneer blijkt dat hij een grote kans maakt om vrijgesproken te worden, breken over het hele land spontane moordpartijen uit, waarbij de daders de naam van één van The Finkelstein Five in hun vel kerven voordat ze aan het slachten slaan. Bij deze achtergrond probeert Emmanuel -die zijn blackness desgewenst kan instellen op een schaal van 1 tot 10 door zich anders te kleden om het timbre van zijn stem te veranderen- een job te scoren in een kledingzaak. Tevergeefs, want hij wordt ondanks een overtuigende blackness van 4.0 geweigerd.
Emmanuel's usual mall blackness was a smooth 5.0. Usually only one security gard followed him.
Adjei-Brenyah neemt je van hel naar hel. Bijtend racisme is alom en het overweldigde gevoel van vechten tegen de bierkaai dat minderheden, financieel zwakkeren en buitenbeentjes ervaren, keert terug in elk verhaal. Zo is er Light Spitter waarin een loner –Fuckton gedoopt door zijn kwelduivels- een klasgenote en zichzelf overhoop schiet, waarna ze terugkeren als geesten om een andere misfit van nog een terreurdaad proberen af te brengen.
In The Era, dat zich afspeelt in een post-apocalyptische periode waarin rommelen met de genen van kinderen bon ton is, probeert men door totale openheid af te dwingen oorlog en andere malheuren te voorkomen. De brutale eerlijkheid is dan vooral jammer voor die kinderen waarbij het genetisch pimpen is mislukt.
"Back then, everyone was a liar. It was so bad that it would not have been uncommon for people to tell Samantha- Mr Harper points a finger to Samantha, who sits next to me- that she was beautiful even though, obviously, she is hideous." Samantha nods her ugly head to show she understands.
Lark Street heeft een juweel van een openingszin. Enfin, openingsparagraaf:
An impossible hand punched my earlobe. An unborn fetus, aborted the day before, was standing at my bed side-side. His name was Jackie Gunner.
Adjei-Brenyah is een meester van de hyperbool, die hij gretig gebruikt om zijn thema's diep in de surrealistische zone te duwen. In Zimmer Land kunnen klanten in een fout pretpark met enhanced reality zonder gevaar voor lijf en leden boel zoeken met jonge zwarte mannen -acteurs compleet met baggy pants en hoodie- en ze desgewenst virtueel overhoop knallen.
Wanneer hij het op hol geslagen consumentisme op de korrel neemt, is Adjei-Brenyah op zijn best. In het titelverhaal moet een jonge zwarte verkoper het hoofd bieden aan een uitzinnige mensenmassa die op Black Friday een kledingszaak bestormt.
I climb on top of my cabin. The people stampede. Some bodies fall and get up. Some bodies fall and stay down. They scream and hiss and claw and moan. (…) I smile out at the crowd. "How can I help you today?" They push and point in all directions.
Na de eerste vijf uur liggen er nog maar drie lijken in de opslagruimte van de winkel. Het kon erger. Als de verkoper het overleeft en genoeg verkoopt, krijgt hij misschien zelfs een jas mee naar huis als bonus. Stel je voor. Adjei-Brenyah gaat op hetzelfde elan verder in How To Sell a Jacket As Told By the Iceking, waarin dezelfde jongeman alles uit de sales trukendoos moet halen om zijn bevoorrechte positie als topverkoper niet te verliezen aan een ambitieuze concurrente.

When the cashiers ask, "Did anyone help you out today" customers say; "The one with nice hair," when they mean Florence. When they mean me, they say, "The tall one," if they're white. If they're black, they say, "The black guy."
Friday Black gaat in mijn boekenkast tussen George Saunders 10th of December en Donald Ray Pollocks Knockemstiff. Tussen De Groten, dus.
PS: Friday Black is vandaag nog niet verkrijgbaar in het Nederlands, maar daar komt in september 2019 verandering in, dankzij uitgeverij Atlas Contact.
(*) 'Schuw die beestige adjectieven', zei Roald Dahl ooit, in navolging van Hemingway. Het beste schrijfadvies ooit, vind ik, maar ik lap het vierkant aan mijn laars om het prachtige verhaal achter de quote te kunnen delen.