Schrijven voor kinderen – Dahl-style
Er klonk een kanonschot ter begroeting van elke cursist die het lokaal binnenstapte. Gepaster kan een schrijfcursus niet beginnen. Een klusjesman met gevoel voor humor had de deurveer afgesteld op standje 'Hulk', waardoor bij elke slaande deur het gebouw enkele centimeters opschoof. Het gebouw, dat was de knusse bibliotheek van Sint-Amandsberg. De cursus, dat was het Wisper schrijftraject 'Roald Dahl', ter gelegenheid van het 100ste geboortejaar van de superster van het jeugdboek. En wij, wij waren erbij. Vijf zaterdagen lang, terwijl buiten de herfst jammerend op de vlucht sloeg voor de winter.


Wat we niet gingen doen, was een poging wagen om Dahl te imiteren. Dat heeft ongeveer evenveel kans op slagen als een buffel quatre-mains aanleren. Wat we wél gingen doen, was zot veel schrijfoefeningen maken, gebaseerd op het oeuvre van Dahl. Voor iemand die het liefst van al jeugdverhalen schrijft en die gek is van Roald Dahl -zoals uw dienaar- is dit het equivalent van in een aardbeientaart bijten om vast te stellen dat ze gevuld is met chocola.
Jeugdauteur en schrijfdocente Hilde Van Cauteren stond aan het roer, daar in het lokaaltje naast de jeugdafdeling van de bibliotheek. Terwijl wij onze eerste oefeningen kregen om de schrijfspier op te warmen, zoals het Hilde het noemde, stelde ik me voor dat de hoofdpersonages van de jeugdboeken om de hoek zich kwamen verdringen aan de deur.
'Come on, Dolf, laat mij ook eens kijken, please!'

'Stach, zeg eens aan Harry Four Eyes hier dat de poetsvrouw heeft gebeld, ze wil haar bezem terug.' (*)
Ik leerde dus meteen dat je je fantasie best niet te vroeg van de leiband laat, want zo mis je bijvoorbeeld de eerste oefening waarin je in een scène laat zien hoe Dahl ooit je leven heeft gered. Dan maar de meubelen redden in de volgende opdracht, waarin je je buur in een personage van Roald Dahl veranderde. Ik voerde hem op als een nog nasmeulende laborant in de fabriek van Willy Wonka:
'Ik kan het uitleggen, meneer Wonka, ik kan het uitleggen. We weten nu dat je bij het opschrijven van pi best niet achteraan begint!'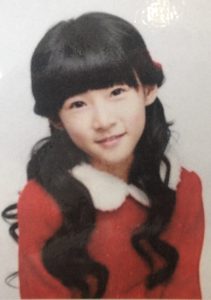 Dan liet Hilde ons personages creëren aan de hand van foto's die ze aan een wasdraad had gehangen. Omdat ik in mijn hoofd nog steeds massa's dingen liet ontploffen in Willy Wonka's labo, miste ik de stormloop op de wasdraad en bleef ik achter met deze twee foto's. Ik had geen idee wat ik ermee moest aanvangen. De redding kwam van Dahl zelf, die ooit over personages zei:
'It's no good to have people who are ordinary, because they are not going to interest your readers at all.'
Ik bedacht Bert, een jongen van negen met een golvende baard, en Miss Halitosis, een doortrapte schurk in de gedaante van een kostschoolmeisje en uitgerust met de meest stinkende adem van het heelal. Miss Halitosis werd me onmiddellijk dierbaar.
De volgende lessen kregen Bert en Miss Halitosis steeds meer body, voortgestuwd door de oefeningen die Hilde op ons losliet. We schreven dialogen, bouwden spanning op en bedachten een volwaardig plot. Miss Halitosis kreeg gezelschap van twee handlangers -de reusachtige James en Scheve Freddy- terwijl Bert een bondgenote vond in de mysterieuze Ilona Gardeboe.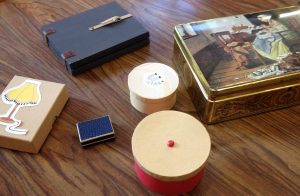 Ik keek elke week weer uit naar de oefeningen ter opwarming van de schrijfspier, waarvoor Hilde de meest prachtige opdrachten verzon, compleet met accessoires. Zo werd een verzameling vintage doosjes een collectie verpakte superkrachten, die je kan kopen op een supermarkt. Ik verontschuldig me bij mijn medecursisten voor het verzinnen van een superkracht waarmee je een absurde slang naar keuze kan oproepen, en dan vooral voor de bananaconda en cobrasserie. Sorry.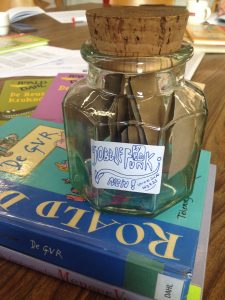 Een voltreffer was de bokaal met Gobblefunk die Hilde tevoorschijn toverde, vol met neologismen die van Dahl hadden kunnen zijn. We bedachten wat ze zouden kunnen betekenen, waardoor ik me nadien weer uitgebreid moest verontschuldigen. Bij de kat des huizes deze keer, in de vorm van drie ton kattensnoepjes en een vaste aanstelling als mobiel dutjeskussen, en wel voor het verzinnen van de volgende uitleg bij 'knatsbrammen':
Knatsbrammen (knatsbramde, heeft geknatsbramd): de verwerpelijke gewoonte om de kat in een nylonkous te stoppen, waarna het geheel over het vast tapijt wordt opgewreven. Het verbaasde slachtoffer schiet urenlang groene bliksems van statische elektriciteit naar metalen voorwerpen. Werkt uitstekend met katten die Bavetteke heten.
Mijn hoogtepunt van de cursus was toen ik de magie ervoer wanneer personages een eigen wil  krijgen en vrank het verhaal overnemen. Ze pleegden staatsgreep in mijn hoofd. Het verhaal begon zichzelf te schrijven. Schrijven veranderde plots van hard labeur in het lezen van een boek dat nog niet bestaat. Dat was een prachtige ervaring. Ik begreep toen wat Dahl bedoelde toen hij schrijven vergeleek met een lange wandeling door een onbekend landschap, dat je uiteindelijk na een klim op een heuvel -het einde van het verhaal- zelf pas helemaal kan overzien.
Veel bijgeleerd, dus? Check! Plezier gemaakt? Check! In één woord? Deze cursus was helemaal prangbottienerig.
prangbottienerig (bijvoeglijk naamwoord): zo plezant dat je tenen er spontaan haasje-over van gaan spelen
(*) Jullie herkennen uiteraard Dolf uit Kruistocht in Spijkerbroek en Stach uit Koning van Katoren, die hier Harry Potter jennen.
PS: met veel dank aan medecursist Jelle voor het lenen van zijn geesteskat Bavetteke, in deze post en in ettelijke schrijfoefeningen.
PPS: ons interview met Hilde lees je hier!
PPPS: Zin gekregen om zelf aan de slag te gaan? Er zijn in februari nog enkele plaatsen vrij bij Wisper. De cursus columns schrijven door Barbara zit helaas al vol.