Rebecca Makkai over haar grote aidsroman
1 december is Wereldaidsdag. Die dag spendeerde ik in Zuid-Afrika, waar ik in een township werd rondgeleid door een vrouw die al tien jaar HIV-positief was. "Ondanks de armoede beschikken we over goede medicatie," vertelde ze me. "En dat is een deel van het probleem. Doordat steeds minder mensen in deze township aan aids sterven, zijn ze minder gemotiveerd om zich te beschermen." En inderdaad, sinds de ziekte in 1981 werd ontdekt, kan aids via medicatie steeds beter onder controle worden gehouden. Toch stierven er vorig jaar wereldwijd nog  zo'n 770000 mensen aan de gevolgen van aids. In Een stralende toekomst blikt de Amerikaanse schrijfster Rebecca Makkai terug op de beginjaren van de ziekte, naar het 'boystown' van Chicago waar in 1985 de eerste tests beschikbaar waren. 
In deze roman volgen we de jonge homoseksuele Yale tijdens een kunstdeal met Nora, een weduwe op leeftijd. De parallellen tussen hun levens zijn frappant. Terwijl aids een spoor van vernieling zaait in Yales vriendenkring, deed WOI hetzelfde in Nora's kunstenaarskringen. De hoofdstukken uit de jaren 80 wisselt Makkai af met scènes in het hedendaagse Parijs, waar Fiona, het zusje van één van Yales vrienden nog steeds worstelt met de gevolgen van de aidscrisis.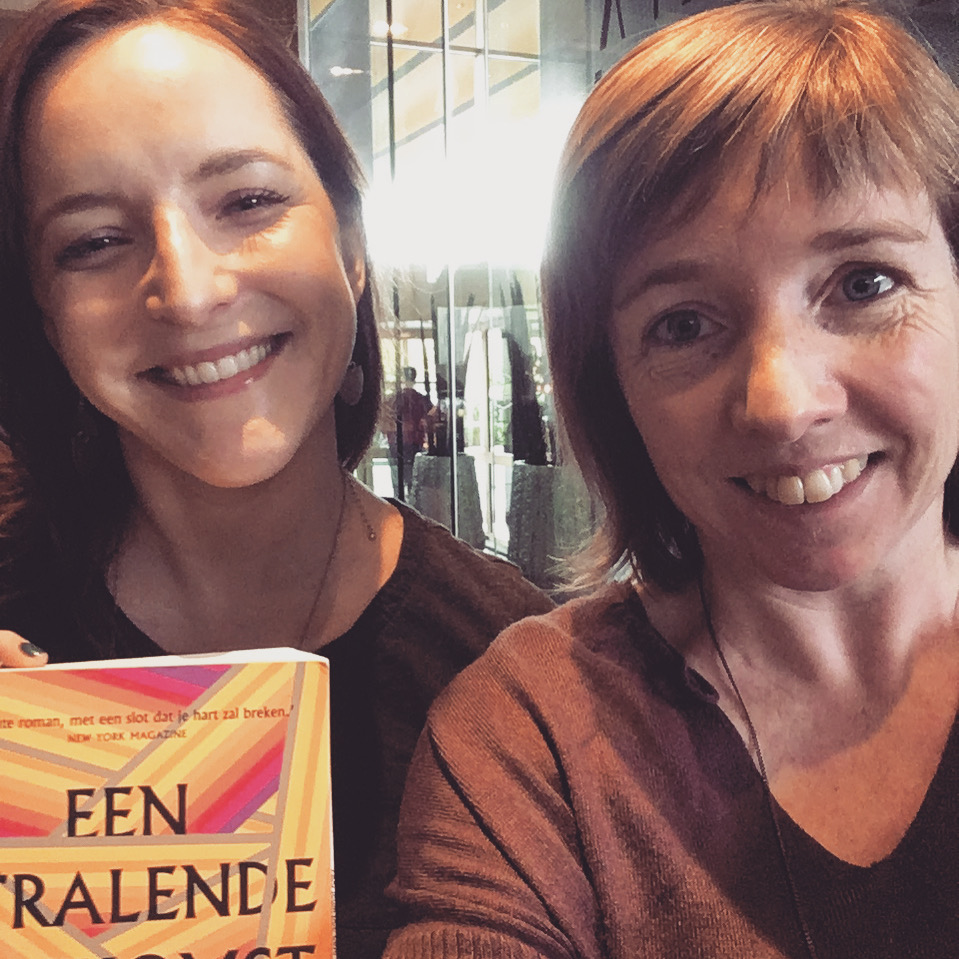 Een stralende toekomst wordt wel eens de eerste grote aidsroman genoemd. Toch ligt de crisis die jij beschrijft zo'n 30 jaar achter ons. Waarom kwam dat eerste boek er zo laat?
Rebecca Makkai: "Er zijn toen wel wat snelle persoonlijke antwoorden verschenen, maar die gingen telkens over het leven van één persoon. Ik heb er een breed verhaal met verschillende lagen en personages van gemaakt. Als het boek enkel over aids ging, zou ik schrik hebben gehad om het mij toe te eigenen. Want heb ik als buitenstaander wel het recht om dit verhaal te vertellen? Die meerlagigheid maakt mijn boek anders dan die vroege getuigenissen. En doordat ik dertig jaar na de feiten schrijf, kon ik ook de verstrekkende gevolgen tonen. Hoe overlevers nog steeds gevoelens van rouw en schuld meedragen. Dat verhaal kon alleen maar verteld worden vanop een afstand."
Je had nochtans niet het plan om een aidsroman te schrijven. Je had een verhaal over een kunstdeal in je hoofd. Dat is uiteindelijk een subplot geworden. Hoe is het zo gelopen?
RM: "Ik wilde eerst van aids een subplot maken, maar tijdens mijn research besefte ik al snel dat dit geen optie was. Aids is al zo vaak behandeld als een ondergeschikt verhaal. Op die manier ga je aidspatiënten nog meer onderdrukken. Van die traditie wilde ik geen deel uitmaken want het weerspiegelt hoe we in Westerse landen denken over aids: als iets waar wij ons niet iedere dag zorgen over moeten maken.
Als ik vanuit een geprivilegieerde positie zou schrijven over de getroffen homoseksuele gemeenschap in Chicago, dan wilde ik hen al zeker niet behandelen als nevenpersonages."
Verandert je verhaal wel vaker zo fundamenteel tijdens het schrijfproces?
RM: "Het gebeurt altijd. Het zou een heel slecht teken zijn om exact het boek te schrijven dat ik vooraf in mijn hoofd had. Dan heb ik niets geleerd tijdens het schrijven."
Dat je veel hebt opgestoken, is wel het minste wat je kan zeggen. Je roman is bijzonder goed gedocumenteerd. Ben jij tegenwoordig een aidsexpert? 
RM: "Uiteraard heb ik me ingelezen in de huidige stand van zaken om me voor te bereiden op vragen van journalisten. Zo weet ik dat er wereldwijd 35 miljoen mensen besmet zijn en kan ik dus meteen reageren wanneer iemand foutief meent dat de aidscrisis voorbij is. Maar voor mijn boek had ik die actuele info niet nodig. Ik moest weten welke medische kennis er in 1985 voorhanden was. Dus heb ik een medisch handboek uit 1987 gebruikt.
Voor de scènes in de jaren 80 mocht ik dus geen medische info googelen. Als het niet in het boek stond, dan wist ik het niet. En wat in het boek stond, was 'juist', hoe foutief het ook was."
Ook al baseerde jij je op die info, toch kende je 'het eindpunt'. Je wist dat de tests betrouwbaar waren en dat er medicatie ging ontwikkeld worden. Hoe moeilijk was het om het verhaal onbewust niet in die richting te leiden?
RM: "Dat is één van de redenen voor de hoofdstukken die zich in 2015 afspelen. Zo kon ik laten zien dat er overlevers zijn en dat het beleid zou veranderen zonder hierop te moeten alluderen vanuit het verleden. Maar soms was het echt moeilijk om me in de mindset van de jaren 80 te verplaatsen. Ik vind uiteraard dat iedereen die een risico loopt de test moet doen. Toen speelden er echter zoveel redenen om het niet te doen.
Doordat er geen behandeling was, zochten mensen die positief testen vaak hun toevlucht in alcohol en drugs, wat vaak nog meer risico's met zich meebracht."
Je haalde ook veel info uit gay weeklies en gesprekken met overlevers. Hoe moeilijk was het om accurate info te verkrijgen?
RB: "Er bestond geen enkel boek over aids in Chicago, dus moest ik mijn info wel elders halen. Mijn roman is niet gebaseerd op specifieke levens maar bepaalde details wilde ik echt juist hebben. Ik wilde niet dat iemand zou zeggen: het is duidelijk dat ze er niet bij was. Als ik iets dus niet kon achterhalen, heb ik het weggelaten. Zo hoorde ik dat er op de aidsafdeling van het Masonic ziekenhuis overal vast tapijt lag. Dat leek me zo onhygiënisch dat ik dat wilde vermelden. Niemand – zelfs dokters niet die er jarenlang hebben gewerkt – raakte het echter eens over de kleur van het tapijt, dus heb ik het laten vallen."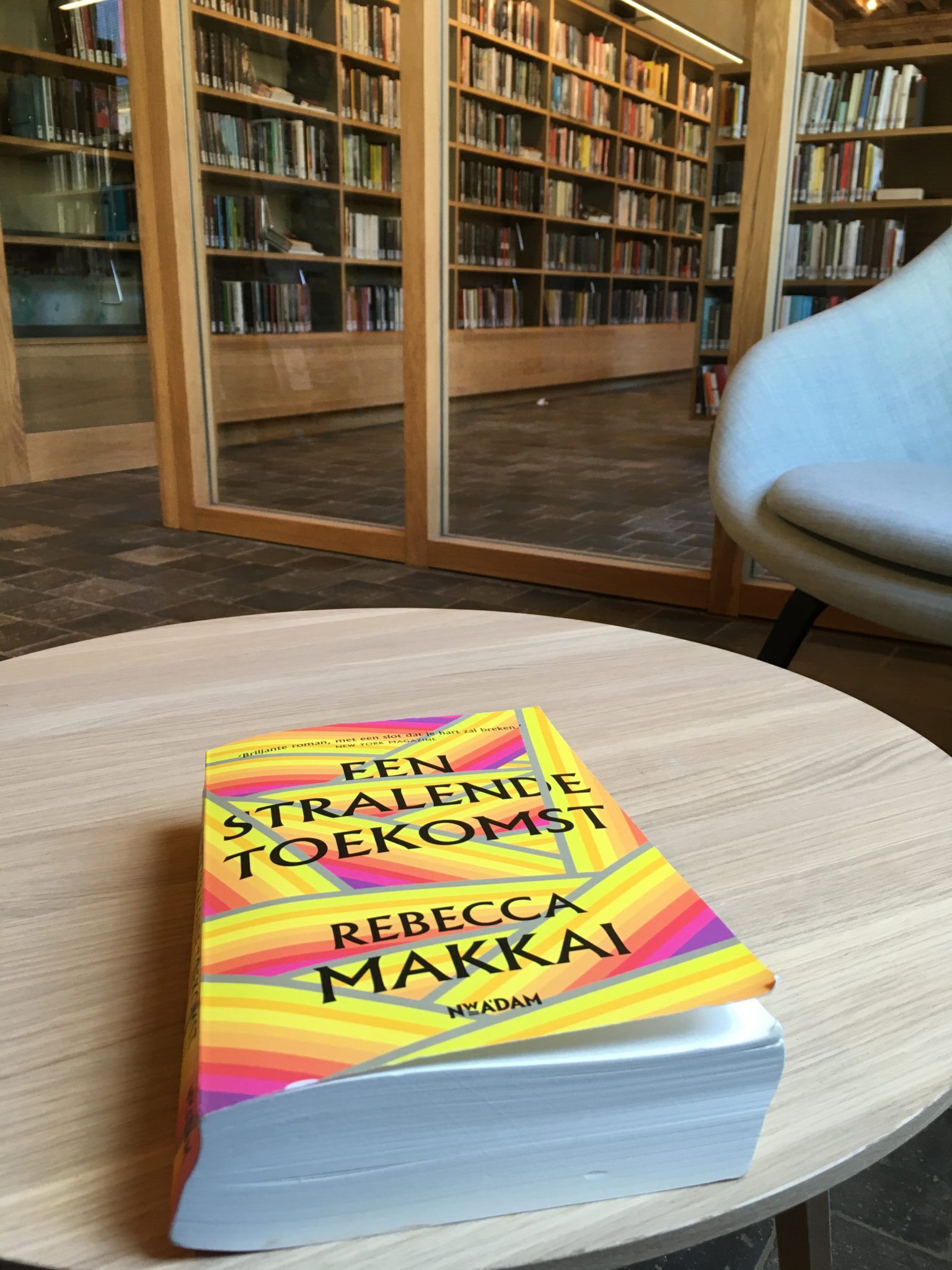 Eerlijk gezegd, het Chicago waar Yale en zijn vrienden de diagnose krijgen, is niet echt een fijne plek voor een aidspatiënt.
RB: "Nee, zeker niet als je ziet dat er op andere plekken in de wereld veel beter werd gereageerd. In Londen werd er meteen aan public education gedaan. Niemand had er schrik om een aidstest te doen. In de VS waren de mensen doodsbang om zich te laten testen. Dat had alles te maken met de conservatieve en religieuze Reagan administratie. Er gingen geruchten dat mensen met aids zouden gebrandmerkt worden of in quarantaine worden geplaatst. Bovendien zijn Amerikanen heel puriteins als het aankomt op sextalk. Er werd dus niet over gesproken. Daardoor was er amper educatie. Het is maar door te lezen over hoe andere Parijs en Londen er mee omgingen, dat ik besefte hoe messed up het was en nog steeds is in de VS."
Niet alleen het beleid was vijandig, ook de publieke opinie was hard. In je boek lees ik dat mensen niet meer naar hun homoseksuele kapper durfden en dat aidspatiënten de toegang tot het toilet werd ontzegd uit schrik voor besmetting. Kan je die reacties goedpraten vanuit onwetendheid?
RB: "Nee, het was meer dan dat. In 1985 wist men heus wel hoe de ziekte zich verspreidde. Je kan die reacties niet loskoppelen van hoe de bevolkingsgroepen die voornamelijk getroffen waren, werden gepercipieerd.
Omdat de ziekte was geassocieerd met seks, homoseksualiteit, een donkere huidskleur en drugs heerste er veel meer angst dan nodig.
Het is dan ook niet te verwonderen dat de wet uit 1990 om medische zorgen te verlenen aan aidspatiënten die zich dat financieel niet kunnen veroorloven, werd genoemd naar Ryan White, een blanke onschuldige jongen die aids opliep bij een bloedtransfusie. Hij was de mascotte die de republikeinen nodig hadden om de wet gestemd te krijgen."
Als Yales partner gediagnosticeerd wordt met HIV, heeft dat verwoestende gevolgen voor hun relatie, maar ook voordien legde de vrees voor aids al druk op hen als koppel. Welke impact had aids op de relaties in de homoseksuele gemeenschap?
RM: "Veel mensen vertelden me dat aids meer monogamie bracht. Gelukkig niet alleen omwille van de angst om besmet te raken – zoals dit het geval is in Yales relatie – maar ook omdat de ziekte emoties verscherpte. Sommige mensen gingen geconfronteerd met de dood pas echt beseffen hoeveel ze van iemand hielden."
In je boek maak je expliciet vergelijkingen tussen de (gevolgen van de) aidscrisis en de Eerste Wereldoorlog, maar er zit nog een derde historische gebeurtenis in Een stralende toekomst: de aanslagen in Parijs van 2015. Waarom heb je het daarover?
RM: "Dat is toevallig zo gelopen. Ik schreef over de herfst van 2015 in de herfst van 2015. Via Google Street View dwaalde ik door de straten van Parijs. Het leek alsof ik er echt was. Toen de aanslagen gebeurden, was ik geblokkeerd. Ik wist niet wat ik moest doen. Moest ik het verhaal vroeger of later situeren? Uiteindelijk besloot ik om de timing niet aan te passen. Mijn boek gaat au fond immers over de willekeurige en brutale interventies van de geschiedenis in een mensenleven.
Net zoals de aanslagen plots het leven van de Parijzenaars hebben onderbroken, zijn ze ook mijn boek binnengedrongen. Ik liet het dus zo.
En mijn verhaal kon het ook wel gebruiken. Als schrijver zoek je altijd naar gebeurtenissen die de personages even door elkaar schudden."
Drama genoeg inderdaad, veel lezers vergelijken je boek dan ook met Een klein leven van Hanya Yanagihara. Terecht?  
RM: "Een klein leven verscheen toen ik nog aan het  schrijven was. Ik was doodsbang toen ik de reacties hoorde. Iedere schrijver maakt dat mee: de angst dat iemand 'jouw boek' al heeft geschreven. Ik heb het dus bewust niet gelezen, om zeker niet beïnvloed te worden. Ik denk uiteindelijk dat het twee heel andere boeken zijn. Daarom heb ik ook een heel vrolijke cover gekozen – in tegenstelling tot die dramatische foto op de flap van Een klein leven. En dat past wel, want ik vind mijn boek hoopvol. Ik heb er een optimistisch gevoel bij."
Is het niet vooral een hartverscheurend boek? Storten niet alle lezers in als (*spoiler alert*) een zieke Yale zijn geheime crush kust?
RM: "Veel mensen taggen me op Instagram als ze moeten huilen. Blijkbaar is dat voor iedereen op een ander moment. Voor kattenliefhebbers is de laatste verschijning van de kat heel emotioneel. Maar eigenlijk heb ik daar helemaal niets mee. Die kat zit in het boek omdat veel aidspatiënten hun kat moesten wegdoen om niet ziek te worden van de uitwerpselen. Die kus is voor mij ook de emotionele climax van het boek, maar niemand heeft het daarover.
Misschien is het moment waarop een lezer instort wel een soort van Rorschachtest die meer zegt over de lezer dan over het verhaal."
PS. Dit interview verscheen eerder op Knack.be.