Het nieuwe schooljaar heeft ondertussen een vliegende start genomen. Voor veel zesjarigen is er een wereld opengegaan van letters en zinnen. Leren schrijven is een grote stap voor jonge kinderen. Tijd voor een boekenfeestje, dachten wij zo…
Wij zochten enkele prentenboeken waarbij de hoofdrol wordt weggekaapt door… boeken. Kwestie van onze jongste fans verder te enthousiasmeren en aan leesbevordering te doen voor de eerste en meer ervaren lezers.
Het geheim tussen de boeken, Reine De Pelseneer en Richard Verschraagen, Uitgeverij De Eenhoorn
Papier ritselt. Twee donkere ogen glimmen
En een klein hart bonst gretig.
Bembo Boekworm is op zoek naar een geheim.
Naar een geheim dat schuilt tussen de boeken.
Hij wéét dat het er is.
Want opa zocht ook naar het geheim tussen de boeken. Maar ondertussen is Opa Boekworm er niet meer. Op een dag was hij weg, zo heel plots. Maar Bembo zoekt verder, alleen. Hij leest Alice in Wonderland, Matilda en Menno de Zeerover. Maar ook gedichten met zinnen die zingen.
En dan vindt hij op een dag een oud boek. Uit dat boek komt Vera Wurm gevallen. Vera Wurm met fonkels in haar ogen.
Opgelet voor bijwerkingen bij het verorberen van dit boek. Lezers maken gewag van een enorme leeshonger die moeilijk te stillen valt. Op doktersvoorschrift raden wij lezers die besmet zijn door het virus een stapel boeken tot zich te nemen en de zetel pas te verlaten bij het uitlezen van het laatste boek.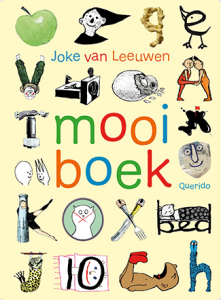 Mooi boek, Joke Van Leeuwen, Uitgeverij Querido
Mooi boek is een boek vol woordbeelden en beeldwoorden. Vol letters die dansen, zinnen maken, zich vermommen en buitelingen maken.
Joke van Leeuwen gebruikt 'the object of her affection' als uitgangspunt voor een boek waarin letters, zinnen en woorden de hoofdrol spelen. Gedichten, verhalen, kleine strips, Abc's in verschillende vormen en gedaantes. Woorden die geen woorden meer zijn, maar toch wel wat weten te zeggen. We brengen een bezoekje aan de letterbuurt en spotten toevallige Abc's. Van Leeuwen schrijft een verhaal zonder a, i, o ,u of ij. En dat is best moeilijk. Of blijkt een verhaal met heel veel eenden, beren, erwtjes en flensjes.
Vurkie en Lepeltje lurken met hun puntige humor tussen de bladzijden, Maan en Aarde filosoferen, er is een nijlpaard dat zich klein wil maken en een kalfje dat naar de lucht kijkt.
Joke Van Leeuwen leeft zich uit in een ballenbad van letters en een roetsjbaan van zinnen. Wij zijn bij deze officieel een beetje jaloers.
Bieb Bieb Hoera, Brigitte Minne en Ann De Bode, Uitgeverij De eenhoorn
Voor een artikel over Vespa-rijden in de Vlaamse Ardennen waren Barbara en ik eerder al te gast bij Brigitte Minne. We dronken er koffie, smulden van taart en bewonderden de mooie B&B die ze uitbaat.
Gust gaat bij Moe logeren. Dat vindt Gust fijn, want dan kan hij in de boomhut van Lie gaan spelen. Maar Lie is naar zee.
Zucht, gaat het een saaie logeerpartij worden? Nee hoor, Moe gaat met Gust naar de Bieb. En An van de Bieb weet wel een paar fijne boeken voor Gust. Eentje over vliegers maken, en soep. En een boek over een spook. Gelukkig woont het spook in het boek en niet onder het bed. Er is ook een boek over een feest.
Brigitte Minne spoort lezers aan om diep in de bibliotheekrekken te gaan snuffelen op zoek naar hun volgende lievelingsboeken. Het eenvoudig te lezen verhaal met éénlettergreepwoorden vormt een fijne eerste instap in bibboeken. Illustrator Ann De Bode kiest voor speelse papier- en kartoncollages. Een geslaagd boekje dat elke Bib in huis moet halen.
Van A tot Zet, Wally De Doncker, in beeld gebracht door Jurgen Walschot en met muziek van Florejan Verschueren, Davidsfonds/Infodok
26 letters, 26 verhalen. Schrijver Wally De Doncker laat elke letter aan het woord. Illustrator Jurgen Walschot giet letters in bontgekleurde carnavalskostuums in plaats van saaie nieuwe jasjes.
Als we de K zien, zien we geuren: koffie, kruiden en de keuken.
De Q is de letter met het minste woorden. Hij is een beetje een vreemdeling en klinkt als kukelekuuuuu…
Met de I kan je knutselen, vooral als je er een paar hebt. Je kan er een A mee maken, of een vier, of zelfs een hutje.
De W vraagt om vragen: waarom, wie, wanneer, wat, waarmee, waar,…
En de C? Die vindt dat de B te dik is. Want B is de B van buik en borsten.
Van A tot Zet is stout genoeg, neemt het niet te nauw met conventies en laat letters van hun meest speelse kant zien. Ideaal voor jonge lezers die de saaie schoolletters beu zijn. Het alfabet zoals u het nog nooit eerder zag.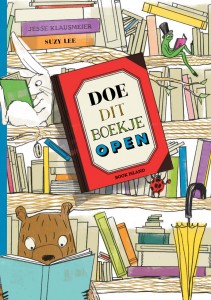 Doe dit boekje open, Jesse Klausmeier en Suzy Lee, Book Island
De uitdrukking 'een boekje opendoen' moet de makers van dit boek erg geïnspireerd hebben. Want dit kinderboek bevat heel veel verschillende boekjes. Een rode over een lieveheersbeestje, een groen boekje over een kikker en een oranje boekje voer een konijn. Form follows function? Vergeet het maar, hier peutert de lezer zich een weg doorheen kleiner wordende bladzijden en boekjes. Prachtig.
Olijk, inventief en uitnodigend. Een boek vol speelse beweeglijkheid. Grafisch zeer aanlokkelijk met fijne geometrische vormen, vrolijke kleuren en opgewekte prints.
Gezocht: Koen Konijn, Boekendief, Emily Mackenzie, Uitgeverij Van Goor
Koen Konijn is verslaafd. Aan boeken. Hij wil ze allemaal lezen en houdt als een rasechte bibliofiel lijstjes bij.
Zo zijn er zijn lievelingsboeken zoals 'De Hoppit', 'Pippi Langoor' en 'Het verdriet van Nijnië'. Op zijn lijstje met boeken die hij gaat lezen staan 'De hangoorspelen', 'Honderd jaar eetbaarheid' en 'Konijn van Katoren'.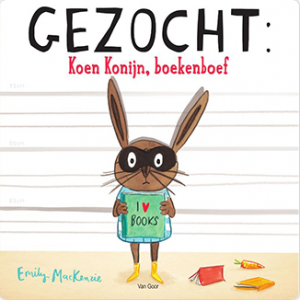 Koen Konijn houdt zo van boeken dat hij huizen binnensluipt om boeken van anderen te lezen. Arthur, bijvoorbeeld, is zijn lievelingsboek kwijt. Hij besluit uit te zoeken wie zijn boek gepikt heeft, maar uiteraard gelooft niemand zijn verhaal. Een konijn dat boeken leest? En 's nachts huizen binnensluipt om boeken te stelen? Kom nou…
Een boek dat tegelijkertijd stout, leerrijk en vooral humoristisch is. De boeken vliegen de lezer letterlijk en figuurlijk om de (konijnen)oren en doen zin krijgen om verder te snuffelen in het boek.
Als ik een boek was, José Jorge Letria en André Letria, Book Island
Tja, als ik een boek was…
Dan zou ik geheimen kunnen bewaren, verklappen, alle gedichten uit mijn hoofd kennen, weetjes te geef hebben over Rome en New York…
Dan zou ik spannende, grappige, lieve, leuke en trieste verhalen te vertellen hebben…
Dan zou ik een open venster willen zijn en lezers 's nachts wakker houden…
Tja, als ik geen boekenmeisje was, dan zou ik toch een carrière als boek overwegen.
Kleinood dat aanzet tot nadenken, filosoferen en af en toe een glimlach om je lippen tovert.