Ah, een nieuw literair jaar, waarvan ik de spits mag afbijten met de allereerste blogpost. Hier bij Thisishowweread kijken we uit naar een nieuwe boekenoogst, meer tijd maken om te lezen, literaire tripjes en uitstapjes en onze derde verjaardag alweer.
Er is hier. Er is tijd.

Herman De Coninck
Wat ik het heerlijkst vind aan een nieuw jaar is een nieuwe agenda. Als volleerd boekenmeisje hou ik het graag binnen de boekensfeer en ik ben dan ook bijzonder trots op de agenda die hier naast me ligt te blinken.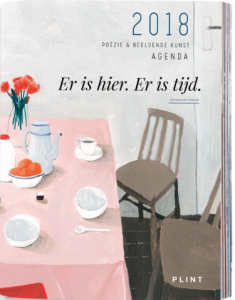 2018 wordt voor mij het jaar van de poëzie en de beeldende kunst, dankzij het juweeltje dat van de Plint band rolt. Elk jaar stelt Plint zorgvuldig een nieuwe agenda samen, waarbij poëzie en beeldende kunst elkaar naadloos aanvullen.
Elke pagina biedt plaats voor het weekoverzicht, en een hoekje voor grote en kleine aantekeningen. De pijn van tandartsafspraken, deadlines voor de BTW-aangifte (help, nog twaalf dagen!) en administratieve to-do lijstjes wordt elke week verzacht met een gedicht en een passende illustratie van een kunstenaar.
Plint denkt aan alles, ook grotere literaire projecten. Elke maand is er ruimte voor enkele bladzijden voor notities (lees: blogideeën en boeken die we willen lezen) en een maandoverzicht met een mooie literaire quote eronder. Ook leuk, de tip van de maand: januari begint met een ideetje voor Out of Office Poetry, wat ons helemaal op het lijf geschreven is. Verder lezen we begin maart wanneer de jeugdboekenweek begint, dat we in augustus richting boekendorp Watou moeten trekken en in december is er de tip voor de CPNB top 100 met de honderd best verkochte boeken van het jaar.
En ja, naast een pracht van een agenda, is hij ook geweldig handig. Elke maand is aan de zijkant voorzien van een kleurcode, waar planningsfreaks als ik ontzettend blij van worden. De agenda loopt ook door tot en met 20 januari 2019, een cadeautje van drie bladzijden die ik bij eerdere agenda's miste. Het enige wat soms een beetje aanpassing vergt? De bladschikking waarbij de dagen de ene week onder elkaar staan en de andere week naast elkaar staan. Maar kom, dat zal goed zijn voor de flexibiliteit.
Ik loop dit jaar dus niet met een agenda onder de arm of in de handtas, maar met een kunstwerkje vol poëzie en beeld om te koesteren. Nooit verzucht ik in de wachtkamer dat ik geen boek bij heb, mijn agenda is één lange literaire ontdekkingstocht.
Ik vermoed dat de literaire pret ook wat langer zal duren dan 365 dagen. Want op het einde van het jaar vliegt de Plint agenda niet bij het oud papier, maar zullen de favoriete beelden en gedichten netjes uitgeknipt en gebundeld worden. Ter herinnering aan een fantastisch literair jaar.
Zelf zin gekregen in zo'n geweldig literair werk… euh, agenda? Via deze link kan je de agenda bestellen. En u weze gewaarschuwd, Plint heeft ook prachtige posters, leuk literair bedlinnen om je lief in te verleiden, mokken voor de thee bij je nieuwste boek en nog veel meer. Ons winkelmandje staat alvast roodgloeiend.
Letters
letters zijn simpel
aan elkaar geplakte bolletjes en streepjes
met hier en daar een puntje, meer niet
maar pas op
een half rondje teveel bij een l
en je noemt je lief een dief
één keer een h vergeten
en je bent een kannibaal
– dag, ik .eet Hans –
twee uitschieten in een dictee
en hij krabde zijn hond
wordt hij krabte zijn kond
en dat is dan mooi drie fout

Hans Hagen