Ook wij moeten wel eens gelucht worden, vonden we. We bikten de korsten ingedroogde fruitpap uit ons haar (ik), gooiden drie vergeten half-gecomposteerde pampers uit onze handtas (Eveline) en tuften half-uitgeslapen naar Keulen. Objectief: lezen. En maffen wanneer het maar kan, liefst ook nog na half zes 's morgens.
Langs de Rijn vind je leesplekken zat. In het gras, op de trappen of met de voeten bengelend over de kaai. We kozen voor een terras met zicht op de Rijn, want als ik niet op gezette tijden een half schwein kan binnenwerken ga ik blijkbaar zeuren. Over drie naar aandacht hunkerende jongelingen bijvoorbeeld, die de volle terrassen gijzelen met het aanblik op hun protserig uitgevoerde yogaposes.
Het nut van het uitbeelden van mensen die net van een rijdende bus werden gemieterd is me een volslagen raadsel.
Naar verluid is het niet zonder gevaar. Mijn voornemen om hun groet aan de zon een voetje te helpen werd door Eveline op pedagogische wijze kaltgestellt. (Een lel met Bill Bryson's A Short History of Nearly Everything, 560 pagina's, hardcover)
De boekhandel in het station van Keulen draagt een officieus kwaliteitslabel: door hun aanbod heb ik ooit mijn aansluiting naar huis gemist. Vaak moet je in stations en luchthavens een zeldzame vondst van tussen de Tom Clancy's peuteren, maar bij Buchhandel Ludwig is dat net omgekeerd. Eveline's keuze –A Short History of England – was netjes complementair bij mijn Perfidious Albion, een meedogenloos portret van een post-Brexit Engeland. Terwijl haar Annelies ­-waarin men zich afvraagt hoe het was gelopen als Anne Frank de kampen had overleefd- wel eens erg interessant zou kunnen zijn, kwam ginnegappen met haar Memoir of an Ex Prom Queen me op een kleine rechtzetting te staat. (Optater met Antony Beevor's Stalingrad, 544 pagina's, hardcover) Blijkbaar is die Memoir een icoon van de tweede feministische golf. Mijn bult en ik zoeken troost in de golven van Erebus, waarin Michael Palin het mysterie van de gezonken HMS Erebus opheldert.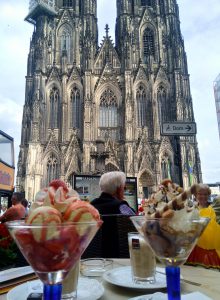 We slepen onze oogst naar de biergarten aan de Malakoffturm, een prima leesplek langs de Rijn. Onderweg kruisen we opvallend veel aanhangers van een lokale populaire subcultuur, uitgedost in uiteenlopende tinten zwart en met genoeg metaal door hun vel om door een schroothandelaar gestalkt te worden. Gelukkig zijn ze voorzien van felroze haar of een babyblauwe sik, zodat gevoelige zielen ze van ver zien aankomen en het tijdig op een lopen kunnen zetten.
Volgens mij zijn ze volstrekt vredelievend, wat van het met sacoche en mise-en-plis gewapende moeke dat een terrastafel probeert te bemachtigen bij Café Reichard niet kan gezegd worden. Die blijkt een verschroeiende sprint in huis te hebben, waardoor ze triomfantelijk haar rimpelderrière op de vrije stoel onder mijn neus kan parkeren. Waarna we gewoon doorlopen en verderop een heerlijk tafeltje bemachtigen met subliem zicht op de Dom. Dat heet dan een schijnbeweging, kieken. Geniet van het uitzicht op de paal.
Mogen we nog het Belgisches Viertel tippen? Deze collectie straten met naar België verwijzende straatnamen is gefundenes fressen voor de hippe vogels onder ons. Wij laten de kans om ons een legbatterijkip te voelen aan ons voorbij gaan en laten de volgepakte, uiterst trendy restaurantjes op de Aachener Strasse links liggen. De eettentjes rond de beeldige Sankt Michael op de Brüsseler Platz zien er minstens zo goed uit en je loopt er niet het risico dat een hipster zijn soja flat white op je schoot komt opdrinken. Bij Belgique hebben ze zelfs Chesterfields staan, een zegen voor mensen met een rammelende maag en dertig ton boeken op hun rug.
PS: de boekentips van hierboven zonder de franjes? Natuurlijk kan dat:
A Short History of Nearly Everything, Bill Bryson
A Short History of England, Simon Jenkins
Perfidious Albion, Sam Byers
Memoir of an Ex Prom Queen, Alix Kates Shulman
Stalingrad , Antony Beevor
Erebus, Michael Palin