Over een weekje start het nieuwe academiejaar aan de KULeuven! Ondertussen is het al meer dan een decennium geleden dat de boekenmeisjes afstudeerden aan de faculteit Letteren. Ik ging op mijn boekenplanken Engelse literatuur op zoek naar de drie boeken die zijn bijgebleven, oftewel mijn epiphany momenten uit de Engelse letterkunde. En nee, dan heb ik het niet over dat moment waarop Germaanses meest aantrekkelijke docent een reusachtige penis op het bord tekende als slotanalyse van een Romantisch gedicht van Shelley.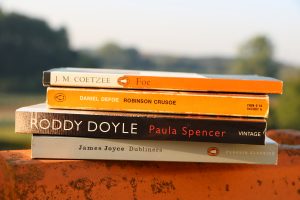 James Joyce, Dubliners
Ik denk niet dat ik na Germaanse nog Joyce gelezen heb maar met de kortverhalen van de Ierse grootmeester van de onontrafelbare literatuur maakte ik kennis via professor Doyen. Zijn vak leek in het eerste jaar in niets op de traditionele hoorcolleges waarin je kilo's theorie te verwerken kreeg. Nee, voor Doyen moest je iedere week een aantal kortverhalen lezen en ging je in de les op zoek naar de geheime betekenis achter enkele welgeplaatste komma's en woorden. In het begin vond ik het absurd. Staat dat hoopje stof in de armen van die vrouw nu echt symbool voor haar abortus? Het leek wel een college in detective spelen maar langzaamaan begon ik de verschillende lagen van de kortverhalen te ontdekken en beleefde ik mijn eerste epiphanieën.
Roddy Doyle, The woman who walked into doors
Mijn favoriete college ooit had de titel Madness in Irish literature (of zoiets). Ter introductie verdiepten we ons in de Lacaniaanse psychologie (wist ik toen veel dat Lacan maar één van de vele stromingen in de psychologie vertegenwoordigt). Na enkele weken zwoegen op de theorie kwamen we iedere woensdag samen rond een Ierse roman met een crazy protagonist. Als echte psychologen analyseerden we trauma's en motieven uit het onderbewuste. Mijn favoriete patiënt, euh hoofdpersonage: tipsy Paula Spencer, hét schoolvoorbeeld van een slachtoffer van huiselijk geweld.
J.M. Coetzee, Foe
Postcolonial literature was absoluut een eye-opener van een college. Na jarenlang klassiekers te lezen als Jane Eyre, Robinson Crusoe of The tempest kregen onderdrukte personages als 'the madwoman in the attic' Antoinette Cosway of  de wilde Caliban plots een stem. Foe is de reactie op Robinson Crusoe. Het is het verhaal van Susan Barton, de numbed woman die het eiland deelde met "Cruso" maar uit zijn verhaal werd geschreven. Postkoloniale literatuur deed me inzien dat literatuur altijd een perspectief is, en vaak dat van de white man. TED talks bestonden nog niet in die tijd maar ik ben er zeker van dat Chimamanda Adichie anders een plaats had gekregen.