Top vijf chick lit boeken… ever
Flashback naar het jaar 2003… Dat jaar dat ik 'per ongeluk' een ticket boekte richting Berlijn om Babs op Erasmus te bezoeken tijdens de doortocht van Love Parade. (Pap, als je dit leest, sorry, zo 'per ongeluk' was dat niet.)
Het jaar ook dat ik me inschreef voor het vak 'Kritiek en Essay' aan onze Leuvense Alma Mater. In de eerste plaats omdat het een vak was waar geen sprankeltje taalkunde aan te pas kwam. En omdat er boeken gelezen mochten worden. Maar vooral omdat het examen een paper was. Niet dat ik ooit iets met dat vak zou doen. Boeken recenseren, niks voor mij. Lesgeven ook niet trouwens.
13 jaar, een dansschool en een boekenblog later zit ik hier toch. De week draait rond boeken, schrijven over boeken, lesgeven en nadenken over lesgeven. Terug naar aula 3.18 in het Erasmushuis. Na drie lessen ijverig recensies schrijven, werd ik (voor de ganse groep) bestempeld als 'het schoolvoorbeeld van de Flair recensent'. Pardon? Omdat ik in één van de opgelegde recensies had geschreven dan ik vond dat lezers bij Verlangen van Gunnar Kopperud een pen in de aanslag moesten houden. Wel, beste professor dingesennogiets, op mijn visitekaartje prijkt nu 'boekenmeisje voor Elle België en Thisishowweread'.
Soit, waar ging ik het alweer over hebben? (Volgens mij heb ik het college 'coherentie' overgeslagen) Oh, ja, de KULeuven. Ik heb een thesis geschreven over chick lit. Ja, ik weet het. Barbara vergeleek Duitse en Russische meesterwerken en Katrien had het over Don Juan in de literatuur. Geen commentaar.
Ik onderzocht vooral of Bridget Jones' diary dan niet The girls guide to hunting and fishing als protoypische chick lit roman uitgeroepen kon worden. Volgens mij had Pride and Prejudice er ook iets mee te maken, maar ja, Austen kan wel voor meer 'accountable' gehouden worden. Maar goed, to the point. Dit alles om u ervan te overtuigen dat ik de expert ben om de top vijf chick lit boeken te brengen. Als er überhaupt nog iemand aan het lezen is. Wat zegt Barbara ook alweer over korte blogposts?
1.Bridget Jones Diary.
Toch ergens het oerboek. En, ja, geïnspireerd op het verhaal van Mr Darcy en Miss Bennet, met voldoende verwijzingen naar Susan Faludi's Backlash om het boek appetijtelijk te maken.
2. I don't know how she does it.
Koop. Dit. Boek. Ik heb het stukgelezen. Het verhaal is eenvoudig: Kate heeft een carrière. En twee kinderen onder de vijf. Haar man verdient minder, snapt niet dat de spullen onderaan de trap naar boven gedragen moeten worden en ziet door de vingers dat de nanny te laat komt. Kate heeft een hekel aan huismoeders met een geroganiseerde cadeautjesschuif die hun dochters nog voor school naar de pré-yoga brengen. De eeuwige strijd tussen meer tijd voor de kinderen vs. doorgroeien op carrièregebied.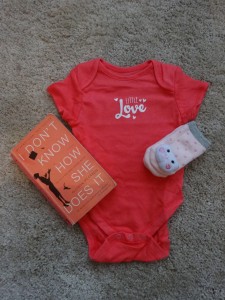 3. Shopaholic.
Voor boeken geldt hetzelfde als films: de sequeel, prequel en uitgeperste zoveelstequel zijn nooit even goed als de eerste. Becky is financieel journalist en geeft anderen advies over geldzaken. Zelf is ze extreem shopverslaafd en staan al haar rekeningen in het rood en kredietkaarten op het maximum. Van bezuinigen tot meer geld verdienen, Becky doet er alles aan om uit de schulden te geraken. In deel 2 komt er een mysterieuze zus bovendrijven, in deel 3 gaan de huwelijksklokken luiden en deel 4 verwelkomt een mini-me.
4. Cake en wedding lit.
Twee vertakkingen van het populaire chick lit genre zijn Cake lit en Wedding lit. het wel en wee van bruidsmeisjeskleedjes, de perfecte schoenen vinden en een betweterige schoonmoeder vormen voer voor tal van boeken waarin Bridezilla (nog maar eens) de hoofdrol mag spelen… Cake lit maakt pas de laatste jaren z'n opgang: glitterende stapeltaarten en fluffy cupcakes waren voorbestemd om een rol te gaan spelen in boeken met roze en paarse covers.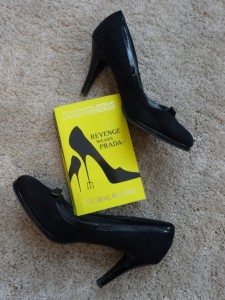 5. The devil wears Prada.
Lauren Weisberger werkte als stagiair voor Anna Wintour bij Vogue. Ze ontkent stellig dat haar personage Andrea en diens veeleisende baas Miranda Priestley van het tijdschrift Runway gebaseerd zijn op haar ervaringen. Euhm… Het boek is zo geloofwaardig dat we dat toch betwijfelen.
P.s.: Lees de volledige Berlijn-ervaring van Barbara hier.
P.p.s.: Toch niet klaar voor een week vol roze glitteratuur? Gastredacteur Kurt biedt tegengewicht met Science Fiction boeken.