Gaat het (kerst)belletje al rinkelen? Nog een week te gaan, mensen. En ja, sommige boekverkopers leveren snel, maar toch, tijd om die kerstshopping af te ronden. Thisishowweread staat jullie uiteraard bij met raad en daad met enkele fijne boekentips voor de neefjes, nichtjes, kleinkinderen, grote kinderen, mete- en petedoetjes en gewoon, je eigen kinderen. En ja, de selectie was moeilijk, maar we zijn o-zo-trots op onze vondsten.
We kiezen prentenboeken die spreken, met een minimum aan tekst, en een maximum aan kleur dat van de bladzijden druipt. Ook onze andere zwakke plek, versjes en gedichten die prachtig geïllustreerd worden, mochten niet ontbreken.
Ga je mee? Charlotte Dematons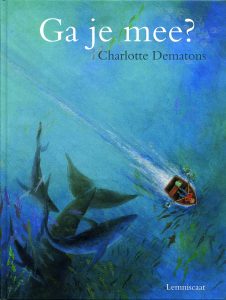 We beginnen met één van onze favoriete illustratoren, Charlotte Dematons. Je kent haar o.a. van het prachtige Sinterklaas en De gele ballon. Dematons tekent, vaak met bijzonder weinig woorden, en voert de lezer mee naar fascinerende plekken. In Ga je mee? experimenteert Dematons met perspectieven en bekijkt de wereld in bovenaanzicht. We volgen een kleine jongen op een doordeweekse dag. Door het spel met perspectief werpt een bootochtje een fascinerende blik op de onderwaterwereld,  kan je schuilen voor draken onder de dikste bomen en rustig zeerovers uitschelden zonder gezien te worden. Weer een fraai en inventief prentenboek waarin je steeds nieuwe details ontdekt. Een interview met Charlotte Dematons blijft hoog op onze wenslijst staan.
(Lemniscaat)
December, Annie M.G. Schmidt
Dat December in deze best of zou staan, daar bestaat geen twijfel over. Het boek bundelt de versjes van Annie M.G. Schmidt en koppelt ze aan onweerstaanbare illustraties van o.a. Fiep Westendorp, Sylvia Weve, Stijn van der Linden en vele anderen. En alsof de magie nog niet voldoende is, draait het boek volledig rond de feestmaand: Sinterklaas en de kerstman trippelen tussen de tekeningen en teksten door. Moest u dit nog lezen, en niet al met gierende banden richting boekhandel vertrokken zijn, respect. Een boek om te koesteren en stuk te lezen.
(Querido Kinderboeken)
Kijk, konijnen, Daphne Louter
Kijk Konijnen ving onze blik op de boekenbeurs. De stand van Lemiscaat is altijd al een bijzonder netelig terrein geweest, met een berg verleidelijke prentenboeken in het portfolio.
Een boek zonder woorden, dat een dag en een jaar volgt in de voetsporen van broer en zus konijn, en de kip, het huisdier. Daphne Louter haalde inspiratie uit het leven van haar eigen tweeling en maakt onvergankelijke platen vol charmante details. De traditie van Beatrix Potter is nooit veraf, wat het boek voor kleuter en voorlezer onweerstaanbaar maakt. Deze wordt ongetwijfeld een erfstuk waar u nooit afstand van doet.
Onze favoriet is de afbeelding van de bibliotheek, die ook in posterformaat te krijgen is. En reeds de muur van de slaapkamer siert, uiteraard.
(Lemniscaat)
Nooit denk ik aan niets, Hans en Monique Hagen, illustraties van Charlotte Dematons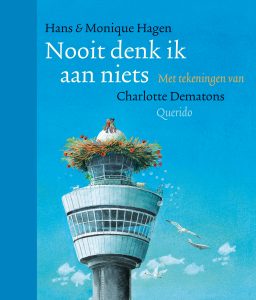 De speelse en aandoenlijke gedichten van Hans en Monique Hagen ( Inderdaad, die van Jij bent de liefste met Marit Törnqvist) worden in een bedje Dematons gegoten. De woorden dartelen tussen de beeldige illustraties en vormen een onweerstaanbaar geheel: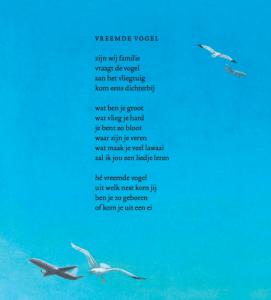 Wat was er eerst, het gedicht of de illustraties? Het boek integreert tekst en beeld, waarbij je als lezer niet weet of dichter de beelden of illustratrice de tekst aanvult. Een verfrissende en coherente dichtbundel, dat in 2016 werd bekroond met de Zilveren Griffel. Dit gedicht konden we bijzonder smaken:
Beer

Ver weg in de bergen

in een ander land

zit mijn beer

vergeten

op een steen

altijd op vakantie

helemaal alleen
(Querido Kinderboeken)
Ophelia, Ingrid en Dieter Schubert
Dierenfiguren blijven hoog scoren op de TIHWR-schattigheidsschaal. De aandoenlijke Ophelia heeft ons hart gestolen. Want wat is ze bezorgd als Joppe haar roept: hij heeft last van vlinders in zijn buik. Ophelia  aarzelt geen seconde en hupt uit de rivier. Onderweg komt ze Stokstaartje tegen, en Stekelvarken, en Toekan. Joppe's aandoeningen worden steeds erger in de geruchtenmolen van de jungle. Maar gelukkig, vlindertjes in je buik zijn helemaal niet zo erg.
'Maar wat had je dan?' wilde Neushoorntje weten.

'Hij had vlinders in zijn buik,' lachte Ophelia.

'Kan je daar dood aan gaan?' vroeg Kikker angstig.

'Nee,' zei Toekan. 'Maar besmettelijk is het wel.'
Een teder boek, vol liefde en warmte, met exotische vriendjes en illustraties in zachte kleuren. Perfect voor de warmste week van het jaar.
(Vertelplaten en lesproject van de Kleuteruniversiteit verkrijgbaar)(Lemniscaat)
Zo, tijd om tijdens de kerstvakantie even te verdwijnen achter een stapel boeken en evenveel kerststronken. Thisishowweread wenst je veel prentenboeken onder de boom en een prettig eindejaar toe!