Het thema van de Biënnale van Venetië, het tweejaarlijkse hoogtepunt voor alle liefhebbers van hedendaagse kunst? Viva Arte Viva. Over de rol die kunst in een maatschappij vol conflicten te vervullen heeft. Ik kan het u proberen uitleggen, maar de blurp (a.k.a. wereldkampioenschap vage adjectieven aan elkaar rijgen) weet het beter te verklaren:
If anything, this humanism, through art, celebrates mankind's ability to avoid being dominated by the powers governing world affairs. These powers, if left to their own devices, can greatly affect the human dimension, in a detrimental sense. In this type of humanism, the artistic act is contemporaneously an act of resistance, of liberation and of generosity."
De Biënnale werd dit jaar opgedeeld in negen 'families' van de kunsten. U kan zich al inbeelden hoe blij uw boekenmeisje was toen ze het 'Pavilion of Artists and Books' mocht betreden. Het paviljoen verzamelt kunstenaars die 'iets' met boeken hebben, literatuur als rode draad doorheen hun werk borduren of boeken graag als grondstof gebruiken.Yep, jullie geliefde boeken worden verscheurd, bepleisterd of beklad. Heerlijk.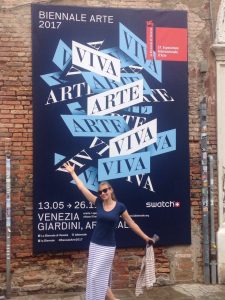 Soms treft de eenvoudigheid van een idee me, soms de genialiteit en soms ook gewoon 'Damn, daar had ik aan moeten denken'. Loopt u even met mij mee?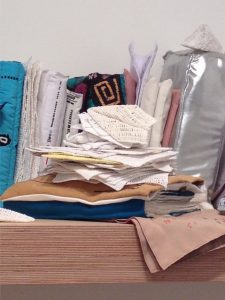 Katherine Nunez en Issay Rodriquez (De Fillipijnen) kijken naar onze houding tegenover consumptiegoederen. 'In between the lines 2.0' is een bureau vol boeken, papieren, notitieboekjes en posters, gemaakt van stof en wil. Ze neutraliseren de functionaliteit van de goederen, in dit geval boeken, en brengen zo de problematiek onder de aandacht. Haken, een ambacht dat veel tijd vraagt, doet de kijker beseffen dat goederen zoals post-its, papieren en cursussen naar waarde geschat moeten worden. Of, toch, dat denk ik dat ze bedoelen.
John Latham (Zambia) was als naoorlogse artiest moeilijk te classificeren: hij maakt gebruik van schilderkunst, sculpturen, cinematografie en live performances om het Westerse onderscheid tussen materie en geest te bekritiseren. En ja, hij vermaalt ook boeken doorheen zijn werken. Zo at hij, in naam van de kunst, ooit eens het volledige essay 'Art and Culture' (een referentiewerk voor Amerikaanse Moderne kunst) van Clement Greenberg op. Geen idee wie die Clement is, maar als een artiest het al nodig vind om zijn schrijfselen op te vreten, weten we genoeg.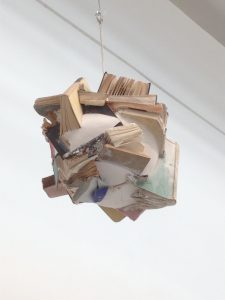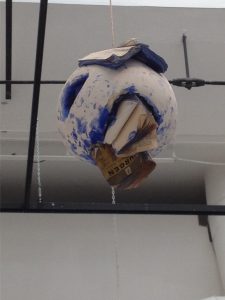 Zijn 'Clusters', composities van boeken, pleister en glas, refereren naar de sterren van het melkwegstelsel. Waarschijnlijk heeft Latham met zijn destructivisme een hele uitleg klaar staan, maar wij vonden het gewoon mooi en fascinerend om naar te kijken.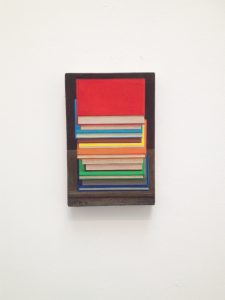 Soms dienen kunstenaars het niet ver te zoeken. Hoewel, Liu Ye (China) werd twee jaar voor de Culurele Revolutie geboren. Geen wonder dus dat boeken, toen een bourgeois, contrarevolutionairen dus verboden goedje, nu open en bloot een plek krijgen op zijn canvassen. Li's liefde voor literatuur sijpelt door in zijn werk. De schoonheid van een stapel boeken zijn voldoende. Hij schildert de cover van Lolita op doek, en fluistert het publiek in dat de cover ongelofelijke waarheid en controverse verbergt.
Deze is briljant, kunst op zijn best. No explanation needed. Ik geef u enkel de titel van Ciprian's Muresan (Roemenië) werk mee: 'All images from a book on Giotto'. Toch?
'The reason why classic is' van Gang Jianyi is goed. Poëtisch. Teder ook. Jiangyi drenkt boeken in inkt of verf, waardoor woorden vervagen en verdwijnen. Hij reduceert boeken tot hun puurste vorm, zonder potentiële inhoud. De catalogus beschrijft het als 'somewhere between a ghost and a Rorschach test'. Spot on.
We wandelen het centrale paviljoen uit, met literatuur in al zijn vormen in ons hoofd. Het Scandinavische paviljoen weet ons wederom te verrassen. De Fin Mika Taanila en zijn 'When the shooting stops' doet veel boekenventen en -grieten waarschijnlijk huiveren, maar ik kan niets anders denken dan 'okdeesiszogoegevonden'. Taanila bewerkt boeken volgens inhoud. Scheuren in een huwelijk, bomexplosies, filmdecors, … Na smellovision, nu ook book-o-vision.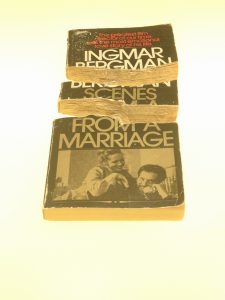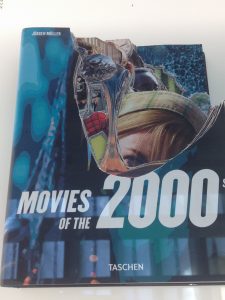 P.S.: oh, mag een P.S. ook met een fotootje erbij? In dat geval, beste Lief, willen we dit in de slaapkamer. De behanglijm zit in de knutseldoos van het danskamp. Kelder, derde plank van boven te beginnen. Oh, en nu je hier toch rondhangt: wil jij de kat eten geven?