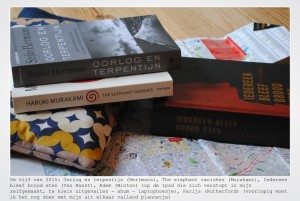 Deze boeken slingeren al te lang rond in mijn appartement of op mijn to read-lijst en verdienen het om in 2015 eindelijk gelezen te worden.
Adem van Tim Winton. Vorig jaar volgde ik voor Psychologies een bibliotherapiesessie van de Londense School of Life. Aan de hand van een interview over mijn leven en mijn leesgedrag kreeg ik een lijstje boeken 'voorgeschreven'. Adem van de Australische Tim Winton prijkte bovenaan die lijst. Ella van de School of Life schreef: 'It's a great coming of age novel, pushing your own boundaries; this is a good one to read when weighing up the relationship between life and work.' Het concept van de 'therapie' is veelbelovend: een boek dat me op het lijf zou zijn geschreven. Dan lees ik een review en blijkt het boek over wurgseks te gaan. Dit wordt awkward.
De olifant verdwijnt van Haruki Murakami. Ik ben fan van Murakami. Norwegian wood is één van mijn all time favorites. De werelden die Murakami creëert zijn zo herkenbaar en bevreemdend tegelijkertijd. In de Brusselse Waterstones kocht ik deze bundel kortverhalen in het Engels. Ideaal voor een regelmatige dosis Murakami had ik gehoopt maar het boek ligt al een heel jaar op mijn nachtkastje. Misschien een uitgelezen kans om in contact te treden met de mediaschuwe Murakami.
Oorlog en terpentijn van Stefan Hertmans. Ik weet het, hoe kan ik de hype hebben gemist. Tekst en uitleg zijn hier niet nodig. Ik probeer het gat in mijn cultuur te dichten.
En doe me – om het goed te maken – maar een dubbele portie wereldoorlog met Iedereen bleef brood eten van Do Van Ranst. Een jeugdboek. Maar dat geeft niet. Integendeel zelfs! Heel wat tienerboeken lees ik met het potlood in de aanslag. En Do Van Ranst verraste me eerder met De engel Yannick.
Londen of Parijs van Edward Rutherford. Deze historische boeken over wereldsteden werden me al meermaals aangeraden. De 800 pagina's hielden me voorlopig tegen. Voor mijn werk bij CLIP trek ik regelmatig met hordes tieners door deze hoofdsteden. En omdat die graag bedolven worden onder de historische weetjes (not!), ga ik toch de uitdaging aan. Ik hoop verhalen te vinden die zelfs de meest puberende jongeren weten te boeien.