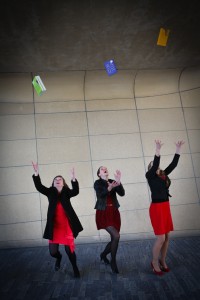 "Well," said Pooh, "what I like best," and then he had to stop and think. Because although eating honey was a very good thing to do, there was a moment just before you began to eat it which was better than when you were, but he didn't know what it was called."
(A.A. Milne, Winnie the Pooh)
Drie keer per jaar vallen de catalogi van de uitgeverijen in de bus. Voor een boekenmeisje even opwindend als de speelgoedboekjes rond Sinterklaas voor een vijfjarige. Ik kan eindeloos bladeren in de brochures en twijfelen: wat zal ik nu weer eens lezen.

In april-mei is het de beurt aan de catalogi met zomerboeken. De volgende tien boeken zette ik alvast op mijn verlanglijstje.
En alweer bleven we ongedeerd, Hanna Bervoets, Atlas Contact, juni: Lees deze columns over inefficiënte blaasmachines in toiletten of over de voorspelbaarheid van films en het leven van de Nederlandse schrijfster en columniste Hanna Bervoets en je weet waarom haar nieuwe bundel op mijn wishlist staat.
Tintelingen, James Wood, Querido, juni: James Wood is recensent bij The New Yorker en maakt ons deelgenoot van de samenzwering tussen lezer en schrijver en het verband tussen fictie en het leven. Omdat ik graag wil leren van de besten!
Aan de keukentafel van mijn schoonmoeder, Katherine Wilson, Atlas Contact, juni: Een Amerikaanse vrouw maakt via haar Italiaanse schoonfamilie kennis met de Napolitaanse cultuur. Kijk, dat soort licht verteerbare non-fictie is voor mij dé ideale reislectuur! Nu nog dat tripje naar Zuid-Italië boeken. Barbara en Eveline gaven alvast wat inspiratie mee!
In dezelfde categorie valt Een tijdelijke bruid in Iran van Jennifer Klinec (VBK, september), een waargebeurd verhaal over een vrouw die in haar zoektocht naar Iranese recepten voor haar kooklessen verliefd wordt op een Iraniër. Khomeini, Sade en ik van Abnousse Shalmani (De Geus, juni) gaat dan weer over een Iraanse vrouw die intellectuele en seksuele vrijheid vindt in het werk van Marquis de Sade.
Het spiegelpaleis, Saskia de Coster, Prometheus, september: Met Wij en ik piekte de Coster wekenlang op de bestsellerlijsten. In Het spiegelpaleis portretteert ze vijf inwoners van het Atlasgebouw dat weldra tegen de vlakte zal gaan. Benieuwd of het literaire soapgehalte weer even hoog zal liggen…!
Maan en zon, Stefan Brijs,

Atlas Contact, september: Meester verhalenverteller Brijs (

De engelenmaker 

en

 

Post voor mevrouw Bromley

) ruilt voor zijn nieuwste roman Vlaanderen in voor Curaçao. Geschreven in Malaga!

Jij zegt het, Connie Palmen, Prometheus, september: Palmen geeft het woord aan de overleden schrijver Ted Hughes die na de zelfmoord van zijn partner Sylvia Plath als een verrader werd afgeschilderd. Ik ben een grote fan van Connie Palmen (denk in termen van alles gelezen, stukje thesis aan gewijd en een glorierijk moment waarop ze mij – althans zo vermoed ik – vernoemde in een interview), dus hier kijk ik enorm naar uit. I'll keep you posted!
Een heel leven, Robert Seethaler, De Bezige Bij, juni: Dit boek over een arbeider die terugblikt op zijn leven en nog één keer samenkomt met zijn geliefde domineert al maandenlang de Duitse bestsellerlijsten. Ik zoek uit waarom!
Leven tot elke prijs, Kristina Sandberg, Nieuw Amsterdam, september: Over een vrouw die voor haar gezin de schijn van geluk probeert hoog te houden. Een Zweedse toptitel.
Het meisje in de trein, Paula Hawkins, A.W. Bruna, mei: Normaal gesproken ben ik niet echt een thrillerliefhebber, maar dinsdagavond hoorde ik John Vervoort van De Standaard dit boek aanbevelen op Radio 1 met een meer dan gezonde dosis enthousiasme en was ik helemaal verkocht. Luister mee!
Wordt vervolgd…