Miniserie: de zeven boeken van Lies Van Gasse
Zeven weken lang… de zeven boeken van. Voor Elle België mag ik elke maand een boekenminnend persoon aan de tand voelen over zijn of haar zeven favoriete boeken. Omdat de gesprekken zo leuk zijn, en de boekentips zo verrassend en fijn, deel ik ze zeven weken lang met jullie.
Deze week verteld Lies Van Gasse, dichteres en kunstenares, alles over haar zeven favoriete boeken.
De nieuwste bundel van Lies Van Gasse, Wassende Stad, ligt in de winkel. Lies duikt de stad in en zoomt in op groei. Vertrekkende vanuit een natuurlandschap observeert ze de evolutie van provinciestad tot grootstad. 'De grootstad is even chaotisch en organisch in zijn groei als de natuur.' Het idee ontstond tijdens een residentie met 'De Buren' in Parijs met een eerste gedicht. Iets later schuimde ze een poëziefestival in Istanbul af. 'Deze metropool is voor mij het summum van de stad: verschillende culturen en godsdiensten die verplicht worden om in harmonie samen te leven. Je ziet de stad leven en ontwikkelen. Het conflict, maar ook de mooie kanten komen aan bod.'
Persoonlijk vindt ze dat ze te weinig leest, een veelvoorkomend antwoord bij schrijvers. 'Auteurs schrijven omdat ze graag lezen, maar schrijven duwt lezen naar de achtergrond. Nochtans moet je een goede lezer zijn om een goede schrijver te worden.', verduidelijkt Lies.
Wat ze leest, ligt ver uit elkaar: romans, graphic novels,… 'Alles wat grenst aan mijn werk, en tussen woord en beeld in ligt: geïllustreerde boeken voor volwassenen, bibliofiele projecten, poëzie,…' Dat belooft een boeiende leeslijst te worden.
District and circle, Seamus Heaney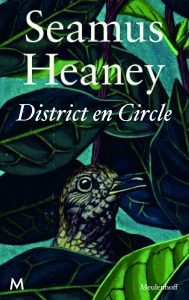 Een dichtbundel van Nobelprijswinnaar Heaney. Ik koos het omdat het aanleunt bij het thema van Wassende stad. Het gaat over hemzelf en zijn relatie met Londen. Hij refereert naar de aanslagen, maar er zitten ook persoonlijke anekdotes in, vriendschap, … Het lijken veel te veel thema's voor één boek, maar in een dichtbundel werkt het wel. Of het een complex boek is? Ja, een beetje, maar er zit ook een mooi gecomponeerde lijn in. Dat is voor mij een leerschool geweest.
Hardboiled wonderland en het einde van de wereld, Haruki Murakami
Murakami is ondertussen een klassieker. Dit is één van zijn eerste boeken, en voor hem een soort oerverhaal. Hij maakt vaak spin-offs van dit boek in zijn verdere werk. Hij schept een gefantaseerde parallelle wereld. Het hele boek door krijg je als lezer weinig informatie, er is zelfs een gevoel van vervreemding. Op het einde van het boek geeft Murakami deze wereld pas een functie en betekenis.
Het oneindige verhaal, Michael Ende
Vele kennen het boek van de film, maar het zou omgekeerd moeten zijn. De film is een magere, uitgedunde versie, het boek gaat zelfs door waar de film stopt. Het is een kinderverhaal, maar lees het ook als volwassene, dan ontdek je steeds nieuwe lagen. Het boek toont wat je met fictie kan doen: een jongen komt in een boek terecht en gaat zijn eigen verhaal beleven. Als auteur mogen we niet vergeten dat de lezer een boek mee vorm geeft.
l'Absente, Pierre Duba
Een graphic novel. Ik koos zijn boek omdat het één van de eerste boeken was waarin ik gepakt werd door het gebruik van penseel. Duba legt zich toe op zwart-wit tekeningen die evolueren van gedetailleerd naar abstract. Hij doet aan deconstructie en shift tussen het figuratieve en abstracte. Het is een collage van allerlei persoonlijke verhalen die erg herkenbaar zijn: mensen die iemand verliezen, herinneringen aan dierbaren en een focus op de afwezige. De combinatie van woord en beeld is perfect.
De onschuld der voorwerpen (catalogus voor The Museum of Innocence), Orhan Pamuk
Een bijzonder boek met z'n eigen museum. Pamuks roman wordt in het gelijknamige museum in Istanbul beeldend tot leven gewekt. Eenmaal je door het museum bent gegaan, heb je het boek gelezen. Pamuk heeft vitrines gecreëerd waarin telkens een hoofdstuk wordt verteld. Er zijn fragmenten van het boek, aangevuld met voorwerpen, foto's en schilderijen. Er is een groot verschil tussen het Istanbul van de jaren '50 in het boek en dat van vandaag de dag. Op het gebied van vrijheid en vooruitgang lijkt er veel verloren te zijn gegaan, maar dat is uiteraard onze westerse, liberale blik. http://en.masumiyetmuzesi.org
Mijn leven in het land der geesten, Amos Tutuola
Een schrijver die niet zo veel boeken heeft uitgebracht. Een achtjarig jongentje belandt in het land der geesten en dwaalt van de ene stad naar de andere. Door een proces van verschillende metamorfoses wordt hij een betere versie van zichzelf en komt hij weer bij zijn familie terecht. Sommige gedaanteverwisselingen spreken erg tot de verbeelding. Zo komt hij een overleden familielid tegen in één van de beestensteden, of ontmoet hij een geest met televisiehanden. Een vreemd boek dat de moeite waard is.
Scheisseimer, Koenraad Tinel & David van Reybrouck
Tinel 'schrijft' een boek over de Tweede Wereldoorlog. Hij heeft een hoop schetsen gemaakt in bruin, wit en zwart. Het is niet echt een graphic novel, eerder een bundeling van werken. Ik koos het om de kracht en de bruutheid van de tekeningen. Tinel gaat in tegen de tendens om herkenbaar en mooi te tekenen. Ik bewonder zijn schwung en eigen handschrift.