Pas de panique, je ne vais pas écrire tout un article en Français. Vlaanderens grootste boekenblog, weet u wel. En mijn geschreven Frans is moins-que-parfait. Babbelen n'est pas le problème, met een Franstalige moeder in huis, maar schrijven zonder fautes d'orthographes? Difficile.
Snuffelt u even mee tussen mijn livres d'enfance? En wees niet bang om uw neus overal tussen te steken en het aroma van oude kinderboeken op te snuiven. Wanneer kwam die Smellavision nou eindelijk op de markt?
Youpi
De boekjes rond de avonturen van Youpi, de kleine en ondeugende Cocker, behoren tot dezelfde familie als de gouden boekjes. De reeks was zo'n succes dat ze nu opnieuw wordt uitgebracht.
Ik heb een hele reeks uit de vroege jaren 50, en had als kind meteen een voorkeur voor de lieve en kwetsbare Youpi. In 'Youpi en vacances' moet hij even wennen aan de golven en eindigt de zwempartij met een pijnlijke neus na een ontmoeting met een visnet vol krabben.
'Youpi à l'école' is lichtjes moraliserend en moedigt kinderen aan met propere handen aan te komen op school. Youpi deelt de schoolbanken met twee ondeugende katten, Pouf en Noiraud, die regelmatig de hoek moeten opzoeken.
Als ijverige leerling schreef ik naarstig mijn naam in alle boekjes, net onder de naam van mijn tante. Schoonschrift woog in de jaren 50 duidelijk zwaarder door dan eind jaren 80. Ik vermoed dat Tante Michelle betere punten haalde voor het vak.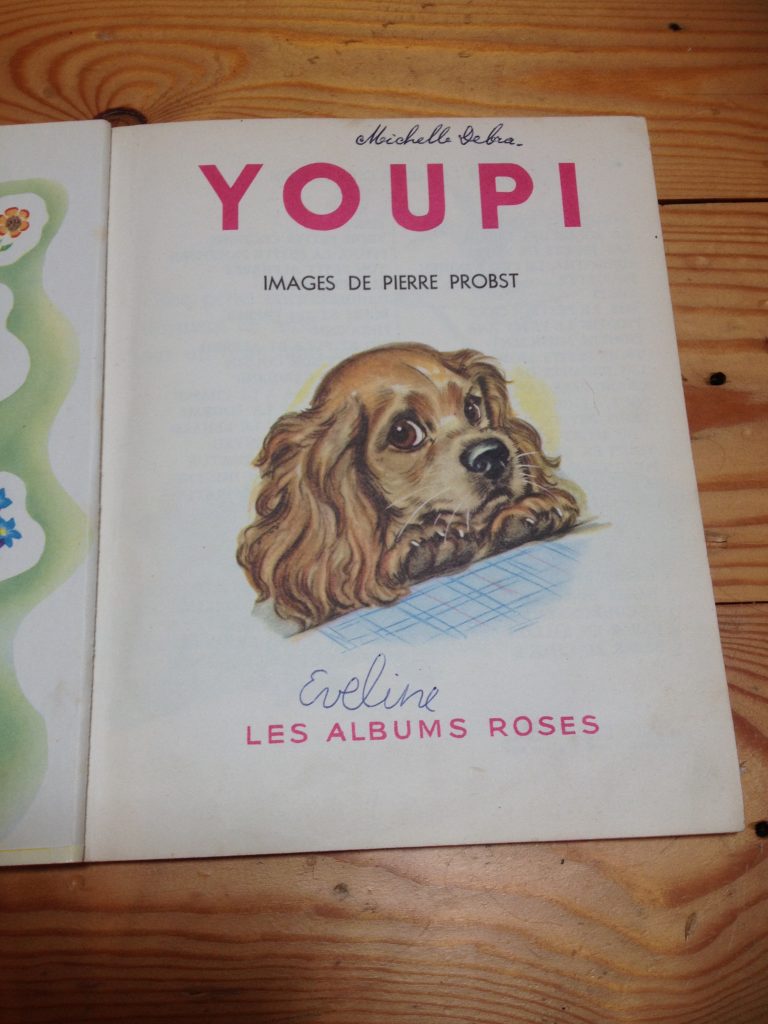 Youpi, tekeningen van Pierre Probst, Hachette
Caroline
Youpi, Pouf, Noiraud en Bobi, die in de vorige alinea samen op de schoolbanken zaten, trekken met vriendin Caroline en enkele andere dierenvrienden op avontuur. Het jaar is 1955 en alles kan. Als kind droomde ik weg bij de fantastische avonturen, als volwassene kijk ik met een nostalgische en soms kritische blik terug.
Een reis rond de wereld met de trein, of op kamelen, met een heuse schipbreuk en racistische voorstellingen van 'kleine negertjes'. Een ontdekkingstocht doorheen India vol exotische beelden die druipen van het kolonialisme. En een autoritje door het Frankrijk van de jaren 50, toen rijden nog een privilege was.
De covers hangen los, bladzijden dreigen er uit te vallen en de hoeken beginnen te rafelen. En dat is net de charme, toch?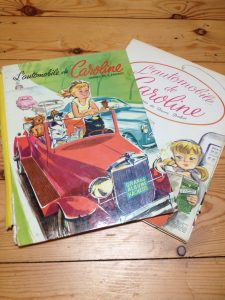 Le voyage de Caroline/ Caroline aux Indes/l'automobile de Caroline, tekeningen van Pierre Probst, Grand albums Hachette
Le bébé de Julien
Begin 1985 hadden mijn ouders me iets aan te kondigen. Een pakketje 'joy' onder de vorm van een broertje. Het duurde een hele kindertijd voor ik ervan overtuigd was dat dat wel een goed idee was. De aankondiging werd nochtans vergezeld van enkele boeken om mij geheel volgens de regels voor te bereiden op de komst van het nieuwe opdondertje.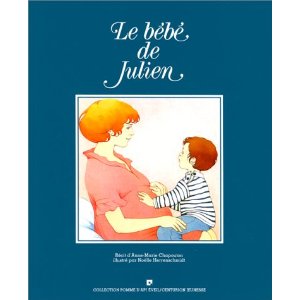 Julien maakt namelijk iets gelijkaardig mee als ik: zijn mama werd steeds dikker en zijn ouders kwamen met een vaag verhaal rond eitjes en zaadjes. Op een nacht is het zo ver: oma komt logeren en papa en mama gaan naar het ziekenhuis om de baby 'op te halen'.
Dat ik niet geheel akkoord was met de gezinsplanning ten huize Janssens, getuigt de eerst ontbrekende bladzijde. Gelukkig overleefde de rest van het boek de ruzies tussen broer en zus wel.
Le bébé de Julien, Anne-Marie Chapouton, Noëlle Herrenschmidt, Uitgeverij Pomme d'api
P.s.: nog zin in kinderboeken, prentenboeken of jeugdboeken?
P.p.s.: dat we nog al eens in de tijd durven te reizen voor wat literair jeugdsentiment, lees je hier.