In een ander leven van Taylor Jenkins Reid belicht het sleutelmoment dat bepalend is voor de rest van je levensloop. Hannah Martin verhuist van New York naar hometown L.A en loopt op haar welkomstfeestje ex Ethan tegen het lijf. Ze dansen de nacht door, tot Hannah een keuze moet maken. Gaat ze met haar vriendin mee naar huis of blijft ze bij Ethan? En waar je in het echte leven blijft zitten met de 'What if' vraag, kijk je nu bladzijde na bladzijde mee over Hannah's schouders en mag je beide levenspaden bewandelen.
Uw blogster van dienst mocht Reid enkele prangende/levensbelangrijke vragen stellen…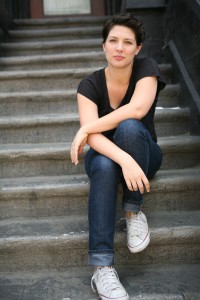 Iedereen maakt zo'n sleutelmoment mee…
Of zelfs meerdere! Het fijne aan het stellen van de vraag is dat je antwoorden wil die je nooit kan krijgen. Je kan jezelf afvragen of je de juiste opleiding hebt gekozen, of je die job had moeten aannemen, … Zelfs banale vragen als 'Wat als ik tien minuten later was vertrokken?'. Elk van die vragen kan je hermetisch vastzetten in je leven.
Je durfde het boek te schrijven dat velen telkens opnieuw afspelen in hun hoofd.
Ik hoop inderdaad dat lezers een stukje van zichzelf kunnen terugvinden in het verhaal. Persoonlijk ben ik gefascineerd door het lot en stel me vaak de vraag of soulmates bestaan. Is er slechts één persoon op deze aarde waarmee jij gelukkig kan worden of zijn dat er meerdere? Ik wilde een boek schrijven dat de confrontatie aangaat met deze vragen. Eens ik een inkijk nam in alternatieve universen, schrok ik hoe geloofwaardig deze bleken. Dat zette me aan om voor het format met paralelle levens en hoofdstukken te kiezen.
Heb je zelf een 'Hannah'-moment gehad in je leven? (Tenzij je hierdoor in de problemen komt, uiteraard…)
Goh, ik heb er meerdere gekend… Hannah is naar de buitenwereld toe wat velen vrouwen zijn aan de binnenkant. Ook al lijken we onze zaken op orde te hebben, vele van ons zijn binnenin een rommeltje. Elke keer als ik mijn sleutelbos verlies en te laat ben voor een afspraak vraag ik me af of er een andere versie is van mij die, met sleutels, wel op tijd is voor de afspraak en een beter leven heeft. Misschien krijgt ze een auto-ongeluk op weg naar de afspraak, of is ze net iets eerder en koopt ze een winnend loterijticket in een krantenwinkel… Ik zal het nooit weten.
Je vorige boek, Forever Interrupted, wordt verfilmd. Wie zie je in de rol van Hannah?
Hm, er zijn bijna te veel opties. Ik denk aan Emma Stone, Anne Hathaway, Jennifer Lawrence, Emily Blunt… Ze zouden het allemaal geweldig doen.
Heb je een ritueel voor het schrijven? Een speciale plaats waar je je terugtrekt?
Ik sluit mezelf en mijn hond op in mijn bureau. De regel is dat we er niet uitkomen voor we klaar zijn met het werk voor die dag. Het is moeilijk om thuis gestructureerd te werken, daarom doe ik graag alsof mijn bureau een echt kantoor is. En ik kan heerlijk praten tegen mijn hond… hij is een goede luisteraar.
Thee of Merlot tijdens het schrijven?
Thee, absoluut thee! Ik drink elke ochtend thee en in de winter ook 's avonds.
Kan je al iets zeggen over je volgende boek?
Mijn volgende boek komt deze zomer uit (in het Engels, n.v.d.r.) en zal One True Loves heten. Een vrouw verliest haar man als zijn vliegtuig neerstort. Ze gaat verder met haar leven en net als ze op het punt staat om te hertrouwen wordt man nr.1 gered en komt naar huis…
Wel, dat laatste doet ons wat denken aan een film met Tom Hanks… En niet Forrest Gump.