Babyboekenreeks: geluidenboekjes
Nooit gedacht dat een blaffende poedel ons leven zou gaan beheersen. De persrelatie van Clavis tipte ons op de boekenbeurs de geluidenboekjes voor Nathan. We namen er twee mee. Ondertussen slingeren hier in huis zo'n zes van die boekjes rond (met nog twee in bestelling). Een absolute hit.
Het concept? Een boekje voor peuters met bijhorende geluiden of muziekjes. Er zijn verschillende thema's verkrijgbaar: dieren, de natuur, kerstmis, bekende melodietjes, klassieke muziek, … Op elke afbeelding vind je een sensorknopje terug dat je kan aanraken om het bijhorende geluidje of muziekje te horen.
Nathan klotste en danste tot vier weken voor zijn geboorte mee tijdens de dansles. Boeken kreeg hij er nog voor zijn eerste patatjes al ingelepeld. Geen wonder dus dat hij begint te lachen als we één van de boekjes bovenhalen.
Mijn diertjes was het eerste exemplaar in Nathans collectie. Een boekje met vijf dieren, vijf bijhorende geluiden en vijf stofjes om aan te voelen. De krullerige poedel en de harige poes zijn de twee favorieten. Ik ben wel benieuwd hoe veel haar de poedel en poes in kwestie over een jaar nog overhouden, want het concept 'aai poes' is iets waar we nog aan werken. Dixit onze lichtjes kalende Matilda, de poes ten huize Eveline en Kurt.
Oma en Opa brachten Klassieke deuntjes mee, waar klassieke muziek gekoppeld wordt aan dieren. De Turkse Mars van Mozart wordt uitgebeeld door dansende tijgers, de Radetzkymars van Johan Strauss moedigt ijverige mieren aan en La Campanella van Niccolo Paganini zorgt voor de romantische toets bij de balkonscène van Romeo en Juliet, hier geïncarneerd door twee konijntjes. Het boek is een reddende engel rond 18u30, bij ouders beter bekend als baby-crash-tijd.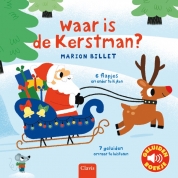 Eentje die nu even in de kast ligt wegens 'seizoensgebonden' en 'scheurende flapjes'. Waar is de kerstman is één van de geluidenboekjes met tekst. Samen met je peuter ga je op zoek naar de kerstman, die verstopt zit. Achter elk flapje houdt een diertje zich schuil, met een fijn kerstliedje erbij. Wij leggen het nog even apart tot volgend jaar, want onze enthousiaste boekenbaby vat de zoektocht iets te enthousiast op, met flapjesschade tot gevolg.
Verder leenden we, tot grote vreugde van opa de tuinfanaat, Mijn tuin uit bij de Bib. Ook  De Notenkraker moest al eens mee naar huis. Het is nog even wachten tot we De muziek van Mozart kunnen uitlenen, want die is al twee maanden stuk. (Hint, hint, beste Bib van Willebroek)
Op onze verlanglijst staan nog twee andere exemplaren: Wereldmelodietjes en Dansmuziekjes. Omdat mama en papa soms een beetje gek worden van steeds maar naar het Forellenkwintet van Franz Schubert te luisteren en dringend nood hebben aan nieuwe muziek die de hele dag in ons hoofd zit. Wereldmelodietjes reist de wereld rond in enkele bekende folkloreliedjes. Dansmuziekjes laat je peuter kennis maken met verschillende muziekstijlen zoals jazz, de charleston en rock 'n roll.
Ah, en de grootste hit van de reeks voor onze baby? Het flapje achteraan het boek, met daaronder het aan-uit knopje. Voordat we het boekje lezen, is dat het eerste wat hij wil, even prullen aan dat flapje.
Geluidenboekjes reeks, Marion Billet, Clavis Uitgeverij, prijzen tussen 13,95 en 17,95€.