Vanavond klinken de boekenmeisjes op een nieuw This Is How We Read jaar met een glaasje bubbels!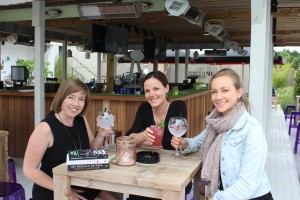 Op de agenda wellicht:
Nog twee keer slapen en dan valt het doek over onze recensiewedstrijd! Breaking news is dat ons gastjurylid heeft toegezegd. Een tipje van de sluier? Als je hem/haar googelt, levert dit maar liefst 32 200 resultaten op. Bovendien publiceerde hij/zij in 2015 jaar één boek en bereikte hij/zij in datzelfde jaar een ronde leeftijd. Rara…
Crashen we dit jaar opnieuw een literaire wedstrijd? Of mikken we op de Buchmesse nu België gastland is?
Maken we nog eens een literaire trip? De Literaire Toerist levert altijd wel leuke inspiratie. Wie weet reizen we Lewis Carroll achterna in Oxford of gaan we wijnproeven met Roald Dahl in gedachten. Zelf hoop ik dit jaar in Kopenhagen te geraken. Met het Karen Blixen museum en Hans Christian Andersen tours wordt dit ongetwijfeld een literaire reis.
Zijn er nieuwe literaire roddels? Even googelen op deze zoekterm… en waar beland ik… op TIHWR.
In welke boekenbar of literair restaurant gaan we binnenkort koffie of cocktails drinken? Voor heel binnenkort zoeken we een adresje in Antwerpen. Iemand suggesties?
Waar vinden we genoeg tijd om te lezen? Op leesretraite of ons toch maar een Table Bed Couch aanschaffen?
We'll keep you posted…