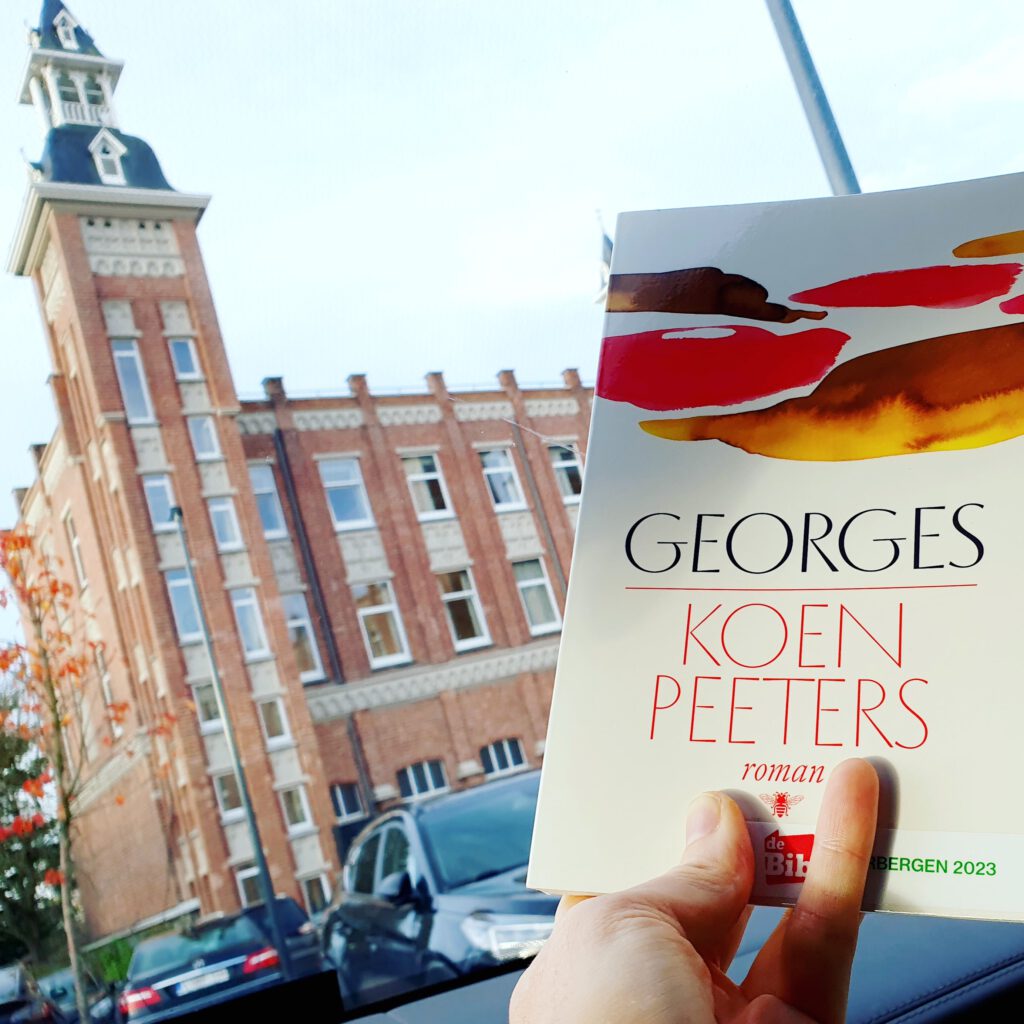 In deze reeks delen we een korte recensie en twee favoriete passages uit een roman die ons beviel. Zo kun je in oogwenk inschatten of het ook zou klikken tussen jou en dit boek… Vandaag bespreken we 'Georges' van Koen Peeters (De Bezige Bij, 2023)
Korte recensie
Deze roman gaat over mannen met de voornaam Georges. Maar ook over de twee grootvaders van de schrijver Koen Peeters – en hemzelf. En over twee wereldberoemde Georgiërs, de dictator Jozef Stalin en de schilder Niko Pirosmani. Het boek is een parade van historische figuren die gewillig meedansen in een choreografie van mogelijke ontmoetingen. De auteur benadrukt regelmatig dat niets in het boek zeker onwaar is. Als lezer glijdt je prettig mee met de stroom waargebeurde en plausibele anekdotes – wat maakt het uit wat feit is en wat fictie? Je wandelt met James Joyce over de zeedijk van Oostende in 1926. Je zit op een bank in het Leuvense stadspark met Georges Lemaître, priester én vader van de bigbangtheorie. Je volgt schrijver Koen en z'n vriend Joris van Brussel naar Tbilisi. En in het vierde en laatste (ronduit fantastische) deel hallucineer je mee met Pirosmani. Zou deze schilder van naïeve taferelen werkelijk de terreur onder Stalin hebben voorvoeld? Wat een trip, dit boek!  
Favoriete passage
"Zijn (Pirosmani's, red.) visioenen komen altijd onverwacht: de regen roffelt op een dak, een kind snikt om wat klein verdriet en plots ziet Niko een visser staan in de rivier, blootsvoets. Zijn handen gaan hulpeloos de lucht in, omdat het water rood begint te kleuren. Voor zijn ogen zweven bevroren landschappen met boerderijen zonder dieren (…). De akkers zijn niet ingezaaid. Er is geen hondengeblaf meer in de lucht. Mensen sterven van honger: ze vallen gewoon omver en blijven liggen. Men zegt dat een moeder in haar waanzin haar eigen kind doodt en opeet. In razernij, haar eigen kind.
Na dit visioen blijft Niko achter met de vraag wat het ergste is: 5 miljoen doden of dat verhaal van die ene moeder? De vraag kwelt en achtervolgt hem. Wat betekenen dergelijke ongerijmde, krankzinnige beelden? Zijn het angstaanvallen of zijn het toch visioenen met de kracht van voorspellingen?
Dat laatste is belachelijk, verwerpelijk.
Maar veronderstel toch even dat Niko via deze beelden al in de toekomst vertoeft. Dan voorvoelt de schilder al de vernietiging van de boerenstand, de uithongering, deportaties, miljoenen doden. Niko walgt van zichzelf. Hij denkt: ik moet dringend op zoek naar de gewone, goede, alledaagse dingen. Dat zal ik schilderen. Daardoor kan ik, zal ik mensen en dieren in veiligheid brengen."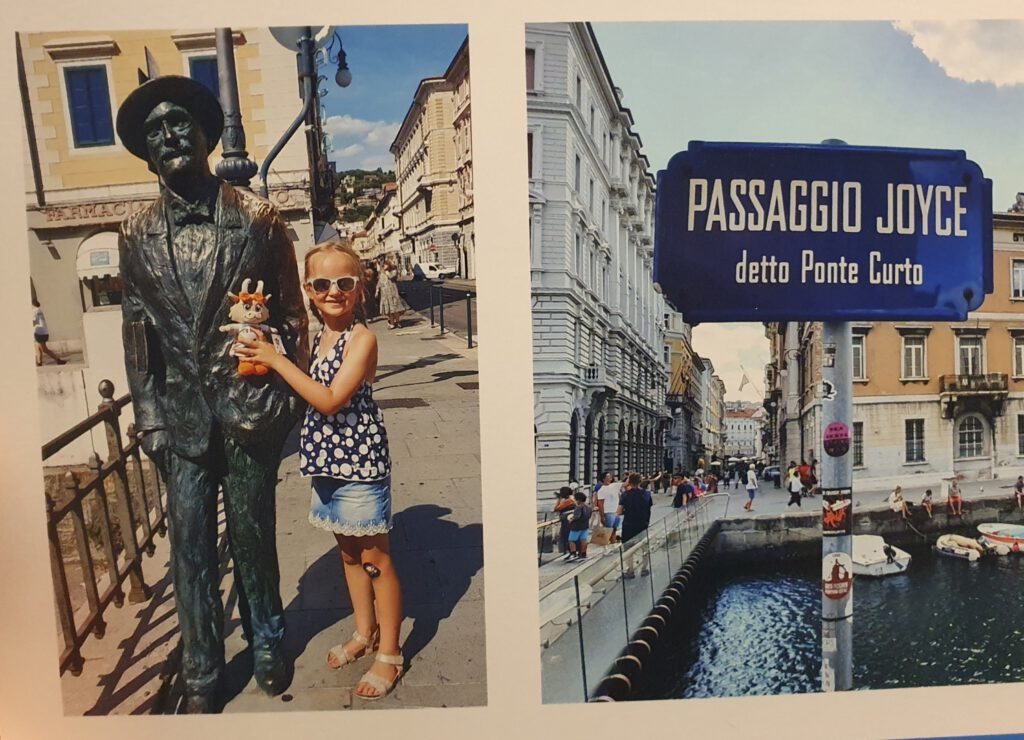 En nog een hele mooie
"Hij (James Joyce, red.) staart. Hij is een man van stukken en brokken, vooral veel woorden maar hij spreekt alleen als hem dat past. Is zijn gezin zijn hunkering naar het nest, het huis waar mensen zich verzamelen? In het midden daarvan mogen staan, alles wat gezegd wordt aanhoren, zien hoe woorden rond hem springen. Verblijven in de koele stilte ervan, luisteren en flarden oppikken, ja de volle toestemming hebben om daarbij te zijn, al is het zwijgend. Zijn hoofd is een rommelig dagboek. De hele tijd vertelt hij aan zichzelf wat hij denkt. 'Zwijg,' zegt hij dan. Zijn gestuntel, zijn schrijven is maar een eindeloos proberen. 'Zwijg zelf,' antwoordt hij zichzelf.
PS: 1, 2, 3 – Amélie Nothomb en wie ons een beetje kent, wist dat we voor dit boek zouden vallen.
PPS: Goed gezien, kenners. Het standbeeld van James Joyce (waarbij Karolien zo vrolijk poseert – de schrijver zal niet vaak een knuffelgeit tegen de buik gedrukt krijgen) staat in Triëst, niet in Oostende.