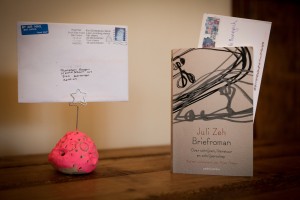 Nee zeggen en ja doen. Dat is echt iets voor schrijvers. Juli Zeh had geen zin om aan de universiteit van Frankfurt een gastcollege te geven over haar 'poëtica', zeg maar: haar creatieve normen en richtlijnen bij het schrijven. Toen ze probeerde uit te leggen waarom, ontstond Briefroman – over schrijven, literatuur en schrijverschap.
Laat er geen twijfel over bestaan: Briefroman bevat wel degelijk de poëtica van Juli Zeh. Maar dat blijkt een antipoëtica, conform "de antipoëtologische waarheid: als we tijdens het schrijven wetten opstellen, dan alleen om ze te overtreden."
De weerzin van Juli Zeh tegen klassieke poëtica's is groot:
"Je bent of schrijver, of je bezit een poëtica. Ik ben toch niet mijn eigen keuzevak Duits?"
"Ik heb geen poëtica. Niemand heeft een poëtica, in elk geval niet zolang hij boeken schrijft."
"Poëtica is dat wat schrijvers verzinnen als ze voor poëticacolleges worden uitgenodigd. Eerst was er het poëticacollege, toen de poëtica."
En zo gaat Zeh nog een tijdje door, met als hoogtepunt haar aanval op de leraar Duits en zijn eeuwige vraag 'Wat wil de schrijver ons daarmee zeggen?':
"Het idee dat ik als 'zender' een weerloze 'ontvanger' bestook en dat dat dan literatuur is, zorgt dat ik per ommegaande wil capituleren. Hijsen van de witte vlaggen. Staken van de gevechtshandelingen."
Hoe langer Zeh fulmineert, hoe beter je merkt dat de schrijfster naast een hekel aan poëtica's ook welomlijnde meningen over literatuur heeft. En ervaring met het daadwerkelijke schrijfproces.
"Schrijvers die beweren voor de lezer te schrijven, die hem willen verrijken, beleren, wakker schudden (…) zijn grote leugenaars. (…) Goede literatuur is kunst en kunst is geen charitatieve, maar een narcistische daad. Kwam kunst van willen, noemden we het winst."
"Er zijn verbazingwekkend veel fantastische boeken, van Dostojevski, Fontane, Dickens, Nabokov en menig gewaardeerd auteur meer, die verbazingwekkend dicht langs de vangrail van de boekjesstrategie leveren – en dat terwijl geen van hen het boekje heeft gekend. De boekjesstrategie is in veel verhalen terug te vinden zonder dat de auteur er gebruik van heeft gemaakt. Het boekje bevat namelijk geen aanwijzingen. Het loopt niet vooruit op het vertellen, maar beschrijft iets wat tijdens het vertellen als het goed is als vanzelf gebeurt."
"Inzichten die een schrijver tijdens interviews presenteert, ontspruiten niet aan de praktijk van het schrijven. Ze zijn achteraf opgedaan en dat maakt een aanzienlijk verschil."
"Poëtica klinkt alsof de schrijver weet wat hij doet – terwijl de schrijver in het beste geval weet wat hij gedaan heeft."
Briefroman is precies wat de ondertitel belooft: bespiegelingen over schrijven, literatuur en schrijverschap. Maar dan twintig keer grappiger, beeldender en levensechter dan je ze gewoonlijk krijgt geserveerd. Dit boek is een absolute aanrader voor al wie graag schrijft of leest. Lezers kunnen zich verlekkeren op de puntige stijl van Zeh. Dit stuk bestaat niet toevallig voor 70% uit citaten. Je kunt maar beter citeren wanneer parafrases de oorspronkelijke uitspraak alleen zouden verzwakken. Aanstormende schrijvers zijn wellicht gebaat bij Zehs (geparafraseerde) advies: "Maak niet teveel plannen, schrijf, vertel de film in je hoofd en corrigeer pas nadat je eerste versie klaar is."
Schrijf zomaar, uit de losse pols – als Juli Zeh één concrete schrijftip geeft, is het die. Briefroman laat zich perfect lezen als de kroniek van een doodgeboren roman. Het boek bevat ettelijke mails van Zeh aan een vertrouwenspersoon waarin de schrijfster plannen maakt voor haar volgende boek. Alles bespreekt ze: de psychologie van haar hoofdpersonage Bernd Tragel, het vertelstandpunt, de plotontwikkeling en thematiek. Om op de voorlaatste pagina vast te stellen: "Uiteindelijk hoefde het geheel 'alleen nog maar' geschreven te worden. En dat ging dus niet. (…) Er was geen taal, geen muzikaliteit, maar bovenal: geen noodzaak. Als ik in staat zou zijn om uit te leggen wat er in een verhaal gebeurt, waarom zou ik het dan nog willen vertellen? (…)
"Het kost me teveel energie om het dood geplande nog een keer tot leven te wekken."
(…) Mocht de uitkomst van het experiment zijn dat spreken over schrijven het schrijven onmogelijk maakt, dan kan dat me niet bijzonder verrassen. Doordat we de ongeboren Tragel onder onze literatuurwetenschappelijke microscoop hebben gelegd, is hij voortijdig literatuur geworden – en oud papier. Dat is antipoëtica in haar puurste vorm." Wil je geloven dat ik het oprecht jammer vind dat er geen roman over Tragel komt? Zo aanstekelijk werkte zijn literatuurwetenschappelijke ontleding.
Juli Zeh is een groot talent en ik heb een dito probleem. Met Briefroman kan ik de eerste titel van mijn Vijf voor 2015 afvinken – en dat nog in januari. Goed bezig! Ware het niet dat ik nu absoluut een roman van Zeh wil lezen – ik begin met Nultijd (Ambo Anthos). Zo schiet dat leeslijstje dus niet op.
PS: Ongeveer 30 seconden nadat de foto bij deze post werd genomen, gebeurde dit. Mijn dochter Johanna voert Briefroman vastberaden af. Essayistische literatuur? Zelfreflectie van een schrijver? Bleuh, doe Johanna dan liever toptitels als Rare rupsen, een glitterboek en Harry Hond aan zee. En jullie? Hebben jullie zin om Briefroman te lezen? Zijn er regels of strategieën waar jullie aan vasthouden bij het schrijven?
PS: 5 redenen om Nultijd van Juli Zeh te lezen