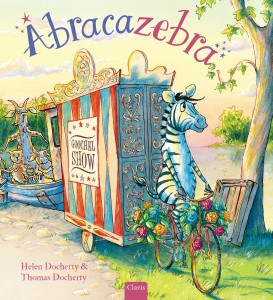 Ook voor volwassenen met en zonder kinderen.
Van 14 tot en met 29 maart is het jeugdboekenweek. En laat dat nu net het mooiste zijn aan mijn job als boekenmeisje: het excuus om kinder- en jeugdboeken te mogen lezen zonder zelf kinderen te hebben. (Die 150+ danskinderen even niet meegerekend)
Deze twee weken laat ik mijn nachtkastje dus inpalmen door jeugdboeken (de verloofde denkt dat ik hem iets duidelijk wil maken, dus bij deze, nog niet!) De eerste op de stapel is er eentje van uitgeverij Clavis, waarmee je in kinderboekenland nooit de bal kan misslaan.
Clavis brengt elk jaar weer voortreffelijke boeken uit met afbeeldingen waar je naar blijft kijken. Het type boek waarbij je als kinderloze volwassene excuses gaat bedenken om het toch te mogen kopen, zoals daar zijn:
1. Maar ooit nemen we toch kinderen…
2. Ik moet toch nog een kerstcadeau voor mijn nichtje voor het jaar 2018. (2016 en 2017 heb je al opgebruikt als excuus).
3. Ik kan het gebruiken in de klas/dansles/speelplein/… (deze is gevaarlijk)
4. Maar het is zo mo-o-o-o-o-h-o-o-i. (pruillip niet vergeten)
5. Wat als het broertje van je achternicht haar overbuur eens kom spelen?
6. Volgens mij is vriendin X/Y of Z zwanger. Gisteren dronk ze maar twee glazen wijn. (Altijd een heel wilde gok)
7….
U snapt het. Ik kan zo nog even doorgaan.
Terug naar Clavis en hun boekenschatten. Abracazebra is geschreven en geïllustreerd door echtpaar Helen en Thomas Docherty en vertelt het verhaal van het slaperige dorpje Gaapvaak, waar de spannendste activiteit voor kinderen het gadeslaan is van Geit. Geit herstelt elke dag gaten in zijn vissersboot herstelt.
Tot op de dag dat Abracazebra aan komt fietsen met haar goochelshow en het dorp vreugde, spelletjes en verrassende shows brengt. Geit wordt hier heel ongelukkig van en besluit gemene leugens over Abracazebra rond te strooien. Abracazebra moet uit het dorp vertrekken, maar gelukkig zien de inwoners van Gaapvaak en Geit al snel in dat ze een fout hebben gemaakt.
Dit boek voor iedereen vanaf vier jaar (ziedewel, dasookvoorgrotekinderen) brengt een aandoenlijk verhaal over pesten, vriendschap en jaloezie. De afbeeldingen wisselen af in sferen van appelblauwzeegroen en violetpaars en doen denken aan de vrolijke dierenfiguren uit de boeken van Richard Scarry. Deze afbeeldingen zullen nooit gaan vervelen en blijven tijdloos.
Het boek werd vertaald uit het Engels. De oorspronkelijke versie is in rijm geschreven, de Nederlandstalige versie doet dit, waarschijnlijk uit praktische redenen, niet. Een voorbeeld van de oorspronkelijke Engelse tekst van de site van Helen Docherty:
But then, one evening, a stranger came.
Nobody dared to ask her name.
She came on a bicycle decked with flowers.
(They say she rode for hours and hours.)
En wat dit wordt in het Nederlands:
Maar op een avond kwam er een vreemdelinge in het dorp.
Niemand durfde te vragen hoe ze heette.
Ze kwam aangereden op een fiets vol bloemen.
(Van héél ver, dachten de dieren)
Uiteraard zijn wij als boekenmeisje iets kritischer dan een gemiddelde vierjarige kleuter. Hopen we, K3 vinden we alleszins maar niks. 'Form follows function' om het in designtermen te zeggen en dit boek wil in de eerste plaats een belangrijke boodschap doorgeven door middel van verrukkelijke prenten, onderhoudende personages en een goed opgebouwde verhaallijn.
Dus Clavis, meer van dat, graag…
Ook leuk voor volwassenen met kinderen: je kan via de site van Helen Docherty een leuke kleurplaat en een 'zoek de verschillen' plaat downloaden.