Stukgelezen: Wat stelt dat nou voor, Marv?
Een mens vraagt zich soms wat af. Hoeveel het zou kosten om de kat naar Moermansk te verzenden, bijvoorbeeld, nadat ze weer de keukenvloer met knaagdierenonderdelen heeft volgesmeerd. Of je onderarmen wel vanzelf terug vel groeien nadat je haar hebt proberen frankeren, ook. Of -tijdens het staren naar mijn boekenkast in een poging tot kalmeren- dat een voorkeur voor sommige jeugdboeken geen voorbode is van latere studiekeuzes.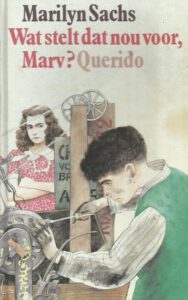 Neem nu Wat stelt dat nou voor, Marv? De Marv in kwestie is een tienerslungel van een jaar of veertien, vijftien. Hij woont met zijn familie in de buurt van het New York van de jaren veertig. Het gezin heeft het duidelijk niet breed en woont in een wijk waar het leven zich in op straat en in de voortuinen afspeelt. Marvs naasten zijn adequaat dysfunctioneel. Zijn oudere zus is halftijds arrogant wicht -in de buurt van Marv- en halftijds een suikerzoete goody two shoes. Zijn moeder is een kwetsbaar type, gebukt onder niet nader genoemde lasten. Zijn vader is grotendeels afwezig in het verhaal.
Enfin, als kind was ik niet zo gevoelig aan deze onderhuidse spanningen, al droegen ze wel bij tot wat ik toen een nogal eigenaardige sfeer vond. Marv zelf, daarentegen, vond ik de meest fascinerende rare kwast die ik tot dusver in een boek had aangetroffen. Marv is een dromer. Zijn dagdromen monden steevast uit in de meest waanzinnige creaties, want hij is ook een begenadigd uitvinder. Alleen… is Marv ook een totale klungel, ondanks de duidelijke aanwezigheid van een goed functionerend stel hersens. Zijn houtje-touwtje uitvindingen geven qua neveneffecten Guust Flater het nakijken. Allemaal.
Zo installeert Marv een goederenlift aan de voorgevel van het huis. Een houten constructie met bak en een lier, waarvoor hij waarschijnlijk tig andere spullen moest slopen. Marvs hart bloedde telkens wanneer hij zijn moeder de zware boodschappentassen de trap zag opslepen, vandaar. Dankzij Marv is het huis nu niet alleen voorzien van een designkeutel van jewelste, maar doet zijn moeder er nu ook tien keer langer over om de boodschappen naar boven te krijgen. Een prachtgelegenheid voor Marvs zus om hem eraan te herinneren wat voor sukkel hij wel niet is.
Het feit dat Marv zomaar dingen kon bevestigen aan het huis vond ik toen overigens een privilege dat mezelf ook niet zou misstaan, maar ik had grootvaders boorhamer nog niet aangezet of dat idee werd ferm de kop ingedrukt.
Marvs exploten escaleren geweldig, totdat hij zelfs de voortuin probeert te verfraaien door met de hulp van wat buurkinderen een zwembad uit te graven. En te betonneren. En te schilderen in alle kleuren van de regenboog.
Sachs had Marv duidelijk neergezet als een lieve, onbeholpen tiener die gebukt gaat onder zijn de onbenoemde problemen waarmee zijn ouders worstelen en die op zijn manier probeert te helpen, maar als kind zag ik alleen Marv de onbegrepen uitvinder, die alles mocht. Gewapend met gereedschap dat voor mij verboden was, durfde hij projecten aan waarvan ik alleen maar kon dromen. En die dromen herkende ik maar al te goed. De drang om machines te bouwen ook. De buren van mijn grootouders mogen zich gelukkig prijzen dat mijn constructie van een Romeinse ballista in een vroeg stadium is blijven steken. (Gij zult grootvaders wilgen niet omzagen.)
Wat stelt dat nou voor, Marv? (Marilyn Sachs, Querido, 1980)
PS: meer jeugdnostalgie?