Zeven weken lang… de zeven boeken van. Voor Elle België mag ik elke maand een boekenminnend persoon aan de tand voelen over zijn of haar zeven favoriete boeken. Omdat de gesprekken zo leuk zijn, en de boekentips zo verrassend en fijn, deel ik ze zeven weken lang met jullie.
Deze week verteld Friedl' Lesage, radiopresentatrice, alles over haar zeven favoriete boeken.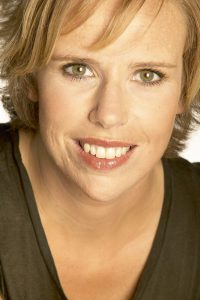 Friedl' Lesage is één van die gelukkigen die mag lezen voor haar werk. In Touché verwelkomt ze elke week een nieuwe gast, waarbij ze een vraag over hun favoriete boeken zelden uit de weg gaat. Dankzij het programma ontdekt ze boeken die ze niet zelf zou kopen, maar die haar nog nooit ontgoocheld hebben.
Zo kroop ze onlangs opnieuw in het werk van Antwerps staddichteres Maud Vanhauwaert. "Ik las de bundel een aantal jaren geleden. Bij de herlezing voor het gesprek kwam het helemaal anders binnen omdat ik Maud beter heb leren kennen. Schoon vind ik dat. Ze springt creatief om met taal, wijkt af van gekende dichtvormen en brengt een continu poëtisch verhaal met sobere bladspiegel. Maud vormt een tegengewicht voor wat we dagelijks in onze strot geramd krijgen."
"Ik ben een auteurslezer. Telkens er weer een boek van één van mijn 'bijna vergeten' auteurs verschijnt, probeer ik die te lezen." Zo las ze met plezier het werk van Sandor Marai, Stefan Zweig, John Williams, Emmanuel Bove en Denis Johnson. Op dit moment zit ze middenin De pelikaan van Martin Michael Driessen. Een ontdekking.
Haar lijstje met zeven favoriete boeken kiest ze à la minute, met een blik op haar boekenkast. De rode draad? Interessante auteurslevens, vroeger en nu.
Pluk van de Petteflet, Annie M.G. Schmidt
Pluk van de Petteflet was het eerste boek dat ik als kind bewust las. Ik kreeg het cadeau voor mijn eerste communie. De juf van het tweede leerjaar las het boek in de klas voor, maar ik had het dus al gelezen. Elke vrijdag vertelde ik aan de kinderen van de klas wat er zou gebeuren. Tijdens het voorlezen zaten alle kinderen gefascineerd naar mij te kijken, ik was in hun ogen een soort helderziende. Ik kreeg uiteraard al snel geweldig op mijn donder van de juf. Ik was van mijn melk: was het verboden om te lezen of erover te vertellen? Het boek blijft overeind staan, ik wil dat ventje blijven koesteren.
Ulysses, James Joyce
Aan het conservatorium bestudeerden we elk jaar één auteur. Voor de laatstejaars was die auteur ook het eindejaarsproject. Wij kregen James Joyce in onze maag gesplitst en dat was even slikken. Maar onze docent Geert Lernout wist ons al snel warm te maken voor één van de meest bijzondere schrijvers van de twintigste eeuw. Elke week moesten we een dertigtal pagina's van Ulysses lezen.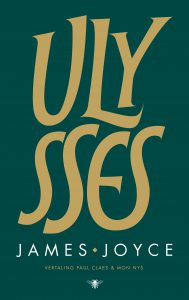 Dan vroeg hij wie waar gestruikeld was en vertelde ons over de vele interpretaties. We trokken naar Dublin om de Odyssee van Leopold Bloom nog eens over te doen en gingen langs bij een James Joyce leesclub. Dit boek, geschreven in 18 verschillende literaire stijlen, heeft me de liefde voor literatuur bijgebracht.
Kroniek van een karakter, Jeroen Brouwers
Een Nederlandstalige all-time favorite. Zijn levensverhaal leerde ik kennen via Kroniek van een karakter, een autobiografisch boek. Ik las het op de achterbank op terugreis van Italië met vrienden. Ik zat de hele tijd te lachen, en moest toen uiteraard gaan voorlezen. De file kon niet lang genoeg duren. Ik mocht hem ook interviewen, maar durfde het pas aan nadat ik hem via zijn literatuur voldoende had leren kennen.
De wereld van gisteren, Stefan Zweig
Zweigs literaire carrière is er eentje om jaloers op te zijn: een beroemd reisjournalist en een kritisch figuur die veel heeft vertaald. Hij vertaalde het werk van zijn goeie vriend Emile Verhaeren en logeerde vaak bij hem en zijn familie, zoals tijdens het Interbellum de gewoonte was. Je ging niet even op bezoek, maar je bleef soms wekenlang logeren. Dank zij zijn vriendschap met Verhaeren leerde hij vele Belgische kunstenaars kennen, te zien op het bekende schilderij van Theo Van Rysselberghe. Het is een periode in de geschiedenis waar ik graag bij had willen zijn.
De fotoboeken van Stephan Vanfleteren
Lang geleden mocht ik fotograaf Stephan Vanfleteren interviewen in 'Het beste moet nog komen'. Hij was toen nog fotograaf bij de Morgen en zijn zwart-witfoto's intrigeerden mij. Op de vraag: 'Wat zou je echt nog willen in het leven?' zei hij: 'Een fotoboek maken. Maar dat zal allicht nooit lukken. Fotoboeken zijn duur, het goeie papier moeilijk te vinden en de verkoop zeer onzeker'. Na het gesprek hing er al een uitgever aan de lijn. Stephan heeft ondertussen zijn eigen uitgeverij, Kannibaal. Ik ben nog steeds een fan.
De ballade van het treurige café, Carson McCullers
Bart Moeyaert tipte het boek February House (van Sherill Tippins) over een commune-huis dat platgelopen werd door kunstenaars en artiesten. Eén van de bewoners was schrijfster Carson Mc Cullers. Het boek leidde me naar Carson de schrijfster: ze had een fascinerend en stormachtig liefdesleven en hoefde geen verhalen te verzinnen, haar eigen leven was al turbulent genoeg. Ik hou van haar verhalen, die met weinig woorden direct binnenkomen.
Vita, Victoria Glendinning
De Bloomsbury Group fascineert me. Vita Sackville-West, een schrijfster uit de groep die getrouwd was met een diplomaat, had een jarenlange affaire met Virginia Woolf. Vita was wereldberoemd, reisde de wereld rond en gaf lezingen. Daarover bracht ze verslag uit in haar brieven aan Virginia, die in haar kille kamertje een wereldoeuvre bijeen zat te schrijven. De zoektocht van deze vrouwen naar wat ze willen en hoe ze hun leven willen leiden vind ik bewonderenswaardig.