Drie boekentips van een literatuurliefhebster…
Caro Lemeire is een ware literatuurfreak. Ze is zo gepassioneerd dat ze zelf een organisatie in het leven riep om lessen literatuur op universitair niveau te kunnen volgen… Ik bedoel maar…
Vorige week volgden wij de eerste les van de cursus 'Literaire stromingen', één van de vele cursussen die Backrgound Educations in z'n portfolio heeft zitten.
Tijd om boekenmeisje Caro aan het woord te laten met haar drie ultieme boekentips.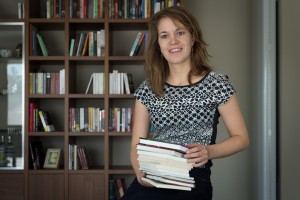 Jhumpa Lahiri – Twee broers (The Lowland)
Een boek over twee broers, over migratie en over politiek, maar voor mij ook hét boek over een vrouw die zich niet kan overgeven aan het moederschap. In een nieuw land, met groeiende ambitie, maar ook met een dramatisch geheim en een kind. Een ongelofelijk mooi verhaal dat mij geleerd heeft wat het betekent om moeder te zijn – ook al heb je daarnaast nog een ontzettend boeiend leven.
William Golding – Heer van de Vliegen (Lord of the Flies)
Opnieuw met een politieke inslag, maar ook een heel menselijke dimensie. Een groep schooljongens komt aan op een onbewoond eiland en probeert daar te overleven zonder volwassenen. Ze duwen hun opvoeding snel naar de achtergrond en bepalen hun eigen regels. Maar net in die kinderlijke ongeremdheid herken je jezelf en je omgeving: de fouten die zij maken zijn ons zelden vreemd. Een dun boekje dat mij heel wat geleerd heeft over communicatie en omgang met mensen.
Graham Greene – Onze man in Havana (Our man in Havana)
Ik twijfelde tussen de ongelofelijke must-read 'Liefdesdood in Kamara' van Luk Van Haute en het prachtige verhaal 'Zijde' van Alessandro Baricco, maar kies uiteindelijk toch voor wat humor. Dit boek toont hoe alles op zijn pootjes terecht komt, ook wanneer je het niet verwacht. Een stofzuigerverkoper uit Havana wordt gevraagd om voor de Britse inlichtingendienst te werken en besluit enkel fictieve gebeurtenissen te rapporteren. De absurde maar reële omstandigheden die eruit volgen tonen hoe ieder persoon zijn best doet om te overleven in een harde wereld, en tot welke keuzes dat leidt.
Zin om je ook helemaal onder te dompelen in literatuur? Via deze link
kan je inschrijven voor de cursus Literaire Stromingen. Benieuwd naar ons interview met Caro over de cursus Literaire Stromingen?