Ik heb weer eens last van de wetten van de fysica. Meestal volstaat het om op een fiets te kruipen om ambras te krijgen met Newton, maar vandaag word ik getergd door de wet die stelt dat geen twee atomen dezelfde plaats in de ruimte kunnen innemen. Had nu echt niemand een uitzondering kunnen vragen voor boeken?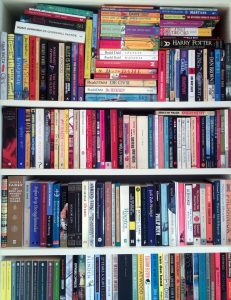 Het gaat deze keer niet om wat plaatsgebrek na een uit de hand gelopen bezoekje aan onze favoriete boekhandel. Dat losten we op met een potje creatief stapelen. Easy peasy. Het gaat deze keer niet om het toegenomen gewicht van het gebouw, waardoor de buurvrouw op het gelijkvloers heel langzaam een kelderappartement krijgt. Niets dat niet kon worden verholpen met een opstapje aan de voordeur en een beetje bukken bij het binnengaan. Maar wanneer mijn lief en ik onze boeken in dezelfde kast onderbrengen, moet zelfs de meest uit de kluiten gewassen book nook de duimen leggen voor die andere natuurwet: vol is vol.
Bon, er vliegen dus een heleboel boeken buiten. Wie zei er ook weer dat de boeken die er in een mensenleven echt toe doen op één klein plankje passen? In dat licht valt het liquideren van plankvulling perfect te verteren. Maar hoe kies je welke moeten gaan en welke mogen blijven, wetende dat je boeken die je slecht vindt sowieso al niet in je kast zette? Eigenlijk is het nog erger. Zoals ik hier al eerder schreef, zijn veel boeken in mijn kast een rechtstreekse link naar de plaats waar ik ze las.
Er wordt hier niet alleen in verhalen gewied, maar in herinneringen.
Maar kom, tijdens mijn opdrachten in Rusland leerde ik omgaan met penibele situaties zoals deze. Een fles Ruski Standard Platinum later ben ik te veel bezig met mijn hoofdpijn om me nog druk te maken over emotionele argumenten, en kan ik de volgende criteria opstellen voor boeken die eruit mogen:
– ik kan me het verhaal niet herinneren
– ik heb ze niet van een naaste gekregen
– ze zijn niet gesigneerd
– ik kan me niet herinneren waar ik het las, zelfs al heb ik dat in het boek geschreven
– ik heb andere, betere boeken van dezelfde schrijver
– mijn lief heeft het dubbel en elke poging om een discussie te winnen om mijn exemplaar te behouden is als elastiekjes schieten naar een destroyer
Het werkt prachtig.
Nu kan ik zonder wroeging Conn Igguldens trilogie over Dzjengis Khan naar het tweedehandscircuit verwijzen -hoe interessant het ook is- terwijl ik zijn gedramatiseerde biografie van Julius Caesar laat staan. Ik las het derde deel van de Emperor serie in een restaurantje naast het Colosseum, tijdens een lange opdracht in Rome, op een boogscheut van de plaats waar Julius brutaal overhoop werd gestoken. Ik kijk uit naar Igguldens serie over The War of the Roses. Misschien toch nog wat meer buitengooien om plaats te maken.
Meteen is er ook ruimte voor grote kuis in de overblijfselen van mijn Scandinavische thrillerperiode. Henning Mankell krijgt integraal nieuwe eigenaars, op één exemplaar na, dat ik op een midzomernacht las in een roeiboot op een Fins meer.
En zo ploeter ik verder. Philip Roths The Plot against America blijft staan, ook al las ik het gewoon thuis, net zoals zijn magistrale Everyman, dat ik ooit op een winters Bretoens strand las, maar zijn My Life as a Man moet eruit.
Van JD Salinger hou ik én The Catcher in the Rye én Nine Stories én Franny and Zooey. Waar ik ze las zal me worst wezen.
De stad der dromende boeken van Walter Moers is een wervelende, kleurrijke ode aan het boek en zou zeer gemist worden, maar zijn De 13 ½ Levens van Kap'tein Blauwbeer gaat raus.
Van Ben Elton doe ik alles weg, behalve Chart Throb, dat een hilarische kijk biedt onder het deksel van de reality-TV beerput. Zijn Blind Faith hou ik ook bij de hand, voor wanneer ik lekker wil gruwelen met een toekomstbeeld waarin kinderen Happy Meal worden gedoopt en collega's elkaar 's morgens verplicht moeten begroeten met een group hug. Yurk.
De uitstekende biografie van Napoleon door Paul Johnson blijft staan. Ik smokkelde die ooit mee naar Moskou, waar Bonaparte een vies woord is omdat hij de enige veldheer is die de stad ooit veroverde. Op Dzjengis Khan na, als ik me niet vergis. Maar wacht, ik heb daar een schitterend boek over van Conn Igg… shit.
PS: we wensen te benadrukken dat er bij het schrijven van dit artikel geen boeken werden beschadigd of eenzaam werden achtergelaten. Sommige worden veilig opgeborgen, voor andere zorgen we voor een nieuwe, liefdevolle eigenaar.